As soon as Business Proposal started airing on Netflix, it became the talk of the town for some reason. My social media feed was also filled with friends gushing over how kilig the week's episodes were that I sometimes had to look away while scrolling to avoid spoilers. I must admit—I was really curious about this drama especially when people I knew who weren't really K-drama enthusiasts would come up to me and tell me that they've been hooked. In addition to that, I personally think that the cast is good. I watched Kim Sejeong from her Produce 101, I.O.I, and Gugudan days and I like her a lot. I have also watched Ahn Hyo Seop in Still 17 and Kim Min Kyu in Because This Is My First Life and liked them in all those dramas as well.
And so I dived in on the Business Proposal craze one Thursday night without reading the synopsis or watching the trailer. All I knew was that it's based on a webtoon of the same name. I was pleasantly surprised when it turned out to be a fake relationship trope. I knew from then that it was going to be a total kilig fest! I would argue that the best part of this drama is the characters. From the main characters up to the side characters, each one of them was memorable in their own way. Who would forget Kang Tae Moo's mischievous grandfather, Shin Ha Ri's dynamic colleagues at work, and Jin Young Seo's adorably annoying cousin? Every character was portrayed solidly, making every interaction among them interesting. Before I knew it, I found myself getting attached to every single one of them all throughout the series.
ADVERTISMENT - CONTINUE READING BELOW ↓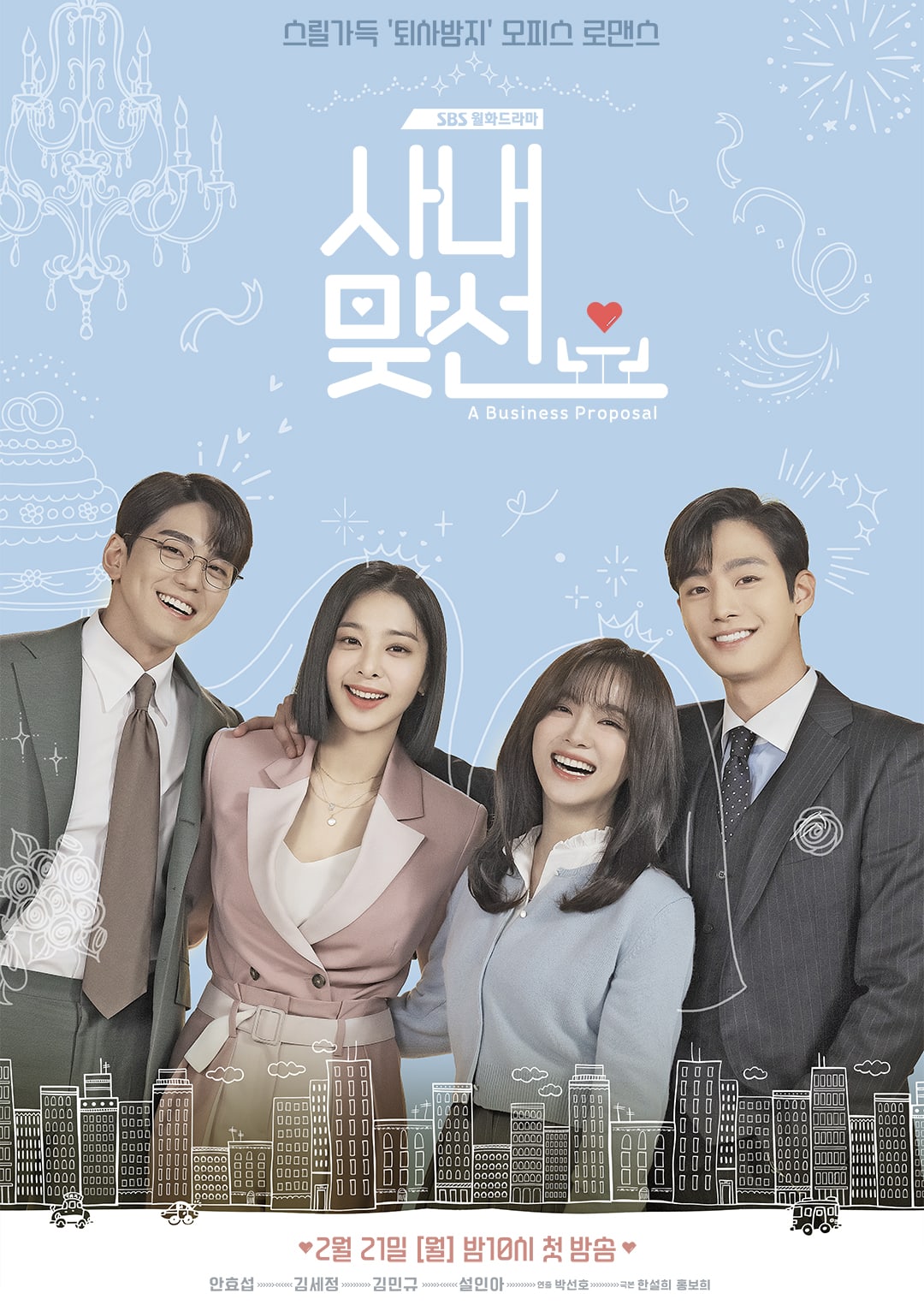 Spanning only 12 episodes which is shorter than the standard 16, Business Proposal didn't waste time on having viewers glued to their seats. Every episode had its own twists and turns, and the pace was just right. I love that there were over-the-top webtoon elements incorporated in the drama, sprinkled at just the exact amount to keep the humor going. And, of course, the romance was developed perfectly between both couples. I found myself rooting for all of them to find their happiness and overcome the obstacles in each of their lives.
What's Business Proposal about?
Food researcher Shin Ha Ri agrees to go on a blind date in place of her best friend, Jin Young Seo, with the intention of scaring her partner away. But things become interesting when her date turns out to be Kang Tae Moo, the CEO of the company where she works. When their ruse gets exposed, Tae Moo corners Ha Ri to be in a fake relationship with him so his grandfather would stop nagging him to go on blind dates. Ha Ri leads a double life as Shin Geum Hee, Tae Moo's fake girlfriend. while hiding the fact that she is his employee.
Meanwhile, Young Seo meets Cha Sung Hoon by chance and falls in love with him at first sight.  Sung Hoon, however, turns out to be Tae Moo's secretary.  Despite being neighbors, Sung Hoon keeps his distance from Young Seo and draws a line in their relationship which makes her absolutely frustrated.
ADVERTISMENT - CONTINUE READING BELOW ↓
Business Proposal | Official Trailer | Netflix [ENG SUB]
The Business Proposal cast members
Kim Sejeong as Shin Ha Ri
The character: Ha Ri is a promising food researcher at GO Food's Food Development Team 1. She loves her job and is an optimistic part of her team. Her family runs a chicken shop where she helps out after work. Her great acting skills prove to be useful in getting her best friend, Jin Young Seo, out of blind dates. Ha Ri has also been harboring a one-sided love towards her friend of seven years, Lee Min Woo, and gets heartbroken when she finds out he got back together with his ex.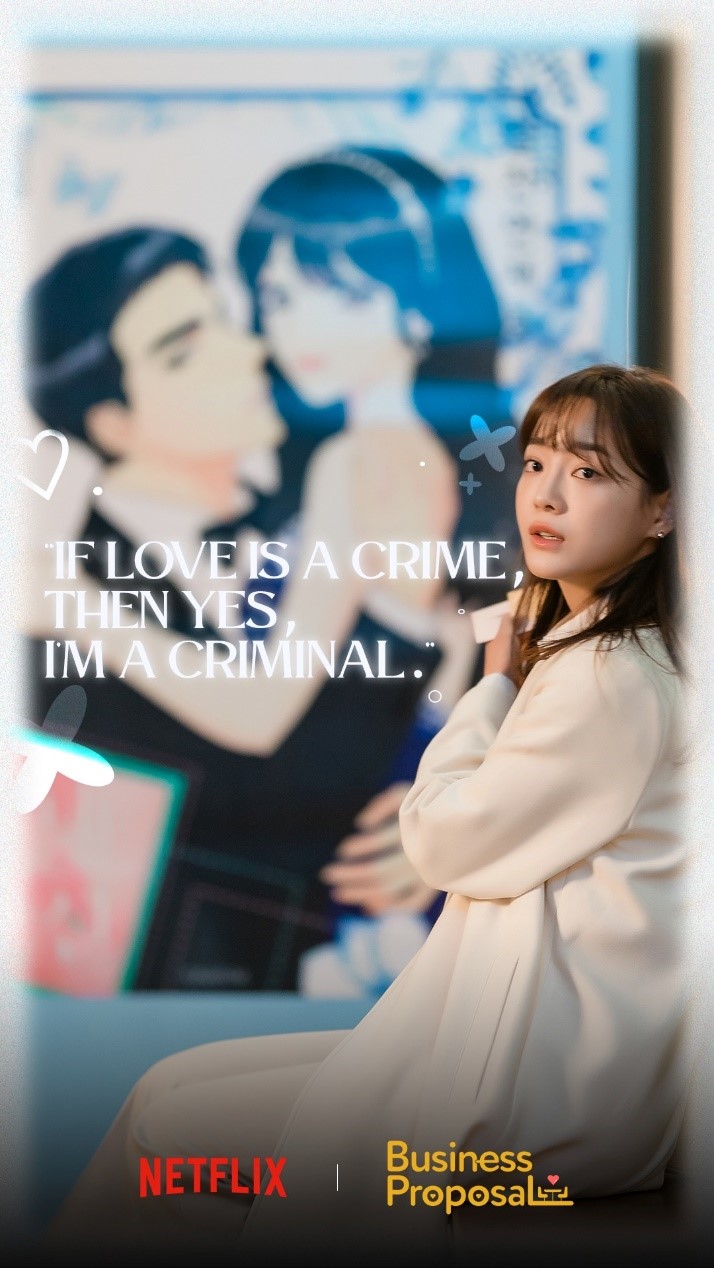 ADVERTISMENT - CONTINUE READING BELOW ↓
The actress: Sejeong started her career as a K-pop star when she joined Produce 101 Season 1 where she made it to the final lineup and debuted in the project girl group, I.O.I. After that, Sejeong went on to debut in Jellyfish Entertainment's girl group, Gugudan. She also debuted as a soloist with the song, "Flower Way," which expresses her feelings towards her mom. She also released OSTs for other K-dramas like Crash Landing On You and Legend Of The Blue Sea. Her first main role as an actress is in the high school drama, School 2017.
Ahn Hyo Seop as Kang Tae Moo
The Character: Kang Tae Moo is the epitome of the perfect guy. He's a handsome, rich bachelor who is the CEO of his own company. And according to Tae Moo himself, he is ~*good at everything*~. He hates wasting time so when his grandfather bugs him about going on a series of blind dates, he decides to marry the first one on the list, Young Seo but ends up falling for Ha Ri who pretended to be Young Seo. Tae Moo dislikes the rain because it reminds him of his parents' death.
ADVERTISMENT - CONTINUE READING BELOW ↓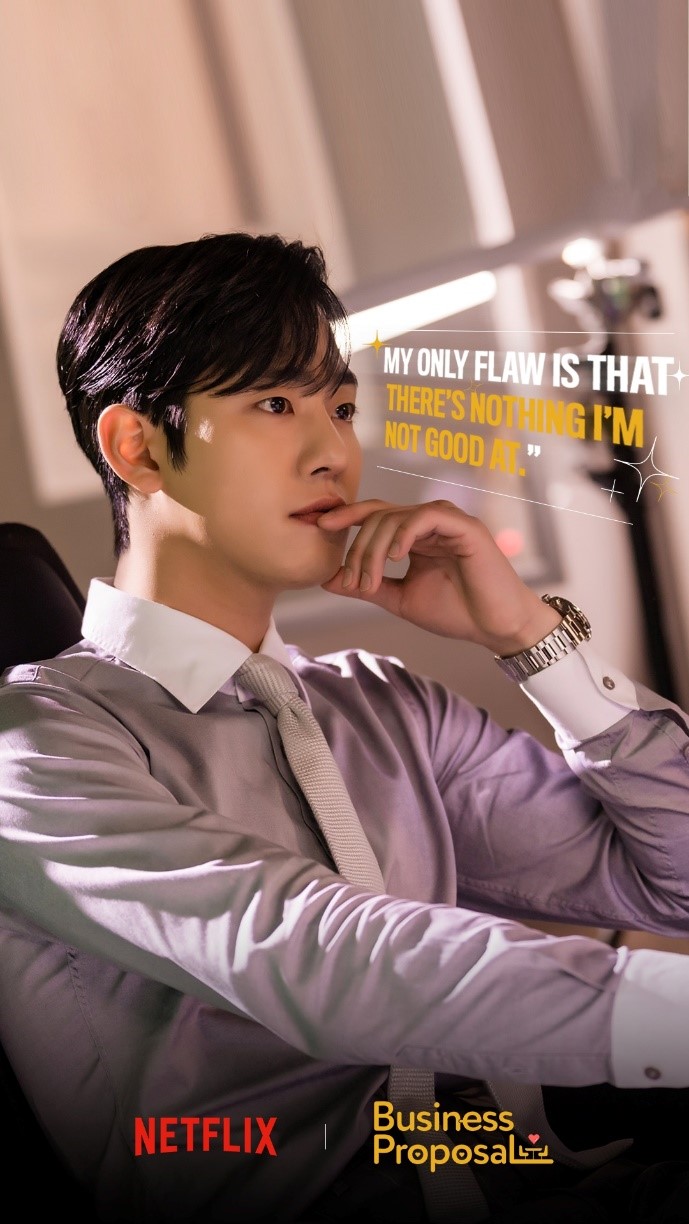 The actor: Aside from being an actor with several dramas under his belt including Still 17 and Dr. Romantic 2 where he won several awards for his performances, Hyo Seop debuted in a project group called One O One. He was also a JYP Entertainment trainee and was given an opportunity to debut as a member of GOT7. He lived in Canada in his younger years so he can speak English fluently.
ADVERTISMENT - CONTINUE READING BELOW ↓
Kim Min Kyu as Cha Sung Hoon
The character: Cha Sung Hoon is Tae Moo's loyal chief secretary. Later, it was revealed that Sung Hoon grew up in an orphanage and Tae Moo's family took him in and supported him. Sung Hoon meets Young Seo in a convenience store and ends up being neighbors with her.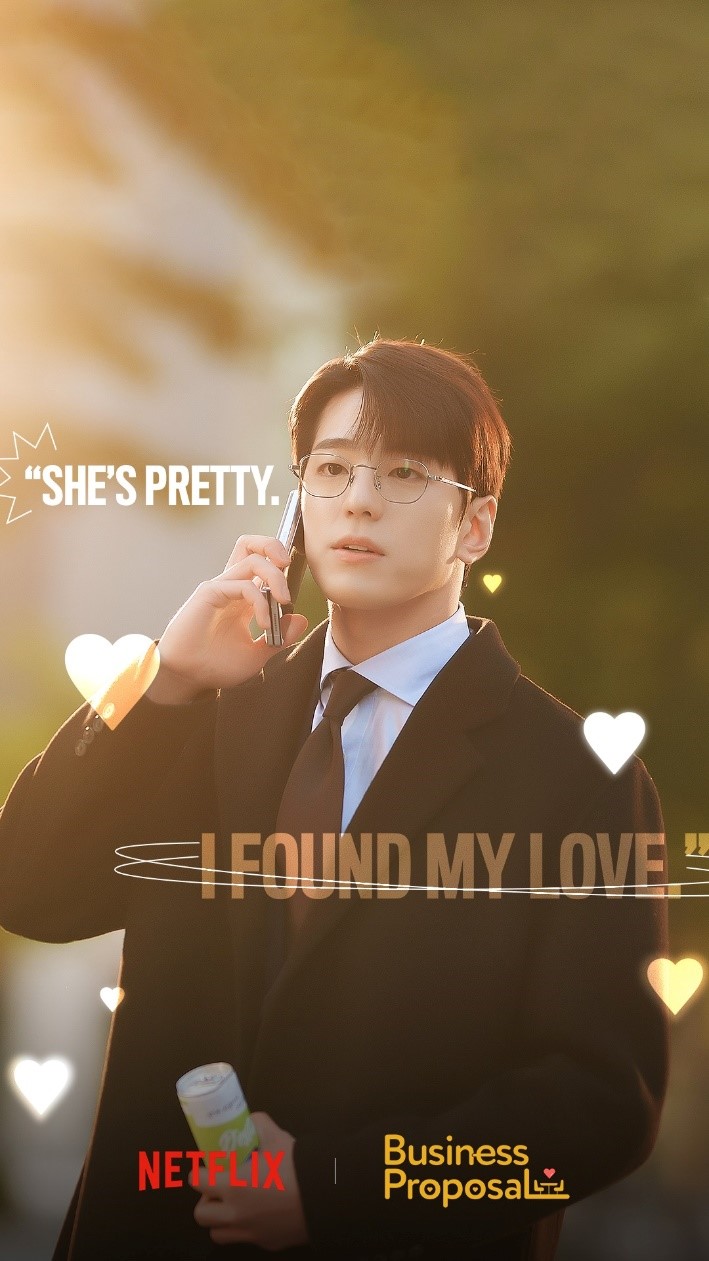 ADVERTISMENT - CONTINUE READING BELOW ↓
The actor: Min Kyu became a familiar face with his viral I Can See Your Voice performance where he impressed the audience with his singing skills. He had notable roles in the dramas Because This Is My First Life and Signal among others. His first leading role was in the historical drama Queen: Love And War. Min Kyu also participated in the dating reality show, Love Me Actually.
Seol In Ah as Jin Young Seo
The character: Jin Young Seo is the only daughter of Marine Group's Chairman who tries to set her up on blind dates. However, Young Seo has a mind of her own and is set on waiting for a love brought by fate. She's strong yet down-to-earth and has an adorable relationship with Ha Ri and her family. When she meets Cha Sung Hoon through a chance encounter, she thinks he is her destined love but gets frustrated when he tries to avoid her.
ADVERTISMENT - CONTINUE READING BELOW ↓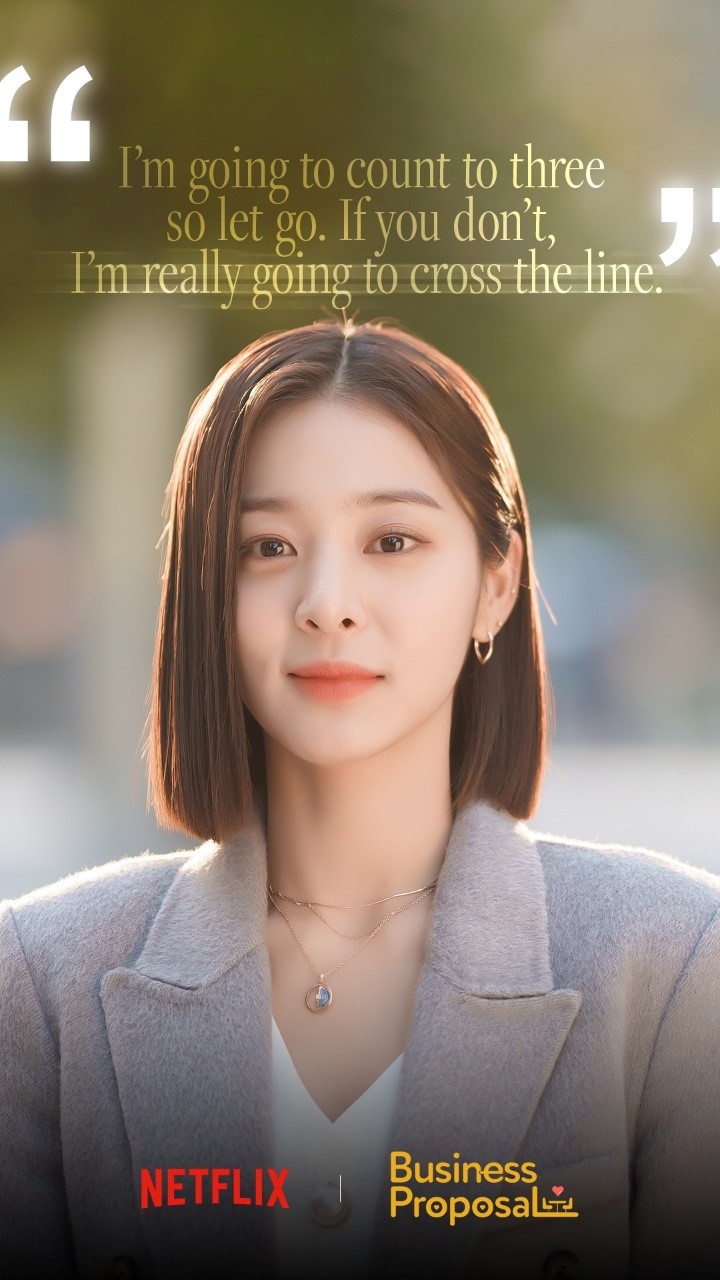 The actress: Seol In Ah debuted as an actress in 2015. She played supporting roles in the dramas Strong Woman Do Bong Soon and School 2017. She also won awards for her performances in Sunny Again Tomorrow and Beautiful Love, Wonderful Life where she played the lead role. She was also a fixed cast of the reality show Law Of The Jungle In Mexico and appeared in several music videos.
ADVERTISMENT - CONTINUE READING BELOW ↓
Why you should watch Business Proposal
Because it's the ultimate feel-good rom-com drama of the season! While the possibility of a rich and handsome CEO asking me to be his fake girlfriend and eventually falling for me is small, the way the romance developed between Ha Ri and Tae Moo was realistic enough to have me sighing from all the feels. Initially, one might think this series will be full of cliches, but I guarantee that the cliches are done oh-so-right. One of my favorite scenes was during the early stages of their fake relationship when Tae Moo and Ha Ri went to a Melomance concert with tickets given to Ha Ri by Min Woo, Ha Ri's unrequited love. Min Woo's message and song request for Ha Ri gets picked onstage and she starts crying. Tae Moo hands her his handkerchief which showed his growing concern for her.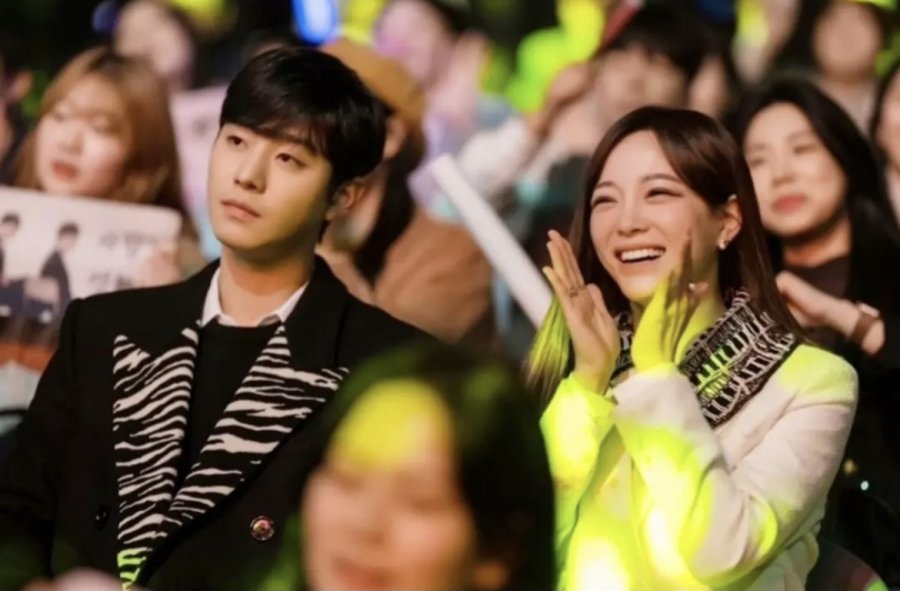 ADVERTISMENT - CONTINUE READING BELOW ↓
I noticed that the drama didn't jump from Tae Moo cornering Ha Ri to pretend to be his girlfriend to appease his grandfather as a business contract to immediately professing his feelings for her. There were scenes that gradually turned them from having a business relationship to seeing each other's vulnerable sides to actually becoming friends and having a genuine concern for each other before Tae Moo realized his true feelings. And Ha Ri's reaction and response were realistic as well.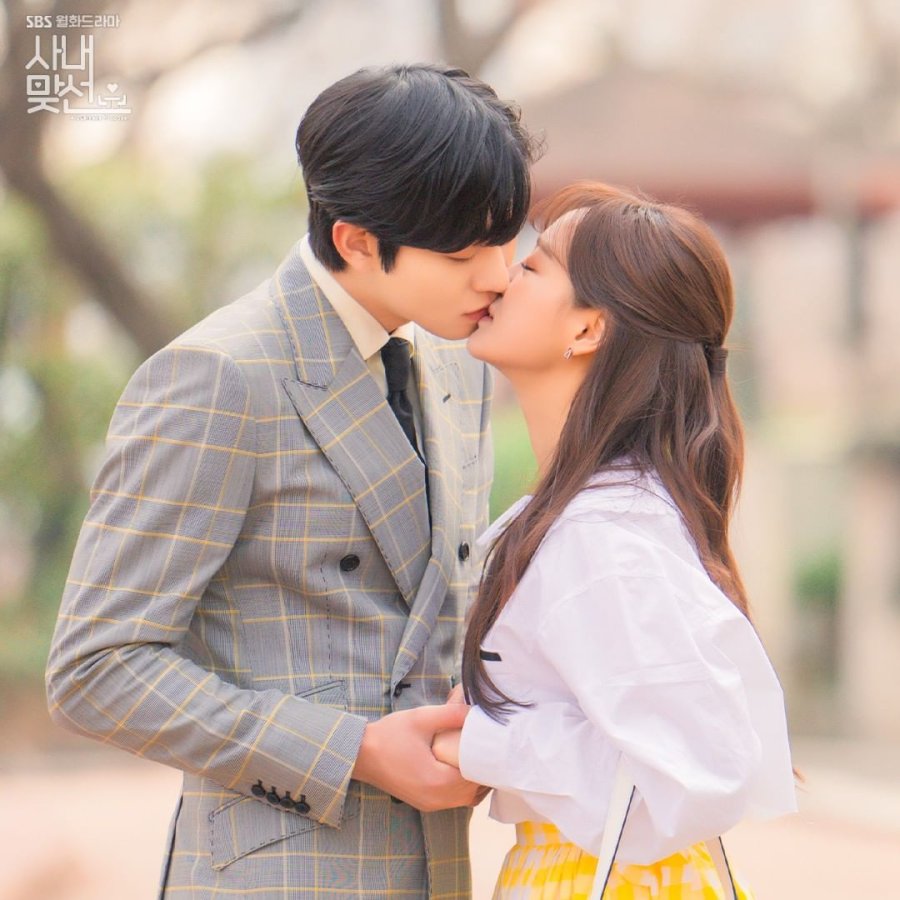 ADVERTISMENT - CONTINUE READING BELOW ↓
Business Proposal is definitely going in my recommended K-dramas list. It has the right blend of romance and humor with a great cast and storyline. This drama is perfect for days when you don't have the emotional capacity to handle intense feelings and crazy plot twists, but you just want to relax and de-stress.
You can watch episodes of Business Proposal on Netflix.
MORE K-DRAMA REVIEWS RIGHT HERE:
'Vincenzo' Is Probably The Best K-Drama I've Ever Seen, Here Are All My *Feelings*
'Our Beloved Summer' Is A Sweet Reminder That Nothing Is More Important Than The People You Love
Trust Us, 'All Of Us Are Dead' Is The *Must-Watch* Zombie K-Drama You Shouldn't Miss