Camila Cabello just wrote a lengthy Instagram post in response to being body shamed.
Camila says young girls are growing up in an airbrushed world "seeking a perfection that's not real."
Your fave Camila Cabello has been dealing with a bunch of body shaming lately—and she just hit Instagram Stories to challenge the "fake" idea of perfection in a lengthy and extremely A+ note to her fans.
Camila started her post explaining that she hasn't been going on social media lately, but hit Instagram to find a picture to share in celebration of the two-year anniversary of her song "Havana." At this point, her eyes "accidentally ran over a headline of people body shaming me," and the first thing she felt upon seeing it was super insecure, saying "my cellulite! oh no! I didn't suck in my stomach!"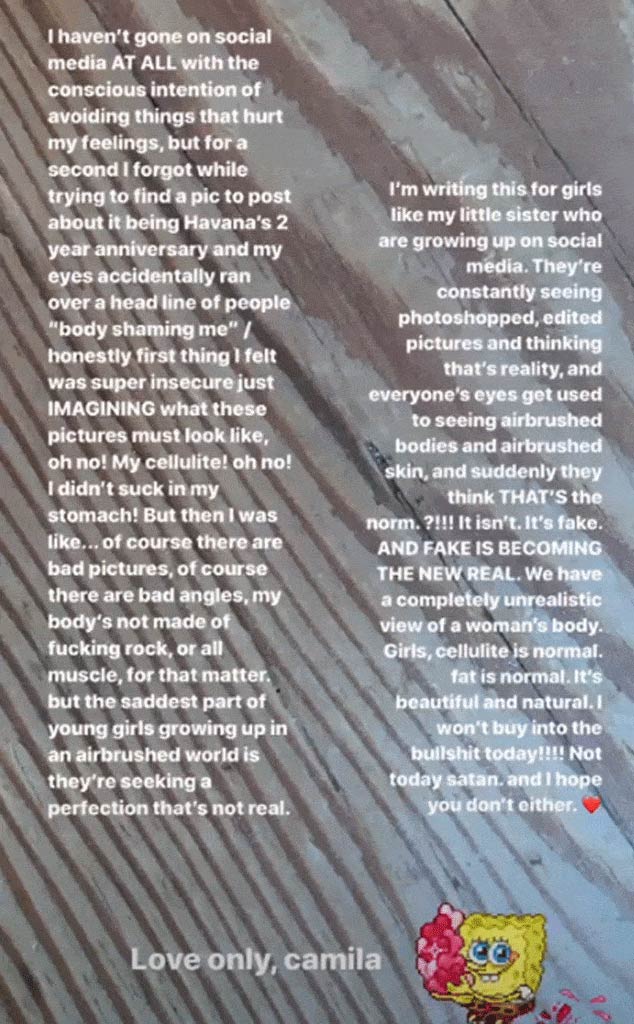 Continue reading below ↓
Recommended Videos
But the thing is—and as Camila notes—everyone has "bad" pictures and angles, and honestly what makes a picture "bad" anyway? As Camila puts it, "The saddest part of young girls growing up in an airbrushed world is they're seeking a perfection that's not real."
The singer explained that she was writing her note for people like her little sister, who are constantly seeing photoshopped and edited pictures, with airbrushed bodies and skin, and assuming that's "perfection."
"It isn't. It's fake. AND FAKE IS BECOMING THE NEW REAL," she said. "We have a completely unrealistic view of a woman's body. Girls, cellulite is normal. Fat is normal. It's beautiful and natural. I won't buy into the bullshit today!!!! Not today, Satan. And I hope you don't either."
Umm, no words just *applause.*
***
This article originally appeared on Cosmopolitan.com. Minor edits have been made by the Cosmo.ph editors.