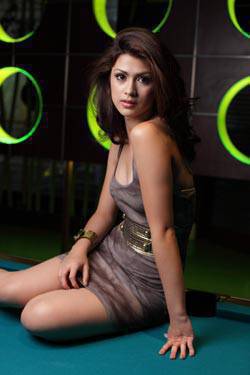 One could say
Carla Abellana
was truly born for the spotlight. As the daughter of an '80s heartthrob and grandchild of a prominent actress, it seemed only natural for her to follow their footsteps after all.
But the most remarkable thing anyone can learn about the striking
mestiza
is perhaps her life outside the spotlight, had showbiz not intervened. Though offers for shows have been coming her way since she was 16, Carla concentrated on her studies and finished a
Cum Laude in AB Psychology from De La Salle University.
Before she became an HR associate, she taught in a pre-school for several months.
Now, however, the 23-year-old appears on TV every night as the Pinay
Rosalinda
in GMA-7's remake of the Mexican telenovela. A few weeks after her small screen debut, she started gracing covers of women's magazines. She has even signed
a 12-picture contract with Regal Films
, with three films lined up this year.
She may be showbiz's most wanted girl at the moment, but up close, Carla is down-to-earth and unassuming, though undeniably poised to take on more career challenges. She reveals to Cosmo her thoughts about heading a top primetime show, becoming part of a love team, making it big, and the sacrifices that come with it.[nextpage]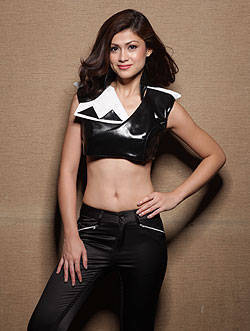 You come from a showbiz family. Have you always dreamed of entering the business because of them?
I was never forced to go into showbiz. Growing up, my parents really raised us to focus on our studies. We never dreamt of going into showbiz, so there was really no pressure from my family.
How has it been for you? What are your most memorable experiences so far?
It's been good, I've been very blessed and I'm enjoying everything so far: Working with the stars, that's number one--I still get starstruck when I'm with my
bigatin
co-stars; the difficult scenes,
lalo na 'pag iyakan
. Every scene, every taping day is memorable; other than that, I've also met a lot of celebrities already.
Did your dad have any say about your big break?

Yeah, he wanted me to be careful in making decisions. Unfortunately it was too late for him to stop me (
laughs
)! He was surprised that I took such a big leap. But he has adjusted, he's accepted it, and he's very supportive. He'd even call me at home to give me advice.
How do you deal with pressure?
I'm taking things one day at a time and trying not to think much of the future and what else can happen. It's all been very difficult, but I'm dealing with it with prayers, positive thinking, and counting on my family and friends for support.
Who inspires you through all this?
My family, especially my mom, who raised us so well even though she was a single parent. She's really my idol.[nextpage]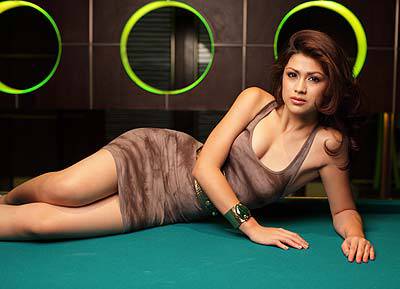 What's it like working with Geoff Eigenmann?
He's nice, such a gentleman and a good actor.
Oo, nagkukulitan kami sa
set!
May
times
na
I'm so tense
sa sobrang
pressure about a particular scene, so he tries to relax and put me at ease. We know how to enjoy each other's company.
What do you think of love teams?

To be honest, I'm not a big fan of them, especially in local showbiz. But if it works for the public, then why not? It's nice
din naman
. I'm ready and I've anticipated that as part of my job,
hindi naman nawawala sa
showbiz
'yan
.
Would you prefer a showbiz or a non-showbiz boyfriend?

Non-showbiz bf
pa rin, kasi gusto ko ng tahimik na buhay.
Show business is so complicated and different in so many ways. With a non-showbiz boyfriend, I can still keep a lot of things private.
We heard about your breakup with JC Intal. How did he take it?

We're still in good terms, he has agreed to give me time and space. We still have open communication and we're still very close. It's actually the most difficult sacrifice I had to do. But he understands that we're young, we have all the time in the world,
sa ngayon
work
lang talaga muna.


Are you similar to Rosalinda when it comes to love?

Rosalinda is a very romantic person, she's in love with the idea of love. Similar
naman kami
in many ways, but you know (
smiles
) she's really the overboard type.
What's your idea of a perfect guy?
To be honest, looks are important, but for me [there's also] the personality and attitude, how he treats other people. He should have a sense of humor, [be] spontaneous and somebody who would constantly surprise me and appreciate me.
But are you the type who gives her all in a relationship?
I think people would agree that I'm the type of person who would give everything for love. But I'd like to say
na
I'm not
naman
that type. I need my own time, my own space, so
hindi naman
.
May
limitations
din
. You can't give everything,
tapos
eventually when you lose that person, you feel you've lost everything
na rin
. So of course I still have to keep something for myself.
Continue reading below ↓
Recommended Videos