Pageant fans are still cheering after the recently concluded Miss Universe Philippines 2022 grand coronation night, where Miss Pasay Celeste Cortesi was crowned the country's next rep to Miss Universe.
Miss Universe 2018 Catriona Gray shared her regrets as she was unable to attend the event due to a filming commitment, but she did make sure to stay tuned to the pageant and air her views on Twitter.
"I wish the girls were given more difficult questions," Catriona shared in a tweet. "Feeling ko kayang-kaya nila. Anywho, who is your MUP2022? Exciting! #MissUniversePhilippines2022"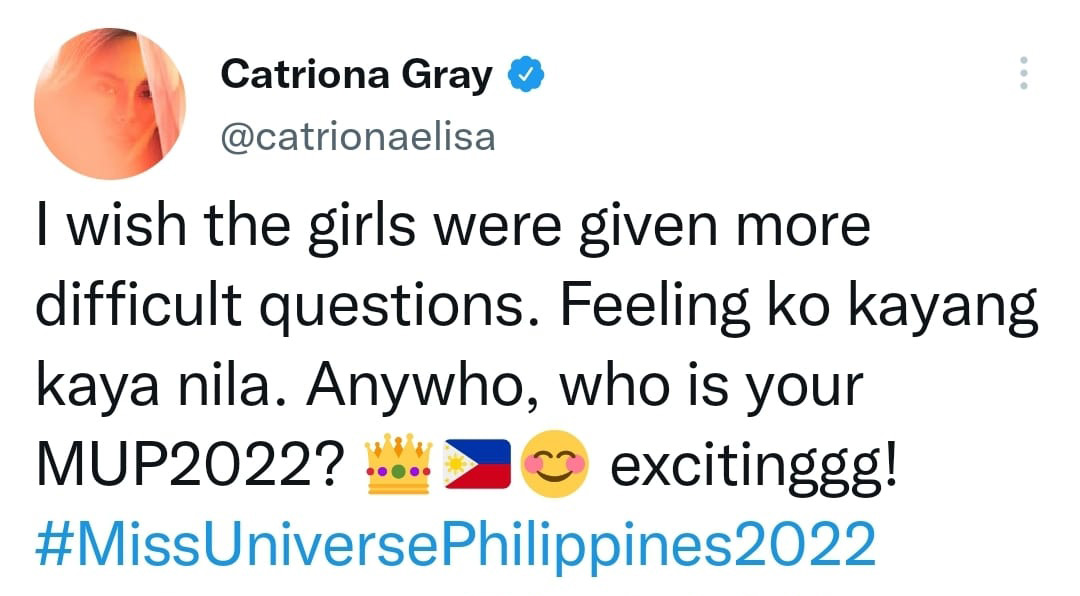 In case you didn't get to watch the pageant, these were the questions asked during the Top 5 Q&A portion:
For Miss Misamis Oriental Annabelle McDonnell:
"What is your biggest insecurity and how do you address it?"
For Miss Makati Michelle Marquez Dee:
"What is your greatest fear and how do you try to overcome it?"
For Miss Taguig City Ma. Katrina Llegado:
"If you could teach Filipinos one thing, what would it be and why?"
For Celeste:
"If you could stop time for a day, how would you spend it?"
For Miss Bohol Pauline Cucharo Amelinckx:
"What is that one life-changing decision that you made, and what was its impact on your life?"
Netizens reacted to Catriona's tweet, some sharing similar opinions.
"The questions were simple, but [the] substance of the answer matters," one netizen said. "Miss Universe is looking for someone who can communicate."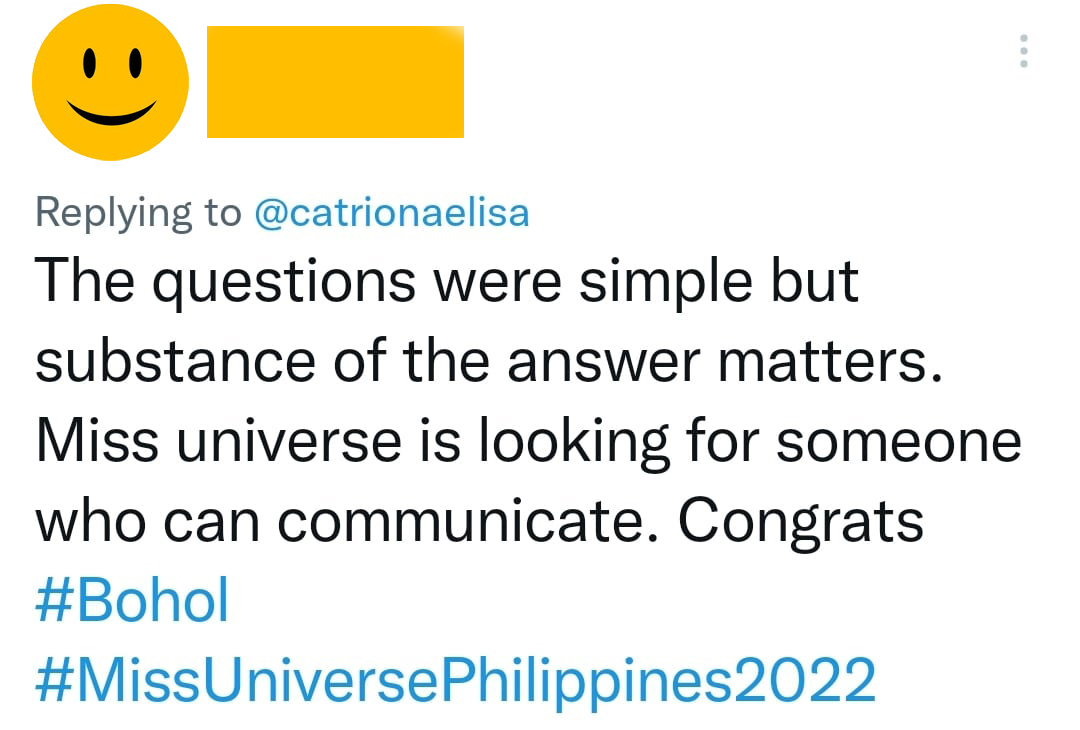 Continue reading below ↓
Recommended Videos

"I agree, but honestly, we only need a decent speaker but a highly strong performer in pakabogan," another netizen shared. "We need to reach the placements first before going into Q&As; that's the most important thing to have."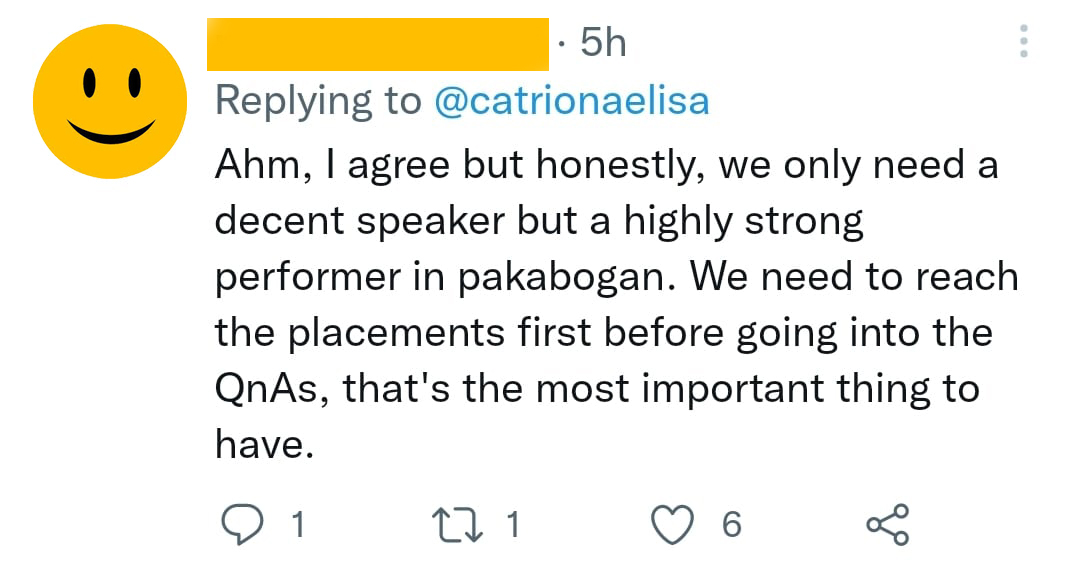 Another netizen thought the questions could have been more attuned to the times, especially as the Philippines is set to elect its new leaders on May 9.
"At a time when [the] Philippines is about to elect a new president along with [an] unending list of sociopolitical [crises], pageantry would have been an opportunity to mirror the lived realities of Filipinos considering the extent of national symbol we associate to it."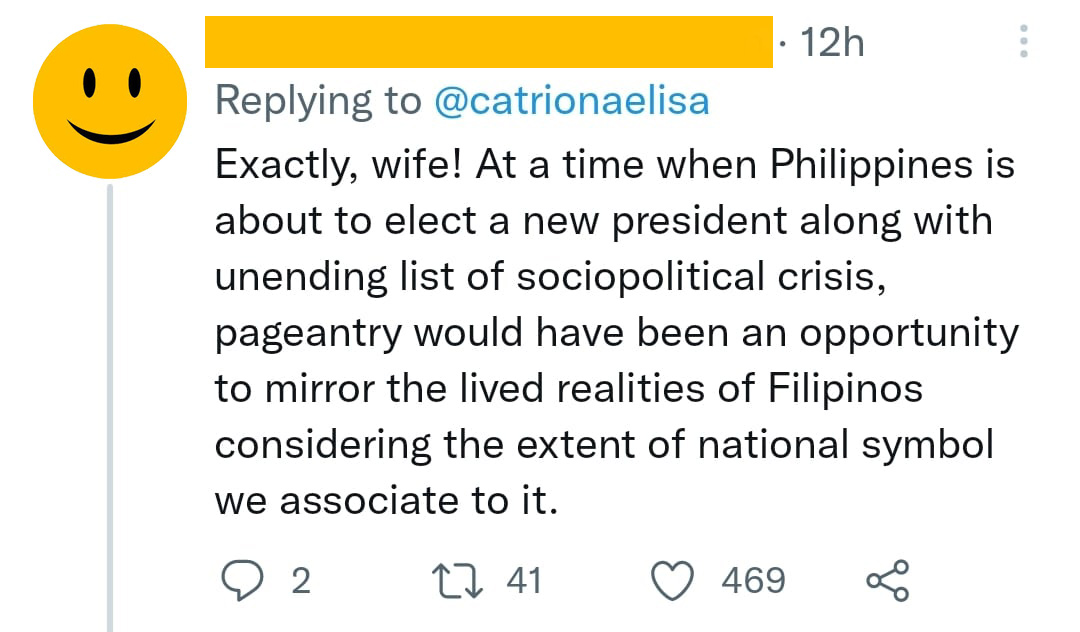 What do you think? Should the candidates have been given harder, more challenging questions?
MORE ON MISS UNIVERSE PHILIPPINES 2022:
9 Things You Need To Know About Miss Universe Philippines 2022 Celeste Cortesi
We Still Can't Get Over Pia Wurtzbach's Wardrobe Tribute To Filipina Miss Universe Queen
Miss Universe Philippines 2022: Top 5 Q&A Transcript