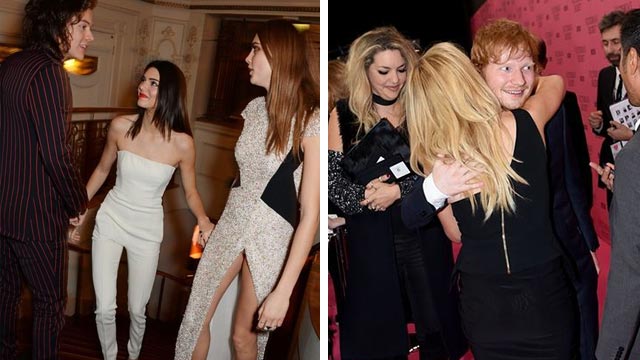 What's worse than bumping into your ex when you least expect it? Bumping into your ex and the moment being captured on camera for the whole world to see. That's showbiz! Here are seven cringeworthy times that very thing happened to some of our favorite celebrities.
1. Harry Styles, Kendall Jenner, and Cara Delevingne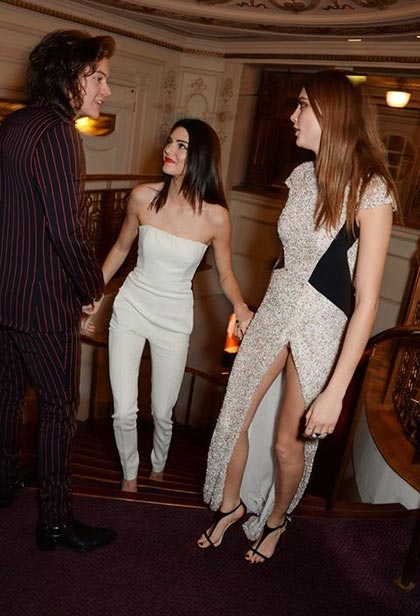 Unfortunately Kendall was blocking the one escape route for everyone involved in this awkward celebrity love triangle. And doesn't she know it. Cheeky Harry reportedly dated Kendall AND Cara (not at the same time, mind you), and had to take the shame when he bumped into them both at a swanky British Fashion Awards party in 2014.
2. Miranda Kerr and Orlando Bloom
Orlando could have totally gotten away with politely blanking ex Miranda at an Oscars afterparty back in the early days of their breakup. Instead, he committed a major celeb faux pas by interrupting the model's red carpet interview to tell her she looked great, and it was all a little bit squirmy.
3. Sofia Vergara and Nick Loeb
Still, the Orlando-Miranda situation could have been a lot worse. Miranda could have completely ignored her ex's existence a la Sofia when ex-fiance Nick gatecrashed her red carpet chat to say hi. Ouchy!
4. Ellie Goulding and Ed Sheeran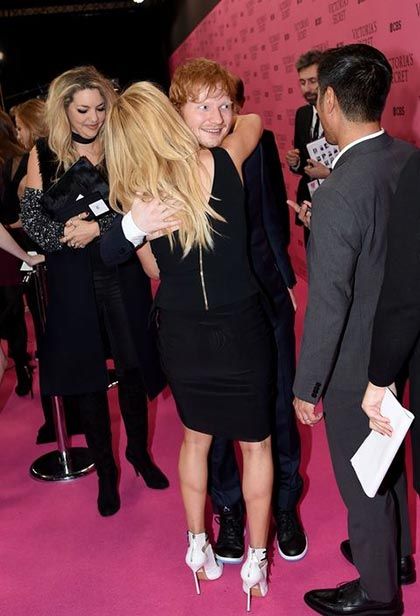 Neither Ed nor Ellie's friend didn't know where to look when the "Thinking Out Loud" singer's rumored ex-girlfriend Ellie went in for a hug at a Victoria Secret's party. Eyes to the ground is definitely a decent option.
5. Rihanna and Drake
On/off couple Rihanna and Drake bumping into each other at the unglamorous setting of a children's party makes for cringeworthy, yet compelling viewing. Looks like Rihanna sure did enjoy that ball pit.
6. Harry Styles and Taylor Swift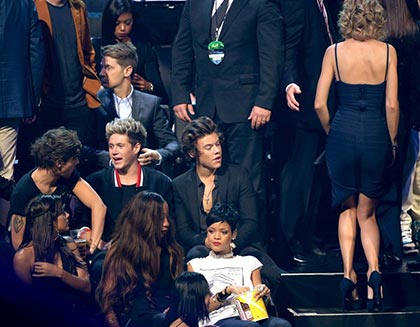 Blink and you'll miss her. Taylor had to walk past ex-boyfriend Harry at the MTV VMAs shortly after their breakup, and after releasing her hit "Trouble" which was apparently all about him. Rihanna had popcorn ready. LOL
7. J.Lo, Casper Smart, and P Diddy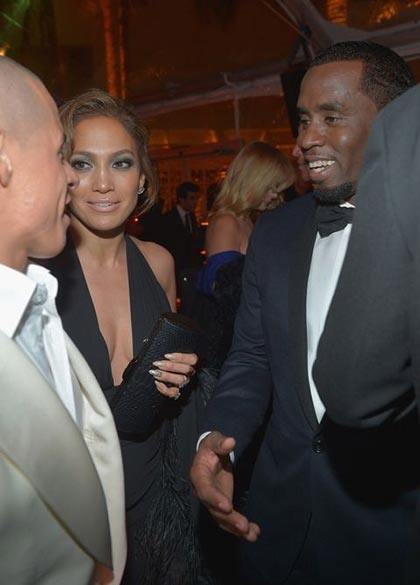 That awkward moment your ex meets your new boyfriend. It looks as though P Diddy was going in for a handshake, but then ended up just patting dancer Casper's rock-hard abs instead. Criiiiiiinge.
***
This article originally appeared on Cosmopolitan.com/uk. Minor edits have been made by the Cosmo.ph editors.
Recommended Videos