Rob Kardashian's tattoo of Robert Kardashian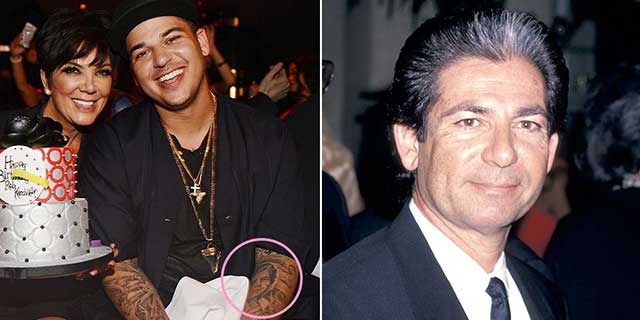 Kim Kardashian shared a photo of 21-year-old Rob Kardashian's tribute to their late father on her blog in 2008, with the caption, "OH MA GAWD! Rob is at it again… He got another tattoo!!!"  Kim wrote. "He got my dad's face on his other arm! The pictures are from a weird angle, but it looks exactly like my dad!"
Rob Kardashian's tattoo of Kris Jenner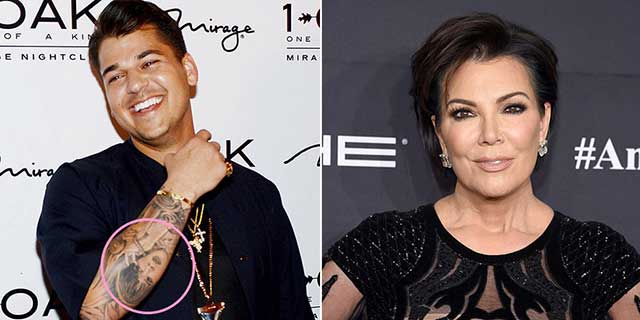 In August 2012, a 25-year-old Rob revealed a tattoo of his Keeping Up With The Kardashian momager Kris on his right forearm, to match the tattoo of his late father on the right.
Joe Jonas' tattoo of Sophie Turner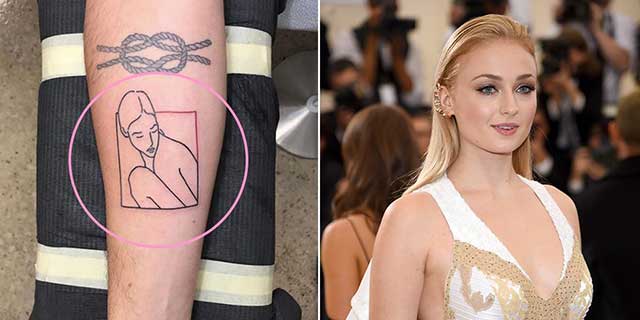 When Joe Jonas shared his new ink on Instagram in March 2018, fans were quick to point out its likeness to his fiancé Sophie Turner.
Lady Gaga's tattoo of David Bowie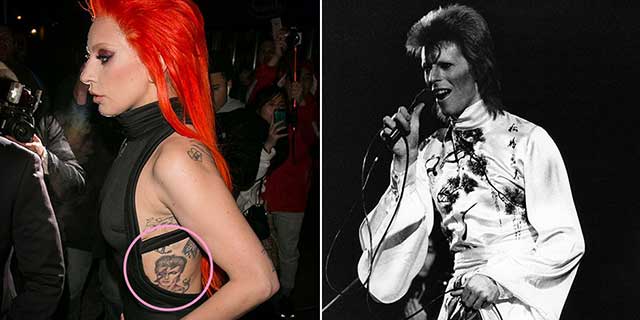 Following David Bowie's death in January 2016, Gaga shared Snapchats from the tattoo parlor while getting a tribute to Aladdin Sane.
Zayn Malik's tattoo of Gigi Hadid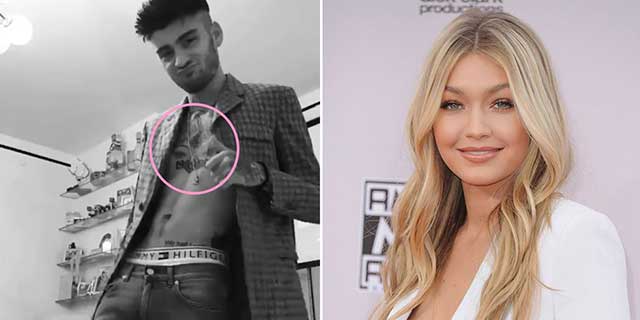 When Gigi posted a video of Zayn dancing in January 2018, the first thing fans noticed was her eyes tattooed in the middle of his chest.
Pete Davidson's tattoo of Ariana Grande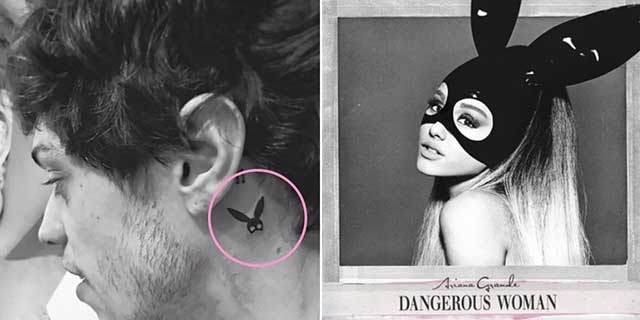 Very quickly after Pete Davidson and Ariana Grande were rumored to be dating, the SNL host made things official with a Dangerous Woman tattoo behind his ear.
Megan Fox's tattoo of Marilyn Monroe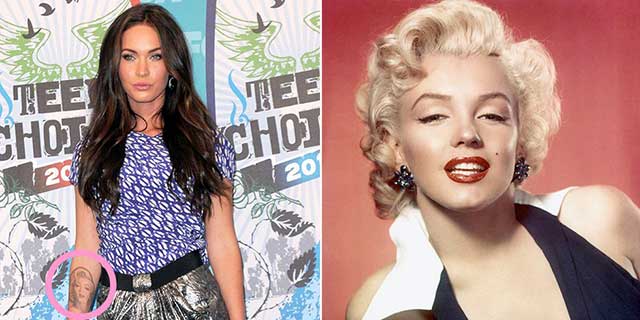 Megan told Italian magazine Amica that she was attempting to get the tattoo lasered off, explaining, "I'm removing it. It is a negative character, as she suffered from personality disorders and was bipolar. I do not want to attract this kind of negative energy in my life."
Justin Bieber's tattoo of Selena Gomez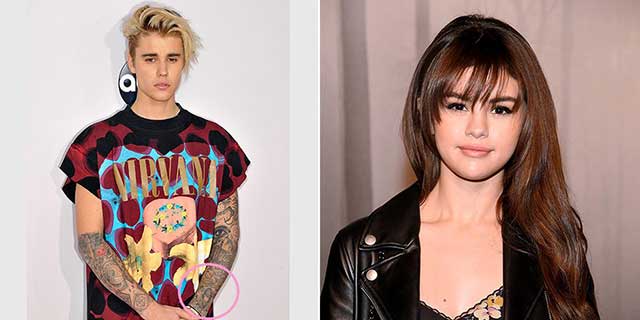 "Uh, this is my ex-girlfriend", Justin explained in a 2016 GQ magazine interview, while pointing at the woman wearing wings on his forearm. "So I kinda try to cover her face up with some shading, but people still know."
Nas' tattoo of Kelis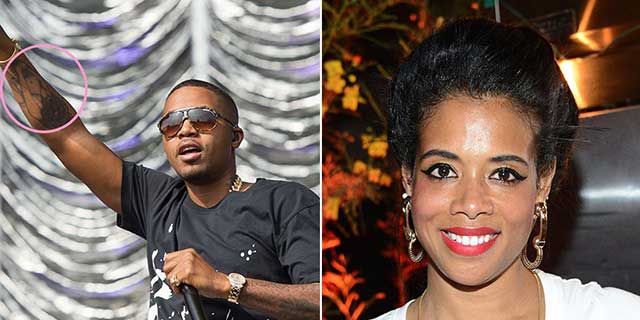 Rapper Nas had a very naked tattoo of his then-wife Kelis on his arm, until they got a divorce and he covered it up in 2010.
Amber Rose's tattoo of Slash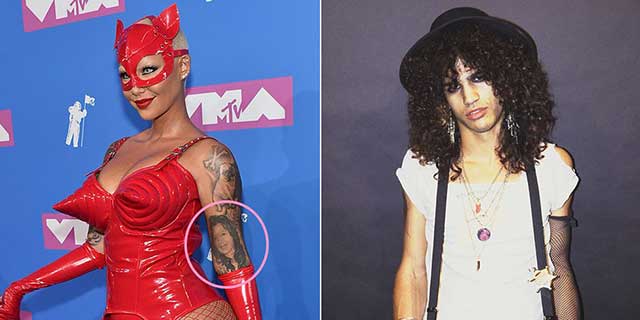 When Amber Rose covered up her tattoo of ex-husband Wiz Khalifa in August 2017, she covered it with an inking of Guns N' Roses rocker Slash.
Drake's tattoo of Lil' Wayne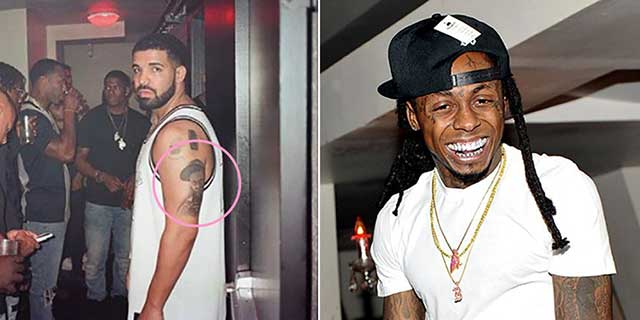 Drake unveiled a tattoo of Lil' Wayne on his arm on Instagram in July 2017. Wayne was "beyond floored and honored" by the gesture, TMZ claimed.
Drake's second tattoo of Sade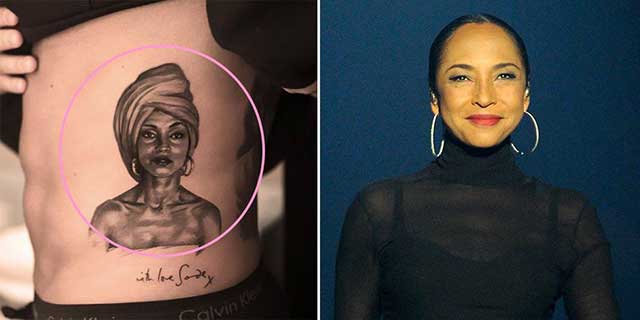 Drake got his first Sade tattoo in March 2017, which his tattoo artist shared on Instagram along with the caption, "with love Sade X @champagnepapi"
Drake's tattoo of Sade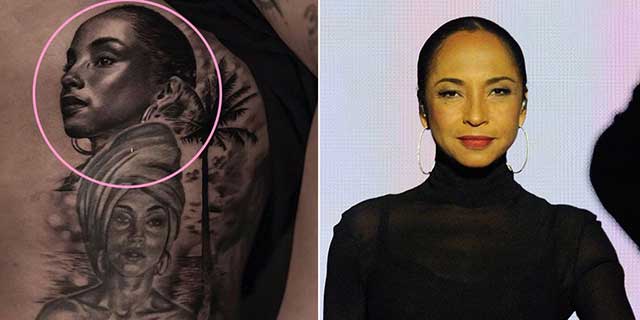 Three months later in June 2017, he followed it up with ANOTHER Sade tattoo by the same artist. This time, the caption read, "More life. More tattoos. Was honored to continue this piece based on @sade started by an amazing artist @niki23gtr on @champagnepapi Excited to continue."
Ruby Rose's tattoo of Jean-Michel Basquiat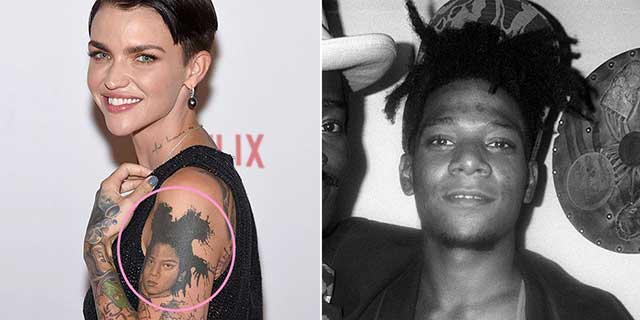 Ruby Rose unveiled a tribute to street artist Jean-Michel Basquiat on her bicep in June 2014.
Safaree Samuels' tattoo of Nicki Minaj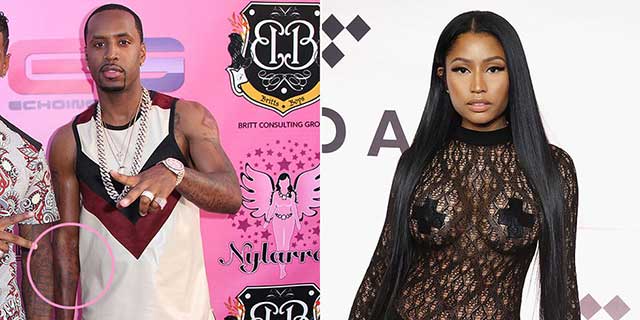 Rapper and Nicki Minaj's ex-boyfriend Safaree Samuels had a pink tattoo of her with her tongue stuck out, until they eventually split and he had it covered with some roses in September 2015.
***
This article originally appeared on Cosmopolitan.com/uk. Minor edits have been made by the Cosmo.ph editors.
Continue reading below ↓
Recommended Videos