Scars are a permanent reminder of an ailment or an accident, and for that reason, some people who have them have a negative perception of them. Often, people will go to lengths to cover up their scars, but why not embrace them? Just like these celebrities:
1. Kate Middleton
When people first noticed the three-inch scar just in from her hairline a decade ago, their assumption was that Kate Middleton had hair extensions. Of course, that was completely false, and Kensington Palace released a statement saying: "The scar is related to a childhood operation." We don't have much more information than that about the scar on the left-hand side of the Duchess' head, but she's worn her hair in styles where it's partially visible since.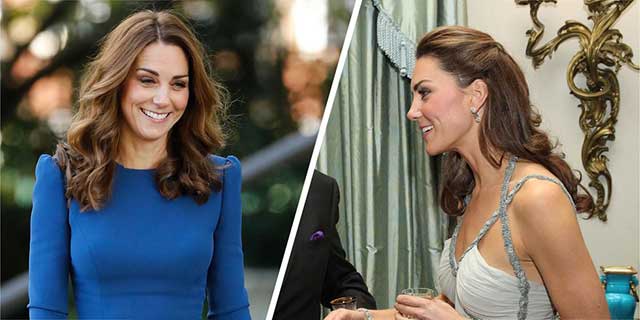 ADVERTISMENT - CONTINUE READING BELOW ↓
2. Kylie Jennier
Proving she's got no intention of hiding the scar she sustained on her leg as a result of an accident while climbing a pole when she was five, a few years back Kylie Jenner proudly shared a picture of it on Instagram. "I love my scar," she wrote.
3. Selena Gomez
2017 was a big year for Selena Gomez's health, as she underwent the kidney transplant she needed following damage sustained from lupus. Selena's best friend Francia Raisa bravely donated her kidney to Selena, the operation from which left both women with a scar.
In March 2018, Selena proudly showed hers off in a swimsuit while relaxing on holiday in Australia. In a poignant Instagram caption shortly afterwards, she wrote: "The beauty myth—an obsession with physical perfection that traps modern woman in an endless cycle of hopelessness, self consciousness, and self-hatred as she tries to fulfill society's impossible definition of flawless beauty."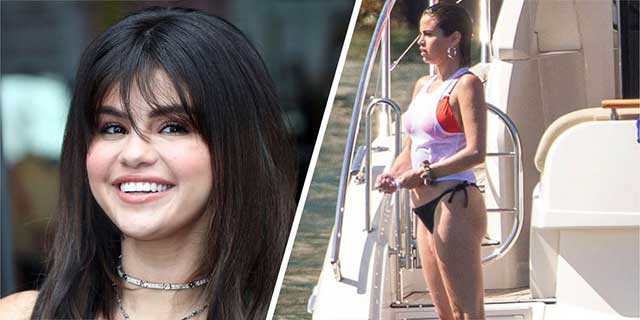 ADVERTISMENT - CONTINUE READING BELOW ↓
4. Prince William
Kate Middleton isn't the only royal to have a scar on her head; her husband, Prince William also has one, and he legit calls it his "Harry Potter scar." The Prince was accidentally hit with a golf club when he was 13, leading to the permanent mark on the left side of his forehead.
"I call it [my Harry Potter scar] because it glows sometimes and some people notice it—other times they don't notice it at all," he said in a 2009 interview.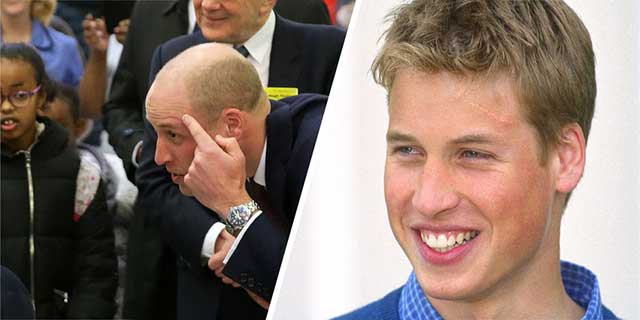 ADVERTISMENT - CONTINUE READING BELOW ↓
5. Lena Dunham
Lena Dunham has famously documented her experience with endometriosis, and the resulting impact it's had on her body. One of those repercussions is a series of scars from various operations she's had to undergo, but it's not left her feeling uncomfortable with the way she looks. In 2016, Lena posted a picture of her in a bikini in the Target changing rooms, and captioned it: "When the Target swimsuit does a bitch right, endo scars & all."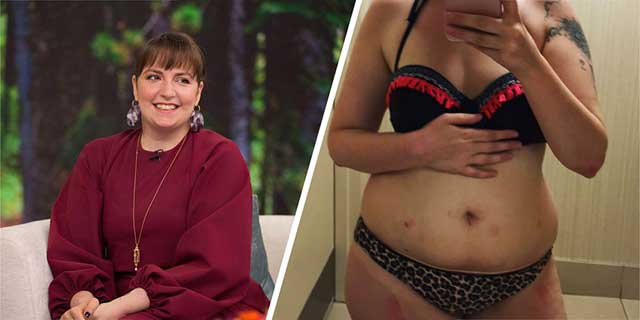 ADVERTISMENT - CONTINUE READING BELOW ↓
6. Princess Eugenie
Everyone was eager to see what dress Princess Eugenie chose to wear to her October 2018 wedding to Jack Brooksbank, and she didn't disappoint. Making a bold statement, the Queen's granddaughter used her big day to make an even bigger statement about body confidence.
28-year-old Eugenie was diagnosed with scoliosis, a medical condition in which a person's spine has a sideways curve, when she was just 12. An operation to correct it left the Princess with a long scar leading from the nape of her neck downwards, and the plunging back on her Peter Pilotto dress perfectly complements it. Prior to her wedding, Eugenie told This Morning's Eamon Holmes and Ruth Langsford the gown was "a lovely way to honour the people who looked after me and a way of standing up for young people who also go through this."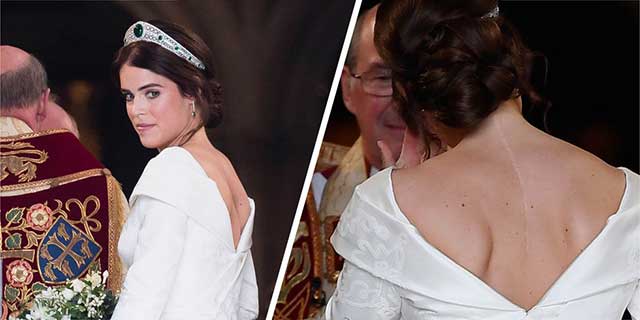 ADVERTISMENT - CONTINUE READING BELOW ↓
7. Perrie Edwards
Little Mix's Perrie Edwards has a scar on her abdomen as a result of an operation she had when she was little, to correct her esophagus. Having spoken openly before about the scar previously being her biggest body hang up—"I don't want to show it," the singer once told Now magazine. Perrie proved in a later Instagram that she's now comfortable in her own skin, by showing off the scar in a plunging top.
ADVERTISMENT - CONTINUE READING BELOW ↓
8. Gabby Allen
It's a good job Love Island 2017 star Gabby Allen isn't self-conscious about the scar running down the center of her back, or she'd have had trouble feeling confident enough to wear a bikini for the duration of the show. But Gabby knows the scar, which she has following a childhood scoliosis operation, just like Princess Eugenie, is nothing to be embarrassed about.
Showing it off on Instagram during a trip to Mykonos this summer, Gabby used the image to promote a scoliosis charity initiative. In a previous social media post about her scar, the fitness trainer-turned reality star wrote: "Be proud of your bodies. Accept them for what they are. Forgive them for what they're not. Understand them when they need a rest. Support them. Believe in them! Love them!"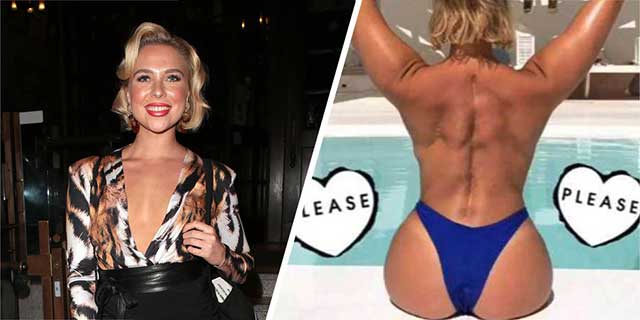 ADVERTISMENT - CONTINUE READING BELOW ↓
9. Tina Fey
You might never have noticed the scar Tina Fey has on the left-hand side of her face, just under her mouth, but the story behind how it came about is shocking. When the comedy writer and actress was just 5 years old, she was playing out the front of her house when a stranger approached her and—out of nowhere—cut her with a knife. "She just thought somebody marked her with a pen," Tina's husband, Jeff Richmond, said. Tina says she was mostly able to ignore the scar until she began doing on-screen work, and it made her feel self-conscious. "I'm kind of able to forget about it, until I was on-camera." Many of Tina's scenes are reportedly filmed from the right-hand side.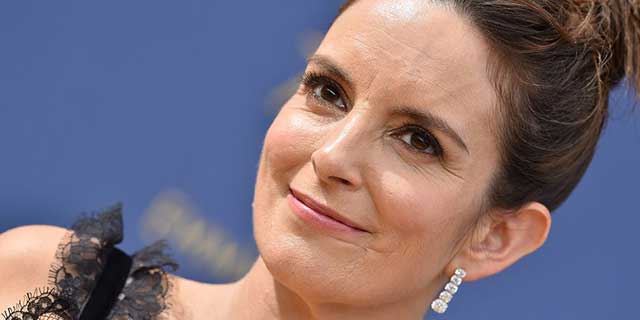 ADVERTISMENT - CONTINUE READING BELOW ↓
10. Olivia Buckland
Love Island 2016 star Olivia Buckland's scar is a recent one, having gotten it when she had a lump removed earlier this year. The lump in question, which was located near the reality star's left armpit, had been bothering Olivia for four years until she finally built up the courage to have it checked out ahead of her wedding. "It turned out to be a lipoma," Olivia wrote on her Instagram stories. "Had it for a good four years and finally plucked up the courage before the wedding to have it removed. It was cut out and was about 3x3 inches!" Olivia has said her scar is healing well.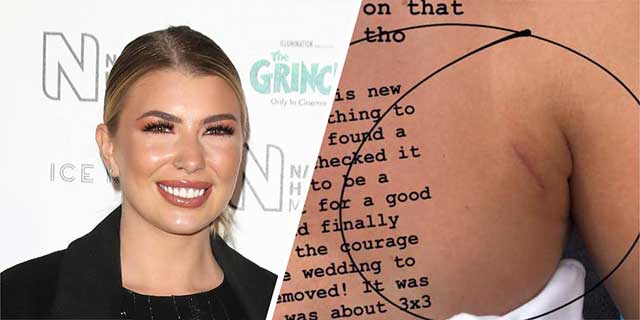 ADVERTISMENT - CONTINUE READING BELOW ↓
11. Kaley Cuoco
The Big Bang Theory actress Kaley Cuoco regularly shows off the scar on her foot while walking the red carpet. 32-year-old Kaley sustained the surgical scar after a horse riding accident led to her crushing the bottom of her leg back in 2010. The incident was so severe, she could have lost her leg.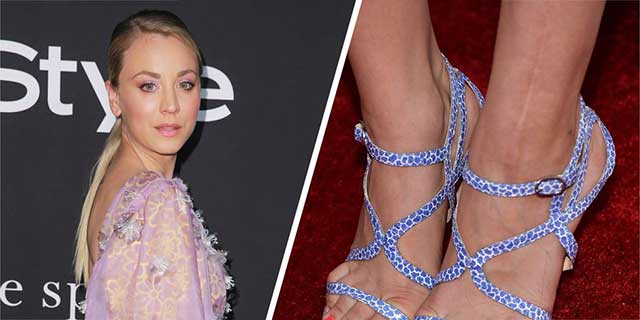 ADVERTISMENT - CONTINUE READING BELOW ↓
***
This article originally appeared on Cosmopolitan.com/uk. Minor edits have been made by the Cosmo.ph editors.