*August 31, 2021 Update* 
Did you know that ASTRO member Cha Eun Woo actually started as an actor, with a minor role in the 2014 film My Brilliant Life, and debuted as an idol in 2016? Since then he's been stealing our hearts as one of the brightest stars in the Korean entertainment industry.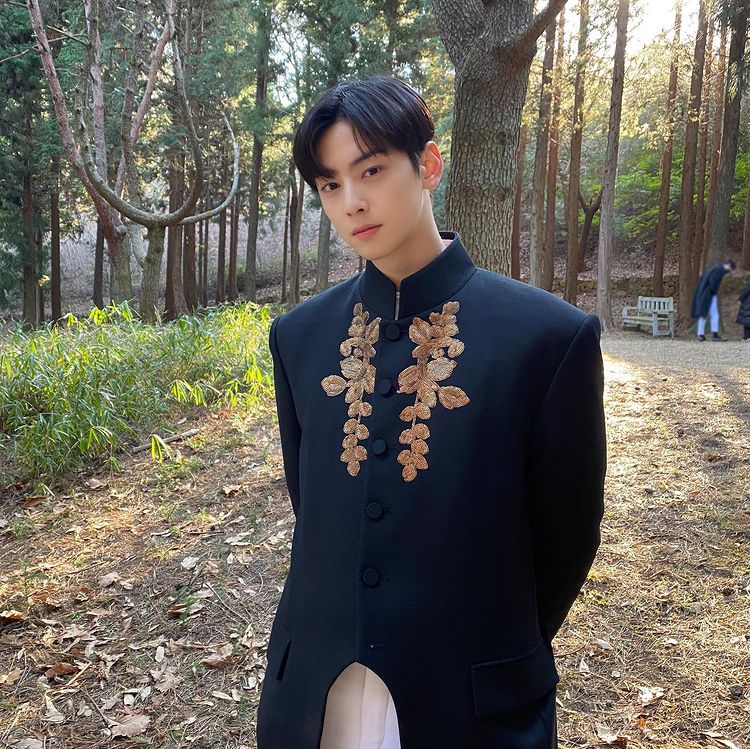 Another fun fact: Did you know Cha Eun Woo actually lived and studied in the Philippines during his younger years? And that he also loves Jollibee like us? Cute right?!
Now that you're kinda, sorta, and maybe 100 percent in love with him like we are, here's a list of Cha Eun Woo dramas that you should watch ASAP:
1. Sweet And Sour Chicken/Dak Gang Jeong (Coming Soon) 
Okay, disclaimer: Eun Woo is so far *in talks* to star in the drama, according to his agency Fantagio. Soompi tells us that the show will be directed and written by Lee Byung Hun, who previously worked on Be Melodramatic.
2. Island (Coming Soon) 
The drama circles around a man who is cursed to live as an immortal and a chaebol's daughter who is being followed by goblins. Eun Woo has reportedly been offered the role of Kang Chan Hyuk aka John, "a stylish exorcist priest who has an optimistic personality."
Continue reading below ↓
Recommended Videos
3. True Beauty (2020)
In this webtoon-based drama, Eun Woo plays the role of Lee Suho, the most popular and most handsome boy in his high school, who ~seems~ cold-hearted and sharp-tongued, Moon Ga Young plays Im Ju Kyung, Eun Woo's leading lady. There's also a ~love triangle~ in this story! Hwang In Yeop plays the role of Han Seo Jun, the school's resident bad boy who's actually really kindhearted deep down. 
Where to watch it: Viu  
4. Rookie Historian Goo Hae Ryung (2019) 
In this sageuk (historical drama), Eun Woo is Prince Lee Rim. He is second in line to the throne and because of his loneliness, he lives a double life as a popular romance novel writer called "Maehwa." His life is ~disrupted~ when he meets Goo Hae Ryung (Shin Se Kyung), an unconventional and *troublesome* character who enters the palace as a female historian. 
Where to watch it: Netflix
5. My ID Is Gangnam Beauty (2018)  
Eun Woo plays the role of Do Kyung Seok, a college student who appears cold and distant at first. He turns out to be quite caring—and super dreamy—when he meets his former schoolmate Kang Mi Rae (Im Soo Hyang). Timid and insecure Mi Rae went through a lot of cosmetic surgery before starting college because she wanted to live a "normal" life. 
Where to watch it: Netflix, Viu 
6. Soul Plate (2019) 
In this mini-series, Eun Woo and the members of ASTRO are "angels who are running a restaurant!" 
7. Top Management (2018) 
In Top Management, Eun Woo is a member of S.O.U.L., an up-and-coming boy band. The group's manager, Eun Sung (Seo Eun Su) has the ability to see the future.
8. Sweet Revenge (2017) 
The web series tells the story of teenager Ho Goo Hee (Kim Hyang Gi), who discovers an application on her phone which takes revenge on anyone whose name is written on it! Eun Woo is the sweet oppa who comforts her when she gets her heart broken. He doesn't have a lot of screen time in this show, but be prepared: he lights up the screen every time he has a scene.
9. The Best Hit/Hit The Top (2017) 
Eun Woo's character is named MJ, a very popular soon-to-be idol. Although he only had a minor role in this drama, people fell even more in love with Eun Woo after it aired! 
10. My Romantic Some Recipe (2016) 
This mini-series, which only has six episodes, lets us see Cha Eun Woo as...Cha Eun Woo. A college student (Joo Da Young) brings home a standee of her favorite idol—and he eventually comes to life.
11. To Be Continued (2015)
The members of ASTRO star as "a male idol group that suddenly slips back in time just one day ahead of their debut stage!" (via MyDramaList) 
READ MORE ABOUT EUN WOO HERE: 
WATCH: Cha Eun Woo Burst Into Tears, Saying: 'I want to get married'
These Childhood Photos Of Cha Eun Woo Will Make You *Love* Him Even More
You Guys, Cha Eun Woo Was Apparently The *Perfect* Student IRL!
***
We're officially on Viber! Be part of our growing community and subscribe to Cosmopolitan Philippines now!
Follow Lily on Instagram.
K-UPDATES