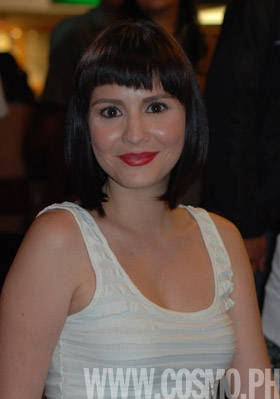 A lot of us--whether we admit it or not--have insecurities about our bodies, our skin, or the way we look in general. Looking at celebrities, some of us often wish we had this beauty queen's long legs, this model's perfect figure, or that actress' flawless skin. Remarkable beauty, some of us might believe, is just an elusive dream only a few people are blessed with.

But for Cheska-Garcia Kramer, true beauty is actually far from what we usually see on TV or billboards.

In an exclusive interview with Cosmo.ph, the pretty TV personality revealed that while she was growing up, she, too, had her own insecurities. She also admitted to committing a few beauty blunders in the past. But looking at the vibrant, pretty woman she is now, we know she has definitely gotten over her insecurities and learned from her boo-boos.

We've already shared fashion and beauty secrets from her Us Girls co-hosts Angel Aquino and Iya Villania. This time, find out what Cheska has to say about achieving true beauty, and how it all starts with something anyone of us can do.

With reports from Trixie Reyna

What makes a woman beautiful?

What makes a woman beautiful is her confidence. You can be a very beautiful woman but you're not confident, it shows—your insecurities show. So more than anything, a confident woman is beautiful. And of course [a woman should also] be intelligent—not just book-smart but also street-smart—and have some [sense of] humor.

What do you think is your most special quality?

I think… I'm a "character." (Laughs.) So yeah, I think I'm unpredictable. So I can be fun, and I can be serious at the same time. I can be funny also, and like my husband (basketball player Doug Kramer) would always say, "My wife is a character." (Laughs.)

What do you think is your best physical asset?

My eyes and my feet.

Tell us about your personal style. What are your fashion must-haves?

Honestly, I don't let trends teach me what I should wear. I do appreciate some trends but then I really go for [clothes] that are sleek, clean, and very feminine. I stick to colors that complement me.

How do you take care of your skin?

I sleep early. I drink lots of water, I don't stress myself out. I manage to take stress out... so I enjoy my life more. I have a positive outlook in life. And of course, whenever I do have work, that's the only time I use makeup. On a regular day, I don't put makeup on. I keep my face clean, and when I do have makeup on, I make sure I don't fall asleep without [cleaning my face]. I make sure that I'm hygienic. I keep myself clean, have regular showers, and make myself smell good.

Are there any beauty tips or secrets that you swear by?

Sleep early, [that's number one, if] you want to look fresh, feel good, [and] feel great. Sleep early, give yourself a break, [and] drink lots of water to flush out all the toxins in your body. Try to eat right, and at the same time, have a positive outlook. Enjoy your life, no matter what it is that you're going through.

You said you don't really wear makeup when you don't have work. But when you do wear makeup, what makeup tips or tricks do you swear by?

For me kasi, I believe that if you have good eyebrows, then everything flows. But for that you need to have a really nice eyebrow pencil [in the] proper colors, [to] soften your features. Learn how to shape your eyebrows, [which can] define your face more.

Have you committed any beauty boo-boos in the past? What are they and how did you correct them?

Siguro 'yung ano lang, [when] you enjoy putting on makeup and everything, usually you make the mistake of getting the wrong concealer, getting the wrong face powder, and putting so much on your face, [tapos pagtingin mo sa] pictures mo, [mukhang] kabuki. 'Di ba? (Laughs.) Or like, just on hindsight, ang kapal pala ng makeup mo.

Dati kasi, parang if you cover your blemishes, or if you cover your skin, it was more acceptable. But now, less is more. So if you have nice skin, show your nice skin, 'di ba? For me that would have to be my beauty boo-boo: putting on too much foundation and not finding the right color for me.

How about women in general? For you, what are the worst beauty boo-boos that women commit?

Well, some women are naturally hairy. [In case you are,] you have to make sure that your eyebrows are properly trimmed. You don't have to make it really thin but if you do shave or pluck your eyebrows, make it a point [to clean it up] when it starts [to grow] out. It's just bothersome [to look at] when you're talking to somebody.

I'm very OC e, with the face. So keep your eyebrows clean, and find the right lipstick color for you. Not so bright naman kung 'di bagay sa'yo. 'Tsaka 'yung mga 'di na usong colors, let go of it. And 'yung hair color, you have to know what hair colors suit your skin tone. If it's too orange, 'yung mga masyadong orange-y na hair, get real. If it looks good on [another] person, [it doesn't mean] it will look good on you.

How do you maintain your figure?

I don't eat pork. I'm not into sweets masyado, [and] if I do eat sweets, I like dark chocolate. If I do have steak, just small portions. I drink lots of water. If I do eat junkfood, it's more on the seaweed, because I like 'yung mga seaweeds. 'Yung seaweed na parang wrap.

I don't really have a fixed time for going to the gym. My workout would be spending time with my daughter, getting active, [and] playing with her. I love going to the mall, so we like to walk around. That would be it.

What would you tell women who are insecure about their looks to help them feel better about themselves?

When I was younger, I was very, very insecure of my freckles. I grew up looking at other girls, [seeing that] they're blemish-free. Eventually, I learned to embrace my freckles. Through time, people have learned to appreciate [flaws]. Before, it [was called] a blemish. And now, beauty mark na siya. Beauty feature na siya, hindi na siya something that people make a fuss about. So, I learned to embrace that, and I learned that other than just your physical attributes, what matters most is your character deep inside. You can be the most beautiful person, but if you're wicked inside, it doesn't matter. Who would want to be with somebody beautiful like that [but isn't] good or not fun to be with, 'di ba?

More than anything, just be comfortable with what you have. Don't be shallow or superficial because you will pay for it later on. Even if you have the money to spend for cosmetic enhancement, you're never gonna look the way you looked ten, twenty years ago.

Who are the five most beautiful women for you?

I find Angel Aquino really pretty. I also find Dawn Zulueta really pretty. Kristine Hermosa has a very pretty face. My female crush, as in forever-forever crush, is Monica Bellucci. And I find Solenn Heusaff really pretty.