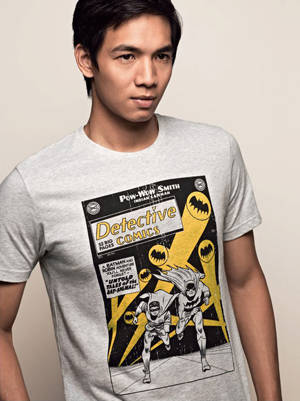 It's raining men this month at Cosmo, and up next on our radar is professional basketball star/host/model Chris Tiu. We caught up with the Rain or Shine Elasto Painters' guard at the fall/winter presentation of Uniqlo, which Chris endorses.

If you're one of those chicks who think that men are completely clueless about fashion and put no more thought to clothing than just throwing on the first T-shirt they pull out of the closet, think again. Chris is here to debunk that myth as he shares practical shopping know-how with Cosmo.ph.

Read on to get tips from the style-savvy basketball star--maybe your man can pick up a tip or two!


On his personal style:
"In general, I dress up very sporty and preppy. In one word, I would say fresh. Clean and fresh."

On his most sulit fashion find:
"Uniqlo jeans--it's from a previous collection [not their current fall/winter collection]. The jeans are reasonably priced and they're very comfortable, I love the fit--it fits me perfectly and I also love the cut. When I don't want to think about what to wear, they're the first thing I grab." 

On things he can't leave the house without:
"Cash, definitely. My phone--to stay connected. My car, my mouthwash--just practical stuff. Oh, and my credit cards."
ADVERTISMENT - CONTINUE READING BELOW ↓
On style tips for the everyday Joe:
"I'm very practical when I buy something. I'll buy a pair of jeans or shorts that I can pair with many things and I can easily mix and match, not something that I'll wear just once. I like the products at Uniqlo because they're reasonably priced and very stylish, and the quality is very good. You can use it over and over again and it won't look old or faded. And I like their fit--I'm very particular with fit. If the style is nice but it doesn't fit well, then I won't buy it."
ADVERTISMENT - CONTINUE READING BELOW ↓
Recommended Videos
EXPLORE COSMO