A few nights ago, I was scrolling on Instagram, minding my own damn business, when all of a sudden I was forced to view the stuff of nightmares—or, if you watched Karate Kid a bunch of times as a kid, the stuff of very cool, not at all traumatic dreams. Some guy caught a fly with his bare hand, casually walked it over to a very large spider's web, and fed the eight-legged monster a little snack. That guy was Riverdale heartthrob KJ Apa. As he puts it, he was "just out here helping the lads out."
Gross. Anyways, I was about to scroll right on past, when I noticed this very trolly comment from KJ's co-star Cole Sprouse:
Continue reading below ↓
Recommended Videos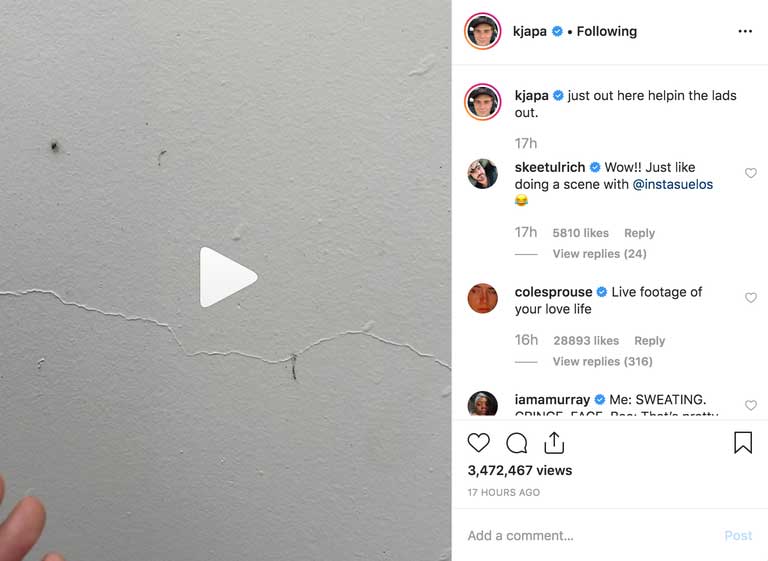 Cole wrote, "live footage of your love life."
"Harsh, but true," one fan responded to the actor's diss. Except...is it though? I'm honestly a little confused about the mechanics of this metaphor and have some thoughts/questions.
1. Is KJ's love life the spider or the fly?
I don't quite understand. If he's the fly, is he being eaten alive by too many prospects? If not, what unknown forces are keeping KJ a bachelor? Is it all the hair dye stains in his sink?
2. So...is KJ Apa seeing anyone?
Back in July, KJ was spotted kissing his former A Dog's Purpose costar Britt Robertson. Is that still a thing? If not, there are at least six women in the Cosmo offices who are interested, KJ! Feel free to slide their DMs.
3. Is it that deep?
Probably not, but words have meaning and I must understand! That's just like, the rules of journalism.
4. Cole's no longer allowed to poke fun at anyone's dating life.
It should be a rule that people in long-term, loving relationships don't get to make fun of us single peasants still looking for someone special. It's hard enough out here as it is, K?!
***
This article originally appeared on Cosmopolitan.com. Minor edits have been made by the Cosmo.ph editors.