Coleen Garcia couldn't help but feel emotional as she looked back on the days when she was still pregnant.
The actress shared a heartfelt post on Insta along with photos from her preggy days which she only uploaded now. The upload included an assortment of pics, from Coleen's glammed-up maternity shoot, sweet photos with Billy Crawford, to candid photos of Coleen and her then-growing belly.
"It's September!!! I've been reminiscing and looking through old photos of this time when it was still just the two of us, and oh, how different everything was! We really had no idea what we were in for, not just by having a baby, but by having a baby during THIS time. Still in the middle of a pandemic. Either way, life has been more vibrant than ever, and time really does fly. I'm somewhere between 'It's been a year already?!' and 'It's only been a year?!' and to think I haven't even made it to the Day 1 Amari photos yet. I'll cry."
ADVERTISMENT - CONTINUE READING BELOW ↓
"Hahahahahaha my goodness, the journey!" Billy reacted to Coleen's post. "You are an unbelievable mom! Strong and amazingly beautiful inside and out. God has given me a beautiful family; thank you, Lord! @coleen"


One netizen asked Coleen how she was able to make her stretch marks disappear.
"Paano nawala yung stretch marks mo?" 
"They're still here!" Coleen replied. "The color just faded, but they're still kinda sunken. You can really only see them up close or in harsh lighting. Haven't done anything to them yet."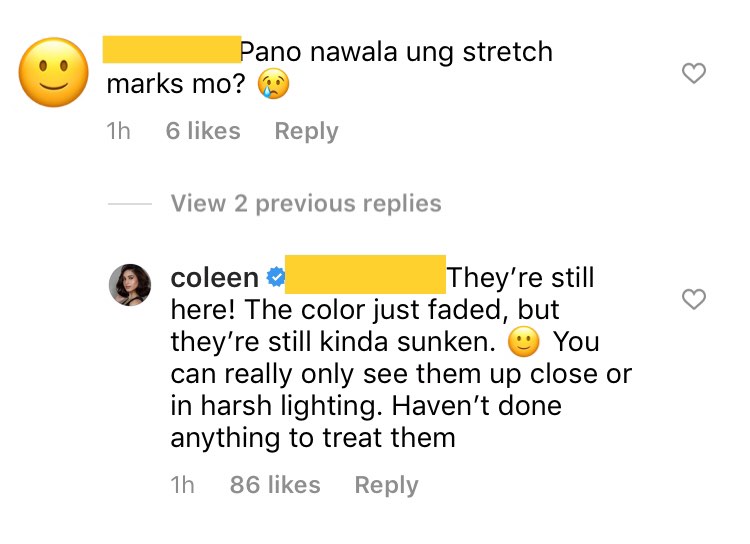 Coleen reminiscing her pregnancy comes as Baby Amari turns one year old on September 10, 2021. Coleen and Billy welcomed Amari through a home water birth, the experience of which she described as "very raw, vulnerable, and personal."