When you think "geek," this is probably what you picture: socially inept guys who talk about obscure science fiction, who look down on you when you don't understand what they're talking about.
When you think "geek," you probably don't picture a girl who loves to read and write, who loves cats and pretty dresses, who cries at every wedding (even in movies), who loves to cook. But geeks come in all shapes and sizes (and genders). I'm one of them.
Hi, I'm Rej. I'm a girl geek, and I love Star Wars!
The Force is strong in my family.
Star Wars has always been a big part of my life. I fell in love with the saga when I was a little girl. My mom and I just moved to Riyadh, Saudi Arabia, to join my dad. Mommy was adjusting to the jet lag, so to keep me quiet, Daddy played Star Wars for me. From the moment the words crawled onscreen, I was transfixed. I wanted a lightsaber. I wanted to fly the Millennium Falcon. I was hooked! Maybe it helped that our new home kind of looked like the deserts of Tatooine?
When my brother Victor was born, we made him watch the movies while he was still in diapers. In 1994, we went to the US for Christmas, and my mom made sure we visited the famous Magic of Myth exhibit in San Francisco. When Episode III: Revenge of the Sith was released in 2005, my family was in the theater, watching with me.
Over 10 years ago, I joined a local Star Wars fan club, and I met the man I would one day marry. So yeah, Star Wars has been a guiding Force all my life!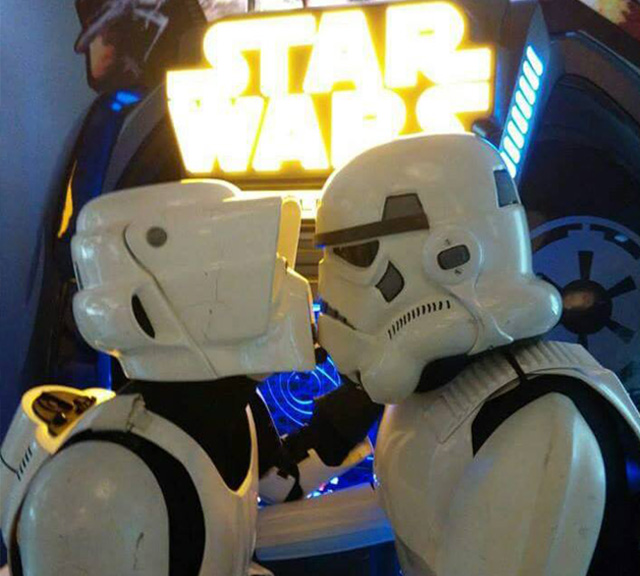 Continue reading below ↓
Recommended Videos
Rej and her husband Oneal, who's also a big Star Wars fan. 
Unfortunately, people think Star Wars is a guy thing. People I've just met are surprised when they find out I'm crazy about this galaxy far, far away. When they find out my husband Oneal is a big fan too, or that we had a Star Wars wedding in 2010, they ask, "Oh, did you get into Star Wars because of him?" Hello! Why don't they ever ask if he got into Star Wars because of me? Some people even ask, who's the bigger fan? The official (and kilig) answer: we're both big fans and what matters is the Force brought us together!
Wearing Star Wars
Exactly how much do I love Star Wars? Some fans collect posters and DVDs, read novels and comics, buy toys, or build dioramas. Me, I make and wear costumes.
Rej posted this photo on her Instagram account, showing the materials she'll use for her upcoming costume.
It was in 2005 when Oneal and I joined the 501st Legion, an international organization of fans who dress up as the bad guys and girls from all over the galaxy. Although the 501st has Sith lords and bounty hunters galore, we're best known for dressing up as Imperial characters: Darth Vader, Stormtroopers, Imperial officers, and clones.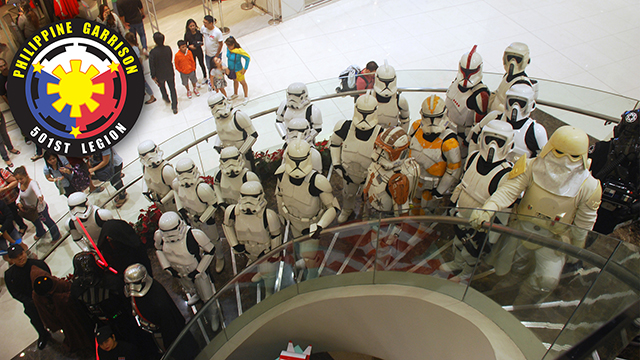 In full force! The Pinoy 501st Legion at the Star Wars: The Force Awakens premiere 
It's not easy to join the 501st. Your costume has to look 100% like what appears in the movie, comics, or TV shows. When you make your costume, you send in photos for approval, and Legion officers will scrutinize every detail. When you do get approved for membership, you become part of a club with over 9,000 members worldwide! And even better, it's a fan club that Lucasfilm and Disney regularly call on to appear at official events. Here in the Philippines, the 501st is represented by the 41 members of the Philippine Garrison.
Now you might wonder, what kind of costume did I put together? There are a lot of awesome female villains in Star Wars, like Sith apprentice Asajj Ventress, bounty hunter Aurra Sing, and assassin Mara Jade. Many 501st members all over the world put together amazing costumes for these characters, and they all look like they stepped out of the pages of the comic books.
But I didn't go that route. Instead, I chose armor.
His and hers! Rej's Episode II Clone Trooper helmet (bottom) and her husband's original trilogy Stormtrooper helmet 
Suiting up
Remember the cute little Ewoks in Return of the Jedi? Those cute cuddly bears who helped the Rebels defeat the Empire on Endor? No, I don't dress up as an Ewok! I dress up as a Biker Scout, like the Imperial Troopers who were chasing after Luke and Leia through the forest on speeder bikes. My costume is made of fiberglass, and I'm proud to say I worked on it myself, from painting and sanding to attaching the straps and Velcro.
Rej in Biker Scout armor, with her husband Oneal
I've been wearing my Biker Scout armor for nearly 10 years, and it's so much fun to hear people squeal, "Oh my God, Star Wars!" when they see me in costume. At parties and events, I get to dance and play with little kids, who seem delighted that a character stepped out of the movies to spend time with them. It really helps that biker scouts have very little leg armor, so I can sit and crouch and hug little kids who come closer for pictures.
My husband has the Stormtrooper armor, and I helped him work on that too. But of course, when you're an obsessed fan, one is not enough. After a few years of wearing our armor, Oneal and I got Clone Trooper armor too.
Clones are the troopers who appear in the newer movies with Hayden Christensen and Ewan McGregor. Unlike Biker Scouts, clones are fully armored, with large helmets and full leg armor. There are bigger armor pieces too for the torso and the arms, so it's much harder to move!
There's also the problem of my, er, figure. Most armor in the galaxy is designed for male figures, not for feminine curves! This isn't a big problem for my biker scout costume, since there are few armor pieces. Clones, however, are tall and slender, in both the movies and the animated TV shows. My costume may be movie-accurate, but my hips and chest sure aren't!
First lady of the Philippine outpost
I whine and joke about my curves, but the truth is most people can't tell I'm a girl when I'm in armor. At events, people come up to me and say, "Pa-picture, kuya!"
One time, a guy put his arm around me for a picture, his hand resting on my chest armor. I thought, "Uhm, that's my boob under the armor. But he doesn't know I'm a girl so I guess he doesn't know I have boobs? So I guess it's okay?"
Then I start talking, and people jump in surprise. "Ay, babae pala!" Kids at parties look up, stunned.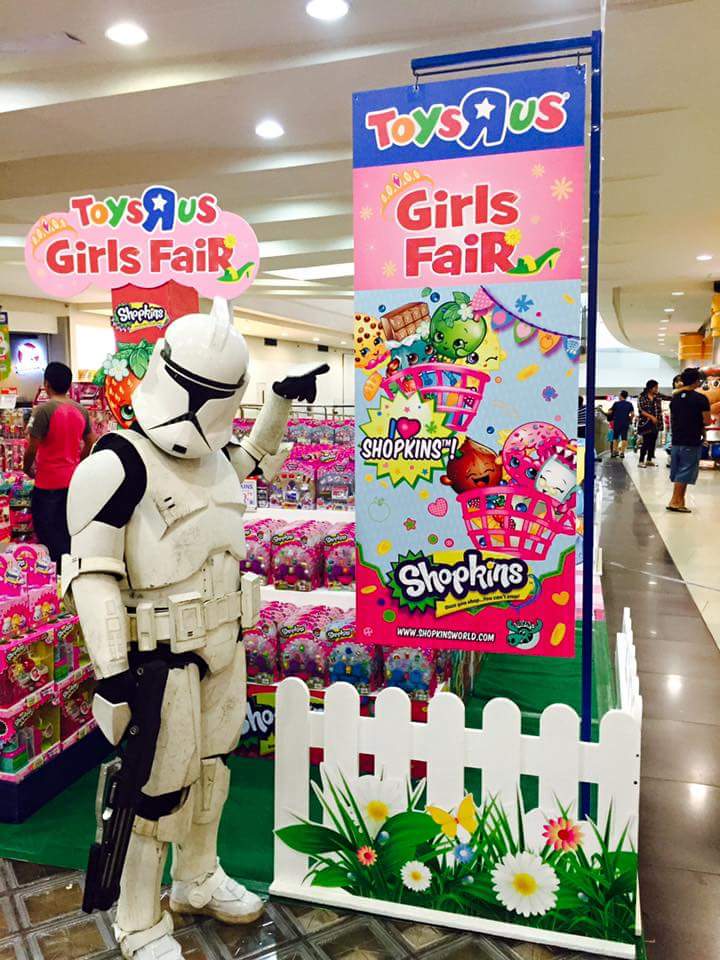 Rej in her Clone Trooper armor
"You're a girl!" one little boy said in shock once. One year we trooped at the sixth birthday of a little boy named Joaquin, who was dressed as Anakin and called us his troops. But when we were back in civilian clothes, he couldn't believe I was one of the troopers!
For 10 years, I was the only girl among the Pinoy members of the 501st. Some of the guys called me the first (and only) lady of our little outpost!
Now I'm really happy to be one of nine female members of the Philippine Garrison: seven here in Manila, and two in Cebu. As girls, we have a few unique concerns. What do we do with our hair under the helmet? What bra should we wear under the armor? How do we get dressed in a room full of guys?
It's also funny that out of nine females, six wear armor and helmets that conceal our femininity. Maybe it's because we don't want to be singled out as females. We're just Star Wars geeks, so why should we be treated any differently because we're girls?
On the other side of this problem is the fact that manufacturers of Star Wars apparel don't seem to think there are ANY girls who like Star Wars. Uniqlo and other brands still make Star Wars shirts ONLY for men. Hello? We'd like Star Wars shirts that actually fit us, thank you!
The Force Awakens
Now Episode VII is here. One of the most awesome things about it is there are so many awesome women all over the movie. Without spoiling anything, you have Carrie Fisher, Daisy Ridley, Gwendoline Christie, and Lupita Nyong'o. Once you see the movie, you'll have even more reason to cheer for women in the Star Wars universe! This is a really big deal!
Rej as Rey (played by Daisy Ridley) from Star Wars Episode VII: The Force Awakens
When I was growing up, a girl who liked Star Wars was automatically called Princess Leia. She was cool, sure, but I didn't really want to be her!
Little girls who see the movie today will definitely know that Star Wars is for girls too, and they can be anything they want, anywhere in the galaxy, on either side of the Force, carrying a blaster or a staff, flying a ship or commanding an army. Hopefully, by the time they grow up, being a girl geek won't be such a surprise anymore.