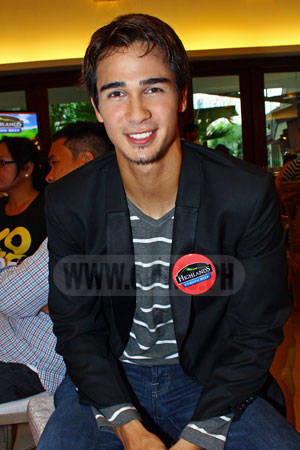 Here at Cosmo, we've sidled up to so many celebs and squeezed out so many quoteworthy tidbits from them, it would be a shame not to share them with our readers!

Take for example the short chat we had with James Younghusband last year, when he was launched as one of the celebrity endorsers of Highlands Corned Beef, fresh from his stint as a 2011 Cosmo Centerfold. The Philippine Azkal shared with us his personal sense of style and the trend his girlfriend rocks--which he loves. He showed such adoration for his girl, we found ourselves wishing we were his main squeeze instead.
ADVERTISMENT - CONTINUE READING BELOW ↓
Read the short Q&A below, then launch the gallery to see pics of James at the Highlands Corned Beef launch!

How would you describe your personal style? Is it very athletic?

Well, I like to be comfortable and I like to be sporty. So I really just like to wear my sneakers sometimes--most of the time--I like to wear basketball shorts. I try to keep it smart and simple--tight jeans maybe, plus my Collezione shirts.

Would you say that you're a big shopper?

Not lately, but I love to shop. I plan to go shopping this weekend, actually!

Does your girlfriend have a say when it comes to your style?

Oh, she's giving me a few tips. I like these things, I like that she gives me advice on how to dress. When I finally listen to her, I usually end up agreeing with her (laughs).

How would you describe your girlfriend's style?

She's into Ray-Ban sunglasses. She's also into neon colors at the moment. And I like it. I like a girl who's very confident and not afraid to wear bright colors and stand out.


Launch the gallery to see photos of James at last year's Highlands event!
1641