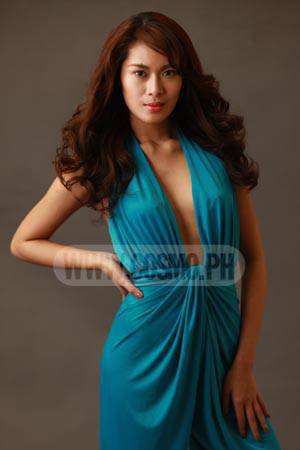 Model Wendy Tabusalla has the makings of a showbiz darling. The 22-year-old Mass Communications student first appeared on our radar when she was crowned last year's Miss Resorts World Manila, and just last month, she ventured into television as one of the housemates of Pinoy Big Brother: Unlimited, which is why she's probably even more familiar to you.

Her PBB schedule prevented her from attending the Cosmo's 8 Sexiest Models Party, but we were able to spend time with her at the shoot for the November 2011 special fashion editorial. After the fashion shoot with photographer Mark Nicdao at the Summit Studio, we got to chat with the Fil-Indonesian beauty about her modeling experiences in the past two years. She also revealed her beauty and fashion faves, and offered advice for aspiring models. Read her interview below!

How did you get into modeling?

I started modeling when I joined John Robert Powers, and then I joined workshops in Trumpets. Then, Miss Patty Betita asked me to join PMAP. [That's when] I started modeling professionally.

Who inspired you to become a model?

Miss Patty Betita inspired me to be a model because she believed in me. I was a chubby girl--as in, my face was so big, fat talaga--and she said, "You know, you're beautiful. Just go on a diet and do the right thing, and I'll help you to become a model."

What do you think makes you different from other models?

Well, I think all models are beautiful in their own way, in their own skin, but then I realized that personality is the best [thing] you need in this industry. If you don't know how to deal with different kinds of people, you won't get different kinds of jobs.

What are your favorite modeling jobs so far?

So far, my favorite modeling experiences are when we have out of town shoots or shows [because] siyempre you can have fun while working.

What have been your most challenging modeling jobs?

When we have gala shows and the gowns are so big, and we have stairs on the ramp. That's hard. You have to carry it and you just have to look natural [while] walking,  even if deep inside it's hard already and your heels are getting stuck in the dress.

Which type of modeling do you prefer--ramp or print?

I'm more comfortable doing ramp 'cause you show yourself [when] you walk, you show your personality. Not naman [by] talking pero you show it by how you glide on the ramp.

What's your dream modeling gig?

I hope I can work internationally, doing jobs in other countries, 'cause I haven't tried that. I've been in the modeling industry two years pa lang, and part-time lang kasi I'm still studying.

Do people treat you differently now that you're a model?

Sometimes, pero I don't take it [seriously]. Parang if they do it, ayoko. Siyempre, it's still me, I'm still the same. I don't want people to treat me differently.

What is the biggest misconception about models?

The biggest misconception is that we're stupid. (Laughs.) We're actually not! 'Cause most of the models right now are in school, they're actually finishing school. We want to be smart also, not just a pretty face or sexy body. We also want to be intelligent.

What was your biggest insecurity and how did you overcome it?

My biggest insecurity is my legs because [they're] so big. Ever since I started modeling, they always say na "your legs are big," ganyan-ganyan, pero eventually, na-overcome ko because I just became confident in my own body type. I said [to myself that] I'm not skinny like [other] models, pero I still get jobs 'cause personality is really the most important.

How do you stay in shape?

Exercise, no rice, no soft drinks, less sweets, and less fast food intake.

How do you take care of your skin?

I wash my face with mineral water and Cetaphil, 'yun lang. Less cosmetics, less anything that can harm your skin is better.

What's the top beauty secret you've learned from modeling?

Just be natural. We don't always wear makeup, we only get made up during shows or shoots. But in our everyday life, we actually don't wear makeup, we don't dress naman in gowns. Just look natural. "Be natural" is my motto.

Describe your personal style.

I'm a laid-back kind of girl. I don't like dressing up that much, just shorts or plain tops. I wear heels sometimes if I need to look presentable, but if not, I just wear sandals. Just a simple life.

Who is your fashion icon?

Audrey Hepburn, 'cause she looks classic.

What's your favorite trend right now?

My favorite trend is neon tops, like orange, yellow, pink...the colors that look like highlighters! (Laughs.) It brings out my skin [tone] 'cause I'm morena.

Name five things every model should own.

Definitely a little black dress, black pumps 'cause they go with everything, an eyelash curler, red lipstick, and one last is powder.

Where do you shop?

Topshop, Mango, and Zara for the expensive ones. But go to bazaars; they also sell clothes that are replicas of expensive ones already, so check out the bazaars like in Rockwell or Greenhills. I buy in tiangges.

What's your tip for girls who want to pursue modeling?

My advice is to just be natural. Being a model is being comfortable in your own skin, your own body, and your own face. You don't have to change anything.

What are your plans for the next five years?

Five years from now, I see myself hopefully still modeling but [also] having a stable job, stable career--work talaga.


Launch the gallery to see Wendy's behind-the-scenes photos from her "Cosmo's 8 Sexiest" shoot! Watch her video here.
ADVERTISMENT - CONTINUE READING BELOW ↓
1671
ADVERTISMENT - CONTINUE READING BELOW ↓
Recommended Videos
EXPLORE COSMO