I met SB19 in May, back when the fan club was still nameless and small. I was anxious and tired when I bumped into them at the airport going to Cagayan De Oro, where they were slotted to do a fan meeting in the same event I got invited to. They were standing in front of me at the boarding gates and I didn't know it was them because, though I did a little bit of research, there wasn't much that was written about them back then. I also wasn't able to memorize their faces. I mean, come on, they weren't even in their "Tilaluha" music video, how was I supposed to know that these boys were future internet sensations?
We landed in Cagayan De Oro and I saw the organizers waiting at the airport, which surprised me because I didn't tell them my flight details. They told me that I was on the same flight as their artists. I was shookt. I turned around and saw them approaching with their staff and their Korean teacher, and finally realized who they were. I ate dinner with them that night and watched them rehearse in major ~awe~. Mind you, this was before "Go Up" came out. The CDO K-pop community got hooked, and so was I. 
ADVERTISMENT - CONTINUE READING BELOW ↓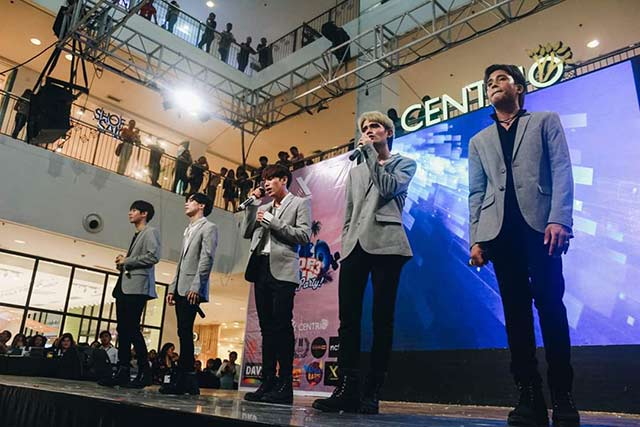 I knew then that this group was special. There's just something about them that invoked a deep sense of pride and excitement in me. Maybe it's because I'm a major K-pop fan. Maybe I'm just really glad to have met a group that ~finally~ sated my hunger for relatable P-pop music, but from then on I started stanning the group in the same way I follow and support my favorite Hallyu groups.
Six months later, I found myself sitting with them again at Summit Studios in Mandaluyong for their first-ever Cosmopolitan Philippines interview, sipping milk tea, and talking about just how ~cray~ the past few months have been. They released "Go Up" on July 26 and as of writing their music video now has 4.3 million views. The SB19 Facebook page now has more than 390,000 followers, while their channel is quickly growing at almost 650,000 subscribers, gaining over 23.7 million views and earning them a silver YouTube Play Button. They have a brand-new logo, a fandom color, and a name for their dedicated fans in the Philippines and abroad.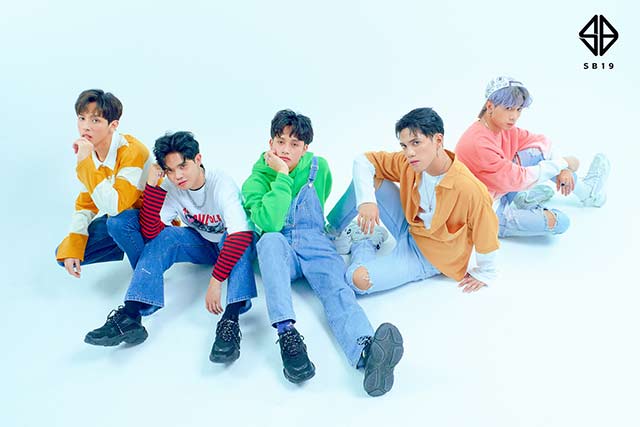 ADVERTISMENT - CONTINUE READING BELOW ↓
SB19 told Cosmo how overwhelmed they still are by everything that has happened between June and now. "Parang masyado pong mabilis," said their eldest member Josh Cullen Santos. It was perhaps an understatement if we were to look into their most recent achievements. They have graced so many stages this year and have finally seen themselves on major TV shows like ASAP, iWitness, Gandang Gabi Vice, and Tonight With Boy Abunda. TWBA was one of their most memorable guestings, they said, not only because they were interviewed by ~the~ Tito Boy, but also because they made a few booboos on camera due to lack of sleep and practice. "Kasi po nung time na 'yon sunod-sunod po yung [ABS-CBN] guestings namin. Siguro po [kapag] nagpupunta po kami ng [ABS-CBN] mga four to five shows yung shinu-shoot namin. Nag-GGV din po kami before that and every time naggue-guest po kami nagce-create kami ng kanta. Yung sa GGV po maganda," their leader John Paulo Nase aka Sejun explained after remarking that their impromptu TWBA song was a "disaster."
ADVERTISMENT - CONTINUE READING BELOW ↓
"Kulang sa tulog po talaga kaya lutang na lutang kami, e yung araw na rin po mismo [namin] napag-desisyunan yung lyrics [and] yung [melody ng] kanta," said their main vocalist Stell, known to family and friends as Stellevester Ajero. Though they now laugh it off as a "shit happens" moment, they still considered it as a learning experience. We weren't surprised by the self-deprecating jokes about that episode at all. After all, the group is well known for their perfectionism. They live by their teacher's advice: "Practice will never betray you." As further evidence of this, they practiced their latest single 1,000 times before posting the dance practice video that caught the world's attention.
It's hard work and perfect timing that got the ball rolling for SB19. The once-unknown group that performed at schools and far-flung malls just finished touring around the metro for the Korean Culture Caravan in partnership with the Korean Cultural Center in the Philippines (KCC). Now, they've just started their ~free~ concert tour titled Get In The Zone with tickets selling out in just three minutes. SB19 also holds the record of having the longest time on the number one spot of the Pinoy MYX Countdown and MYX Hit Chart. Very recently, they became the first Filipino group to be on Billboard's Next Big Sound Chart, entering at number six on the week of November 23. As the year ends, they also topped Google Philippines' Most Searched Male Personalities list, besting the likes of Vico Sotto, Gerald Anderson, and Isko Moreno. 
ADVERTISMENT - CONTINUE READING BELOW ↓
Though the search engines are cranking out more and more articles about them, we don't think anyone's been able to dig deep into each member's history, much less understand their group's identity. 
Trained By Koreans
One major misconception about SB19 is that they trained in South Korea and were created to copy K-pop idol groups. It's something Hallyu fans have seen on mainstream media time and time again and the result has always been sloppy because in a myriad of things Koreans are different from Filipinos. It's not just the height, the complexion, or the language that makes us different from them. It's the mold of the Philippine showbiz industry and the cultural policies in our country that makes it impossible for us to do what South Korea has done for its entertainment industry and culture. 
For instance, South Korea's burgeoning idol business began in the late '90s, when policies and budgets were set in place for a 10-year masterplan targeting cultural development and exchange. The government continuously bolstered their cultural identity by creating the Ministry of Culture, Sports, and Tourism (then known as Culture of Ministry). Through this department, the government-funded culture-affiliated organizations, entertainment companies, and even broadcasting stations to create a robust environment for culture exportation, which then led to the spread of Hallyu in China, Japan, and then the rest of the world. The books say it's their way of establishing global soft power, which is a fancy way of describing world domination through dramas, music, beauty, fashion, and food.
ADVERTISMENT - CONTINUE READING BELOW ↓
Meanwhile in the Philippines, we have the National Commission for Culture and the Arts as our de facto department for anything culture-related. There was a bill created last year that pushed for the creation of the Department of Culture but hasn't seen the light of day. Instead, our lawmakers approved the 2020 budget with a bigger provision for the Department of Education, which now everyone's counting on to inculcate and bolster our national identity through cultural programs. In a nutshell, the entertainment industry is run by major stakeholders such as ABS-CBN, VIVA, and GMA-7, which have their roster of talents. Celebrities are trained to be everything and anything under the sun, with workshops on acting, singing, dancing, modeling, and hosting made available to prospective talents. 
In contrast, the boys were groomed and trained along with other talented Pinoys for three years under ShowBT Entertainment, a Korean company that branched out in the Philippines. Within those three years, they've experienced an iteration of the infamous talent incubator system, a program that aims to shape a trainee based on South Korea's rigid industry standards. Much of a trainee's life revolved around practices, choreography lessons, vocal lessons, language lessons, body conditioning, and even weight management. They had to perform newly-learned songs and choreography during weekly evaluations with the CEO of the company, Robin Han, also known as Han Jung Sung. 
ADVERTISMENT - CONTINUE READING BELOW ↓
Here's a little exclusive trivia the boys told Cosmo: ShowBT's CEO, who fans endearingly call Tatang Robin, is an ex-comedian in South Korea. He was known as one of the members of a comedy group called Cult Triple, which after his departure became Cultwo—yes, as in Cultwo of the popular K-variety series Cultwo Show.
ADVERTISMENT - CONTINUE READING BELOW ↓
In an interview last year with The Korea Times, Han said that the Philippines is the perfect place to experiment on cultural hybridity, citing the country's English-speaking and social media savvy population as a great starting point. "The entertainment market in the Philippines is more open as well," he said. "An actor can be a singer or a comedian if they want, so if they top one field, it is easier to dominate other fields, too. This is a bit different in Korea, where a celebrity cannot expand into other areas with equal ease."
With the vision of a "hybrid boyband" in mind, Tatang Robin formed SB19. Their debut was lukewarm, to say the least. The music video of their first single, "Tilaluha," was shot in Seoul and starred Korean artists, but the melody and the lyrics of the song fully embodied the OPM soul.
Needless to say, people were surprised and confused when the "Go Up" dance practice video became viral. The media wasn't sure how to describe them. Are they a K-pop band because they are managed by a Korean company? Are they a K-pop-inspired band? Their styling, make-up, and choreography somehow depict that too.
ADVERTISMENT - CONTINUE READING BELOW ↓
"K-pop-inspired" isn't very far from the truth. All of the members are true fans of Hallyu. Josh said K-pop was his inspiration during the "lowest point of my life." He was a major Big Bang and Girls Generation fanboy who coped up with being independent at a young age by listening and dancing to K-pop. He joined and formed dance crews after meeting Stell at a K-pop event and getting inspired by him. 
Stell, on the other hand, has been fascinated with dancing and K-pop for the longest time, citing groups such as BEAST (now known as HIGHLIGHT), VIXX, and BTS as his favorite groups. "Kapag nakikinig po kasi ako ng K-pop music parang iba po yung nabibigay niya saking energy. 'Pag nakikinig ako ng music parang nase-set aside ko yung problem [ko]." Stell was one of the founding members of SE-EON, a dance cover group formed in 2010. He recruited Josh into that group and they competed and won in various dance cover competitions including K-pop Festival in Incheon where they represented the Philippines and met BTS in person after covering "Danger."
ADVERTISMENT - CONTINUE READING BELOW ↓
It was through SE-EON that they first met Sejun, who was a volunteer at KCC, and Felip Jhon Suson or Ken, a hip-hop dancer and EXO-L from Mindanao, who Josh invited to audition for ShowBT. Their youngest member Justin De Dios is a fan of GOT7 and knew Josh through an old dance crew they were both in. Fun fact: He didn't mean to become a trainee because he only went into ShowBT for a dance workshop. But he showed great potential and he ended up debuting with the group on October 26, 2018.
Seemingly, all the members were, in one way or another, connected by their love of Hallyu before they were even handpicked by ShowBT. They all agreed that one of the things they admire about Koreans is their discipline. "Na-inspire ako sa music nila [at] kung paano sila mag-isip. Kasi yung mindset nila super disciplined. So parang ako, sa sarili ko, gusto ko rin maging disiplinado," Josh said
ADVERTISMENT - CONTINUE READING BELOW ↓
Justin was enamored by the creativity in the way Koreans assigned roles for specific members in a K-pop group or specific characters in a K-drama, much like in games where there's an elaborate role for each champion. Since he's a huge gamer, Justin slowly but surely fell into the Hallyu hole. "Napanood ko po yung Dream High tapos from there na-explore ko po yung K-pop content. And then pagdating ko po ng college nagkaroon po ako ng friends na mahilig sa K-pop so mas na-engganyo po ako."
Sejun and Ken are sort of the curious cats who strayed into the world of Hallyu by accident. Ken said his fanboy genesis is a really funny story. "Nagsimula po ako sa hip hop, may hip hop group po ako dati. And noong mga time po kasi na 'yon parang paulit-ulit lang po [ako], parang gusto kong mag-explore and lumawak yung kaalaman ko pagdating sa dancing," he recalled cooly, before smiling at the memory of the day he first saw EXO. "Natutulog po ako noon, tapos yung ate ko po kasi ginigising ako and sa umaga po talaga MTV yung pinapalabas sa amin dati. Doon ko po nakita yung "Growl" ng EXO. Pagkagising na pagkagising ko sabi ko: Anong music 'to? And 'tong galawan na 'to? Ano 'tong grupo na 'to? Sinearch ko po yung EXO and na-appreciate ko po yung sayaw nila. Kahit hindi ko naman talaga gusto yung K-pop dati, pero dahil sa EXO po, sila po talaga yung nag-open ng gates."
ADVERTISMENT - CONTINUE READING BELOW ↓
Sejun is not the biggest K-pop fan amongst the five, but it's mostly because of his love for Filipino culture that he initially rejected the idea of Hallyu. "Ako po, sobrang mahal ko po yung arts and culture ng Philippines. Dati ayoko ng K-pop talaga, as in ayoko. Kasi bukod sa hindi ko maintindihan, nangangarap po kasi ako. Kasi po ang daming talented sa Philippines, sobrang dami, tapos nakikita ko na di nabibigyan ng limelight yung mga tao na sobrang talented talaga. Bakit parang hindi umaangat yung music industry ng Philippines?" What made Sejun turn around to become a volunteer at KCC and, later on, a member of SB19 is a deeper understanding of Korean Culture. "One time po nung college ako um-attend ako ng seminar ng Korean-Filipino Cultural Exchange, tapos doon nalaman ko po yung history ng Korea. Sabi ko, ang Pilipinas kayang kaya 'tong gawin e kasi sa totoo lang po talented po talaga ang mga Pilipino. Kahit po yung Korean teacher namin and yung CEO namin, ina-admit niya na talagang sobrang gagaling ng mga Pilipino, sobrang innate po yung talent sa kanila."
ADVERTISMENT - CONTINUE READING BELOW ↓
Stell also mentioned that aside from the high praises towards Pinoy talent, ShowBT also respects the Filipino culture and seeks to learn from their employees. "Ang maganda naman po sa company namin [is] kahit Korean po siya nire-respect pa rin po nila yung culture ng Pilipino. Siyempre po bilang bago pa lang po sila dito sa bansa natin may mga times po na hindi po nila alam and hindi po sila sigurado kaya tinatanong po nila [kami]."
Made In The Philippines
Aside from their belief in the innate talent of fellow Pinoys, we also discovered that their origins and childhood stories were just like ours. Ken said his childhood was spent on the streets of Cagayan De Oro, while Stell, Justin, and Sejun recalled fun times playing text, pogs, and video games while growing up in Bulacan, Malabon, and Cavite respectively. Josh didn't have a lot of cheerful memories to share about his childhood in Cavite because he grew up in a complicated household and had to leave home and support himself at 16. 
ADVERTISMENT - CONTINUE READING BELOW ↓
He did, however, share that as a kid he wanted to be a doctor. Stell wanted to be a dentist while Justin said that as a kid he would innocently comment that he wanted to be an artista. If he weren't in SB19, however, he would probably be an artist, pursuing a career related to his Multimedia Arts degree from the College of St. Benilde. Sejun didn't have any specific childhood dreams because there were just too many possibilities for his young mind. His ambitions ranged from being an astronaut to a basketball player to a gamer to a writer until he realized his dreams of becoming a performer in high school. Ken, on the other hand, had always wanted to become an architect, and if he would be given a chance to continue his studies to obtain an architecture degree, he would surely take it.
The major plot twist in their story is that they were led into the limelight as the first Filipino boy band trained by a Korean company. When asked whether they feel proud or pressured by their title none of them was able to answer immediately. Sejun, at first, simply said: "Sobrang hirap po ng tanong. Siguro both po."
ADVERTISMENT - CONTINUE READING BELOW ↓
One of the major challenges for SB19, aside from the financial aspects of creating and promoting a boy band in a talent-saturated industry, is the heavy expectations of the Filipino audiences. OPM supporters haven't seen a group that can sing and dance to P-pop in the same caliber as Gary Valenciano or Sarah Geronimo until SB19 came along. Filipino K-pop fans, on the other hand, expect "K-pop-inspired" songs to be cringe-worthy because of the lack of extensive training and authenticity which somehow cheapens the end product. 
So from the very beginning, the boys and their company knew that they were treading uncharted waters. In response to the question of pride and pressure, Josh said: "Nandoon yung proud ka kasi nagta-try kayo ng bago—bago yung ginagawa namin sa industry, walang gumagawa nito. Natakot kami. Sabi namin baka hindi kami matanggap ng tao, baka makornihan samin yung mga tao, ganyan. Pero nung ni-release namin yung newest single namin parang kabaligtaran 'yong mga nangyari."
ADVERTISMENT - CONTINUE READING BELOW ↓
Fortunately, the persistence paid off and people ~loved~ the bright combination of Korean music production and heartfelt Filipino lyrics through "Go Up." The song has now garnered more than two million streams on Spotify and has also gained the respect of well-known Pinoy celebrities and influencers like Inigo Pascual, Pamela Swing, Mimiyuuuh, JREKML, and even 2019 SEA Games medalist Nathan Perez.
Persistence, hard work, and passion are just two of the many "very Pinoy" things SB19 exhibited as a group, mirrored through the lyrics of their latest single. They also wrote about dreaming and staying positive amid struggles, something that ~all~ Filipinos could relate to. Three years of training isn't easy, at all. Justin, Josh, and Sejun had to balance their studies and work while training at ShowBT. Ken had to sacrifice his dreams of becoming an architect, and Stell told Cosmo that he turned down offers from Korean producers twice because he believed he was meant to be with SB19.
ADVERTISMENT - CONTINUE READING BELOW ↓
They also revealed that they had almost given up on debuting after seeing close friends leave the company week after week due to poor evaluation results and personal issues. The idea of performing outside the four corners of their practice room seemed moot at some point, and yet they felt grateful and humbled by the small opportunities presented to them before they blew up the internet. "Alam ninyo po sa tagal po namin sa training room, sabik na sabik po talaga kaming mag-perform." Josh said in response to a fan question: Would they still perform at schools even though they're famous enough not to do so?
Sejun thinks they aren't "famous enough" and Stell personally liked performing for bright-eyed Pinoy students. "'Pag nakikita ko po yung mga student na ang saya nila, kumakanta, parang ang sarap din po sa feeling. Tsaka iba rin po yung energy na nabibigay nila samin kaya para sakin po 'di po ako magsasawang mag-perform sa harap ng mga students."
ADVERTISMENT - CONTINUE READING BELOW ↓
This kind of humility and professionalism isn't just because of their Filipino upbringing. Their actions speak louder for themselves in this aspect. In Cagayan De Oro, the organizers were shocked to find their spotless dressing room when SB19 left for the airport. At the Cosmo interview, we were ~amazed~ at how they came earlier than the designated call time, thanked every single person in the room, and even cleaned up despite having another schedule to attend to. No diva attitude. No complaints. No frills. 
ADVERTISMENT - CONTINUE READING BELOW ↓
On stage, the fans and the people they worked with know that SB19 would always perform with perfection in mind, even during rehearsals. Sejun puts it plainly: "Every time na nasa stage ka responsibility mo na mag-perform [at] ma-satisfy yung mga tao and i-give yung best mo. E kung magpe-perform ka na bara bara lang parang tina-trample mo yung responsibility ng pagiging isang artist po na may respect po sa craft."
Proudly Pinoy: SB19
A lot of people said that SB19 is like our version BTS. Both groups are owned by non-mainstream Korean companies and had started small with free concerts and a small local fanbase before conquering the mainstream scene. Ken understood the comparison and recalled how they used to only see a handful of fans at events they performed in. "Ganoon kami e, dati nagpe-perform kami sobrang konti, mabibilang mo lang, yung mga fans namin kilala namin lahat e." 
ADVERTISMENT - CONTINUE READING BELOW ↓
Though they feel honored to be compared with such a massive global act as BTS, they still want to carve a new path that's uniquely Filipino. "Marami pa ring differences, medyo may K-pop influence kami pero siguro magkaibang genre pa rin and we want to create our own," Josh said. Justin also meekly added that they still have a long way to go in comparison to BTS' six years of experience. "Kami po, we're starting pa lang po and nakakatulong po sila na ma-improve namin yung sarili namin as an inspiration. Naiisip namin na parang hindi imposible na makaya namin yung ganoon po."
With a combination of strong-as-steel determination, inculcated discipline, and deeply-rooted nationalism, it's pretty hard not to like SB19. The thing we love most about the group is that they don't just want to get famous for the sake of being famous. They want to do well to make way for other talented Filipinos out there who probably didn't dare to try until they heard "Go Up." Josh, who seemed to have wisened up with age and life experience, boldly said that the future straight-up scares them sometimes. "Minsan napanghihinaan kami ng loob, natatakot talaga kami, kasi syempre iba yung culture sa Philippines, iba yung culture sa Korea. Itong ginagawa namin bagong bago rin [pero] hopefully in the future marami pang sumunod samin. So proud kami sa bagay na 'yon and pressured at the same time."
ADVERTISMENT - CONTINUE READING BELOW ↓
While pushing for P-pop is a huge task, we believe it's worth every sweat. So as SB19 goes up, we're rooting for them in the same way we're cheering on every single fearless Pinay out there.
Follow Twila on Instagram.