Everyone knows that when a book turns into the movie, it should be 100 percent expected that—if your book-loving heart is lucky—maybe 75 percent of the details stay true to the written word. The same goes for director Jon M. Chu's rendition of Kevin Kwan's Crazy Rich Asians. In order for the 527-page paperback to fit within a two-hour and one minute runtime, some major tweaks to the story had to be made.
So for those of you who are curious to know what happened in the original Crazy Rich Asians as Kevin Kwan wrote it, here's everything you need to know:
1. Rachel Chu (Constance Wu) goes to Singapore for summer—not spring break.
In the book, Rachel was taking a break from teaching her NYU Economics students in the summer when Nick asked her to join him for the wedding. They planned to stay in Singapore for the week of Colin Khoo (Chris Pang) and Araminta Lee's (Sonoya Mizuno) wedding, then spend the rest of the weeks hopping around Southeast Asia, exploring Cambodia, Thailand, and Hong Kong.
2. Rachel's mom lives in the Bay Area, not Queens.
Rachel and her mom are not native New Yorkers, but Californians. In the book, our heroine did not have her mother by her side to help her prepare for this trip. Kerry Chu (Tan Keng Hua) was actually on the other side of the country in Cupertino and communicated with Rachel mainly through the phone.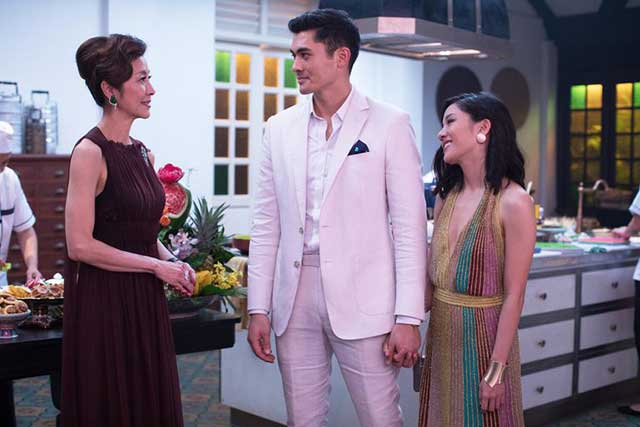 Continue reading below ↓
Recommended Videos
3. Nicholas Young's (Henry Golding) family tree is even more complicated than you think.
Kevin Kwan shows exactly how complicated the Crazy Rich Asians family tree is—something that the movie, understandably, had no time to do. Even before the Prologue, Kwan laid out the family tree, which begins with the big-picture Shang clan. The Shangs are then divided into three main branches: the Youngs (which includes the Leongs and the Chengs), the Shangs (including Cassandra Shang aka "Radio One Asia"), and the T'siens (including cousin Oliver).
The Youngs, Leongs, and Chengs all stem from the Shang family—a Chinese immigrant clan from Beijing which Kwan traces back as far as Nick's grandmother Su Yi's father Shang Loong Ma.
4. Nick's dad is already retired in Australia, but is able to meet Rachel.
In the movie, Philip Young is head of his own company and is a no-show because he has business in Shanghai. But in the book, Nick's father is a pretty chill dude who's retired and spends his time between Sydney and Singapore. He also seems to be the only "grown-up," the voice of reason that tries to convince Eleanor against being too harsh on their son and his girlfriend. It also seems like he's in Rachel's corner.
5a. The Goh family, and other "new money" families, have never heard of the Youngs.
Part of what makes the book such a page-turner is because you're trying to figure out just how rich these crazy rich Asians are. The fact that not even the Goh family (Peik Lin's family), with their gleaming gold mansion, has ever heard of the Young family makes everything all the more interesting.
5b. The Goh family is COMPLETELY different.
Goh Peik Lin (Awkwafina) may be a wacky dresser, but she isn't a wise-cracking "Asian Ellen." In the book, she's more of a Western-oriented, Singaporean shopaholic who also loves her local slang and gossip. And instead of having one teenaged brother and twin sisters, she has two older brothers: Peik Wing, who is married with two daughters, and Peik Ting a.k.a. PT (Wong Tze Loon), who isn't actually obsessed with Rachel.
Peik Lin's father Wye Mun isn't as chill as Ken Jeong plays him to be in the film. He's a status-conscious character who loves to know the who's who in Singapore's high society. In fact, once he finds out about Rachel's relationship with the wealthy Young heir, he investigates immediately.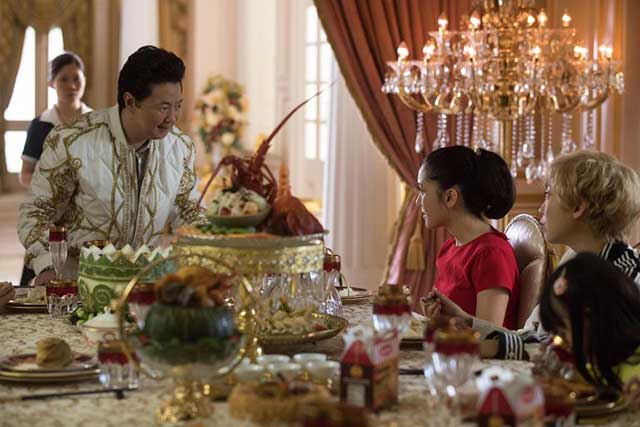 6. Peik Lin does not drive. She also doesn't attend the party at Tyersall Park.
In the book, Peik Lin has her own chauffeur—as most actual crazy rich Asians do. And while she rides with Rachel on the way to Nick's grandmother's house and is there to see the spectacle that is the outside of the Tyersall Park mansion, she doesn't get invited in. This leaves Nick's cousin Oliver T'sien (Nico Santos) as the only backup she has to walk her through Singapore high society.
7. Nick and Rachel stay at Tyersall Park.
After the Tan Hua party in the book, Nick's grandmother insists that Nick and Rachel stay under her roof. Rachel then experiences the kind of pampering Nick experienced as a child—having all her clothes washed, dried, pressed, and folded for her daily. And while she offered to do it herself, this wasn't really something she could negotiate with the house help.
8. Nick's Ah Ma made scones, not dumplings.
As great as that dumpling scene was, it wasn't in the book. And Nick mentions that it was his Ah Ma's scones that he always missed, not dumplings. Ah Ma, of course, didn't get her hands dirty preparing these herself. She had house help to make it out of her recipe.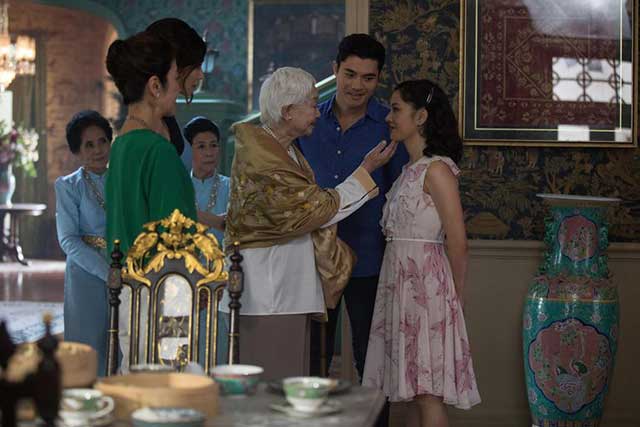 9. Eleanor Young (played by Michelle Yeoh in the film) spent most of her time sleuthing and didn't really interact much with Rachel.
In the book, Eleanor is too busy silently judging her son's girlfriend, talking to her friends about Rachel, and meeting with a private investigator to dig up dirt on the Chu family. She even flies to Shenzhen just to meet with the P.I. discreetly.
10. Colin Khoo is not Nick's only best friend.
In the movie, Colin and Nick are BFFs for life. In the book, Nick actually has a good relationship with his cousin Alistair Cheng (played by Remy Hii in the film) and a good friend named Mehmet Sabanç—a scholar from Istanbul. In fact, the four of them help Nick plot Colin Khoo's escape from Bernard Tai's (Jimmy O. Yang) bachelor party. The film's version of the escape is less dramatic and Mehmet is nowhere to be seen.
11. The bachelor party was NOT on a container ship in the middle of international waters.
Bernard Tai does not go that all-out for Colin's stag party. In the book, they go to Macau—Bernard's turf. It's known as the gambling capital of China, and so the groomsman plan a weekend filled with dog fighting, gambling, a VIP booth, and strippers on a 388-foot family-owned yacht with two pools.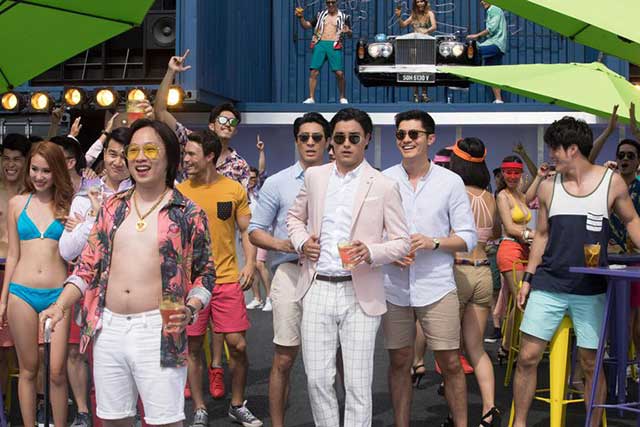 12. Astrid is not a guest at Araminta's bachelorette party.
Astrid does not attend Araminta's bachelorette party in the book because she's too busy sleuthing on her husband Michael. And Rachel doesn't meet Amanda Ling until much later. The person who comforts Rachel and keeps her company during the whole fish fiasco is Colin's sister, Sophie Khoo, not Astrid (who shows up at the right time in the movie). Sophie is the only one within the "old money" social circle that Rachel is able to confide in. 
13. Amanda Ling, Nick's ex, also lives in New York.
Part of what's supposed to make Amanda—or Mandy, as Nick and Colin call her—such a huge threat is that in the book, she also lived in New York and met with Nick every once in a while. Rachel had no clue. And while Amanda ends up leading a Singapore tabloid-worthy, scandalous life because of her much older white boyfriend, you also find out from the book that the reason she moved to New York in the first place was her "mission"—as called by her mom Jacqueline (Amy Cheng)—to win Nick back. In the movie, Amanda is a fellow guest at Araminta's bachelorette party and is part of the fish prank, despite being nice to Rachel at first.
14. Araminta's super extra wedding did not involve water flowing down the aisle.
While the bride did not walk through water to get to the groom, the wedding scene depicted in the book did involve dimmed lights and the entourage carrying fireflies in jars to light the way. Also not in the movie: The Vienna Boys' Choir making a cameo to sing Araminta's wedding march.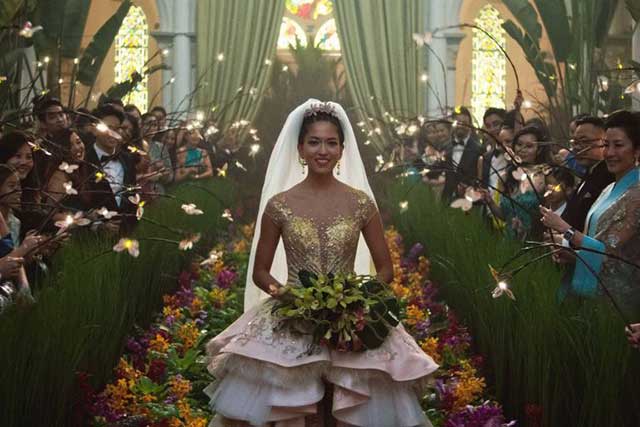 15. The way Rachel meets Amanda is sooooo awkward.
In the book, Nick takes Rachel to his favorite spot at the reception venue, Fort Canning Park. He takes her to a fort the British built when they occupied Singapore, and it's where he tells her about its history and the times he and Colin would go there to play as kids. Just as the two are about to kiss, Amanda runs into them with her boyfriend to reveal that this was also her and "Nico's" (what she called Nick) smooch spot. They even had their names etched into a wall with an infinity symbol!
16. Aside from Amanda, other women were also trying to drive Nick and Rachel apart. The mention of a threesome is what causes the couple's first major fight.
Francesca Shaw, the daughter of one of Eleanor's closest friends Nadine Shaw, tries to stay in "Auntie Elle's" good graces by saying she'll make sure things between Nick and Rachel don't progress. She also secretly wants Singapore's most coveted bachelor to herself, along with the family fortune.
During Colin and Araminta's wedding reception, Francesca tells Rachel about her and Amanda's threesome with Nick in Italy, and this drives Rachel mad.
17. Eleanor doesn't reveal what she truly thinks of Rachel until the very end, when Nick tries to propose.
In the book, Eleanor never tells Rachel straight to her face that she "will never be enough." In fact, she waits until she has a good amount of evidence against Rachel and her family before getting aggressive and going for the kill.
18. Nick tries to propose in a solo getaway to his grandmother's vacation house in Malaysia... until his mother and grandmother interrupt. Rude!
In the book, after Rachel gets all worked up by Francesca and Amanda and all the drama from the bachelorette party and wedding, Nick decides they should get away from it all and spend time alone in his Ah Ma's vacation home. Before he can even begin to propose, Eleanor and Ah Ma greet them at the house with an envelope full of Rachel's family history. In the movie, this confrontation happens at Araminta and Colin's wedding reception.
19. It takes a while for Nick to recover from his slump after the drama.
Rachel wasn't the only one who became a mess post-breakup. Nick was even worse in the book! Colin, the great best friend that he is, was the one who pushed Nick to get out there and do something beyond trying to reach the love of his life through a phone call.
20. Rachel plans a trip to Shenzhen and gets intercepted by her mom.
Rachel wanted to confront her father and face what she thought was her true family history. But in the book, Nick flew her mom into Singapore so that she could explain herself to her daughter. Rachel is furious, but then Kerry explains that her ex-husband and her mother-in-law were abusive. She tells Rachel that she is actually her daughter with a different man, a friend who helped her escape from her torturers.

21. Eleanor still doesn't like Rachel in the end, and Nick doesn't end up proposing just yet.
The conflict between mother and son is not resolved in the first book, and Nick doesn't get the chance to propose to Rachel. (I mean, they just had a massively explosive breakup!) But they do kiss and make up and tour Singapore together with Peik Lin and Rachel's mom.
22. Astrid and Michael's story is a lot more complicated, but it gets resolved.
SPOILER ALERT!!! In case they make a second movie focusing on Astrid and Michael's relationship... you may not want to read this part.
In the book, Michael is not cheating on Astrid. Michael was going to Hong Kong to take care of his younger cousin and his nephew who needed his help. He just wanted his wife to think he was cheating on her because he wanted her to break up with him. It's seriously complicated, but it all boils down to his thinking that Astrid deserves better and that he can no longer handle the pressure from her family and from Singapore society.
23. Astrid's ex-fiancé, Charlie Wu (played by Harry Shum, Jr. in the movie) has a much bigger role.
Charlie Wu and Astrid almost got married back in the day, but things didn't work out and they ended up with different people. As it turns out, in the book, both of them are having problems with their marriages. Charlie and his wife are basically separated, and during Araminta and Colin's wedding reception, Astrid confides in him about her husband's affair. Being the good guy that he is, he convinces Astrid to give it one more shot and have her husband explain himself. He's the reason Astrid and Michael work things out by the end of Crazy Rich Asians.
Follow Jasmine on Instagram.
***
This article originally appeared on Cosmopolitan.com. Minor edits have been made by the Cosmo.ph editors.
EXPLORE COSMO