During the global health crisis, it's reassuring to read about positive stories. Cristalle Belo gave birth via C-section to a healthy baby girl on March 31, 2020, during quarantine because of the COVID-19 pandemic. Everything went well, and it was all for the safety of everyone.
"To mamas giving birth, don't be scared!" Cristalle wrote on her Instagram Stories. She gave birth at Makati Medical Center and assured that everything is clean, and health workers also wear personal protective equipment (PPE).
Her husband Justin Pitt shared that his wife "braved the entire delivery process alone," as he waited outside the delivery ward. It was necessary "to observe quarantine restrictions and protect our brave doctors and nurses."
Continue reading below ↓
Recommended Videos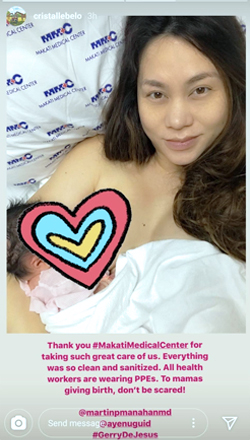 "We are happy to do our little part to protect our health workers from being exposed to 'more people," she added.

"During my CS, this rosary was put in put in a ziplock and taped to my hand," Cristalle shared. It's a rosary she and Justin bought in Vatican City during their honeymoon in 2016.
The couple both thanked the hospital, doctor, and the whole team who helped Cristalle safely deliver their daughter.
As a token of gratitude, they gave rosaries bought in Vatican City to the nurses and medical staff that helped Cristalle deliver her baby. Cristalle and Justin are also donating care packages to moms with babies in the neonatal intensive care unit (NICU).
Cristalle and Justin, of course, need to stay in the hospital for a few more days. Due to the enhanced community quarantine, they're not allowed to have visitors who would like to meet the new addition to their family.
On Instagram Stories, Cristalle shared photos of her and Justin on a video call with their son, Hunter, who is now a big brother. They also talked with Cristalle's mom, Dr. Vicki Belo, and baby sister, Scarlet Snow.
"This is the new norm: Meet the new baby via Facetime," Cristalle shared on Instagram Stories.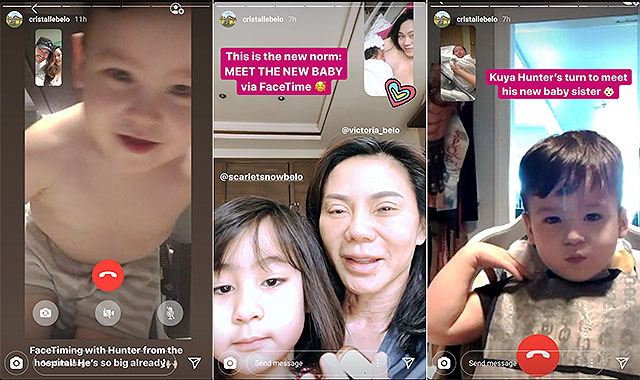 We could barely see the newborn baby girl's face in the FaceTime screenshots the new mama of two shared. But new #girldad Justin thinks "he might be in for some trouble down the line."
Waiting to see the new Belo baby soon!