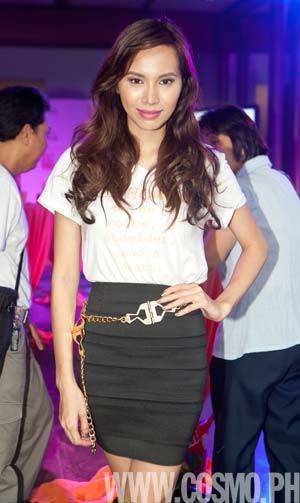 Who doesn't know this globetrotting, career-rocking glamazon who owns two businesses (a club and a clothing label), manages a real estate company, rules the fashion world with her killer heels and to-die-for bags, and serves as an inspiration to ladies and bekis alike? With the many things that take up Divine Lee's time, it's a wonder she manages to pull them all off while still looking fiercely fabulous.

We asked the style icon a few questions that Cosmo chicks would just love to know, such as her fashion philosophy and beauty secrets. Read on to learn a thing or two from the style star, and find out what item she likes to grab from boyfriend Victor Basa's closet!
You're known as one of the Philippines' top fashion icons. What's your personal style?
Nasa mood 'yan, girl! Nung bagets ako naka-cycling shorts ako. So marami akong kinakahiya. So now kasi, I stick more to the classics because there are a lot of pictures when I was younger na parang gusto ko na lang itapon at sunugin. So now I pick pieces that will last for a long time, and that I can wear over and over again.

Is there an item from your closet that you use all the time?
It's not my closet, it's Victor's closet. It's a white shirt, I always wear that. I wear it as a dress, I wear it as a jacket, sometimes I just wear it with a skirt or pants. For me kasi, yung fit ng men's shirt is different, hindi siya pilit, so mas maganda yung bagsak niya.

Who are your fashion icons?
Carine Roitfeld, Anna dello Russo. But here in Manila, Liz Uy is very good, you know. She's my Smart C+ co-endorser. And I would say Anne Curtis dresses up pretty well.

What do you love about them?
Anna dello Russo, I like her kasi she's so old na but she's so bongga. I mean not naman old, but mature. Usually when people get older, parang they tone down. Siya mas todo pa siya ngayon, and I like that, it's showing your creativity. As for Liz naman, she's very classic. 'Yung mga suot niya, it's all about the technicalities and the cuts. Anne is very adventurous, I like that. Carine naman is legend na 'yan, parang haligi na yan ng fashion. So I really like her style.

What's your fashion philosophy?
Continue reading below ↓
Recommended Videos
Stick to the classics. It's so easy [to] add something trendy, but you want your pieces to last. Kasi you know, I got a lot of pieces from my mom, and I'm happy that my mom was more parang classic than my choice before. So ang dami kong nahihiram, namana, and I want to do that to my own kids also. They can get my clothes, they can still wear it 20 years from now; [they're] still trendy, [they're] still okay to wear.

Do you plan your outfits a day before, or do you usually wear whatever you get from your closet?
It depends, like for big events, you have to get it made pa. So you usually have to plan ahead. But for my daily outfits, I just grab whatever from my closet, it's usually [depends on] my mood. Kung ano 'yung feel ko, 'yun susuotin ko.

How do you stay fit?
I was really a slacker before. But I fill up my schedule so much na I think 'yun na rin 'yung exercise na ginagawa ko. But now, Vic introduced me to a lot of healthy things. We go to the gym, we go to core kinesis, and we also do TRS. But not all at the same time ha. Parang we try to work out at least twice a week.

What's your beauty regimen?
Never sleep with makeup on. That's really one thing. Kahit na gaano ka kapagod at inaantok, I would never sleep with makeup on. Before, I would always have white sheets, because it's a reason na kailangan ko talaga magkuskos ng maigi.

Any beauty tips for Cosmo readers?
One tip is, 'wag kayong magmadali maglagay ng makeup. Like when I was younger, pinagbawalan ako mag-makeup. And I'm glad na I did that, na I didn't force my mom na I want to put on foundation 'cause it ended up na my skin's okay up to now. I know people who started early, as in heavy makeup and all those things and hindi sila nag-clean well ng face nila, medyo problematic skin nila.

Number one would be, if you're planning to wear makeup, make sure to clean properly. Hindi 'yung kinasanayan ng Pinoy na you just pile it on then hayaan mo na lang mawala. You really have to clean if you wanna wear makeup. And then the no-makeup look is also nice and you can do it when you're young, 'di ba? So maximize nila 'yun.
EXPLORE COSMO