For everyone who's been following the Barretto feud (TBH, who hasn't been?), you would have noticed a missing family member during the wake of Barretto patriarch Miguel Barretto: his granddaughter Dominique Cojuangco.
A netizen also noticed her absence and blasted a comment on her Tita Claudine Barretto's cryptic Instagram post last week. The Instagram user tagged both Dominique and her mom Gretchen Barretto, and wrote, "pay some respect to your dad instead of partying."
Dominique has been living a relatively low-key life in San Francisco this past year. She rarely gives word, if at all, about family's issues but decided to answer the netizen's comment. Addressing the netizen, she first wrote, "You don't know me."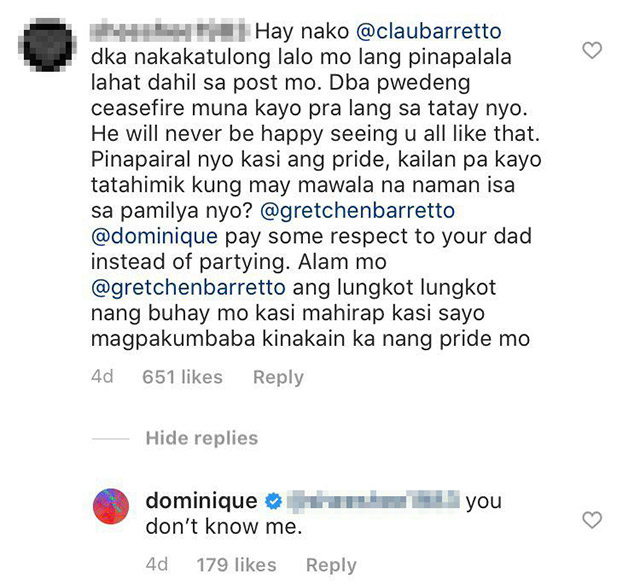 Continue reading below ↓
Recommended Videos
This was followed by her clarifying why she wasn't able to attend her lolo's wake in Manila: "I'm in a completely different country with a job."

Dominique's mom, Gretchen, was reportedly involved in a fight with her sister Marjorie Barretto during the wake of their father last week, October 16. What seemed to be a peaceful and heartwarming reunion between Gretchen and her estranged mother Inday Barretto turned into a media frenzy with reports of a scuffle emerging between family members. This alleged altercation was reportedly witnessed by President Rodrigo Duterte who paid his respects to the family that same night.
Gretchen is currently in San Francisco upon the request of Dominique.