Donnalyn Bartolome is furious after someone broke her trust.
On July 8, Donnalyn revealed that a fellow YouTuber borrowed P1 million from her on June 30 and has not yet returned the amount after promising to pay it back in a day. 
Donnalyn says the guy who borrowed the one million is even using her name to get other people to lend him money. She also accused him of lying to her about his purpose for borrowing the amount. 
"Gandang birthday gift sa akin. Utang na one million, gone just like that. This guy is not the only one na nakautang sa akin but he is using my name to fool people into lending him money kasi kung pinagkatiwalaan ka nga naman ni Donnalyn, 'di ba? I'm posting to say nagkamali ako. 'Wag kayo paloko. Kaya sa mga nagme-message sa akin na mutual friends, this is what happened to me. Worse is he lied to me about what he's going to use the money for at ipinagkakalat pa niya na nakautang siya sa akin. Anong trip mo? Tigilan niyo kakagamit sa name ko to ask other people for more money. #LODz #ShowMoney"
Continue reading below ↓
Recommended Videos
As proof of the incident, Donnalyn shared screenshots of her conversations with the borrower, whom she chose not to name. The guy said he was just short of P1 million for the show money which he needed to purchase a vehicle. He even told Donnalyn to add interest, but Donnalyn agreed to lend him the money at no extra cost.
"Hiram sana ako sa 'yo 1M tomorrow then ibabalik [ko rin] siya ng hapon or gabi tapos lagyan mo na lang ng interest lods need ko kasi mag-show money tomorrow para doon sa kukunin kong sasakyan."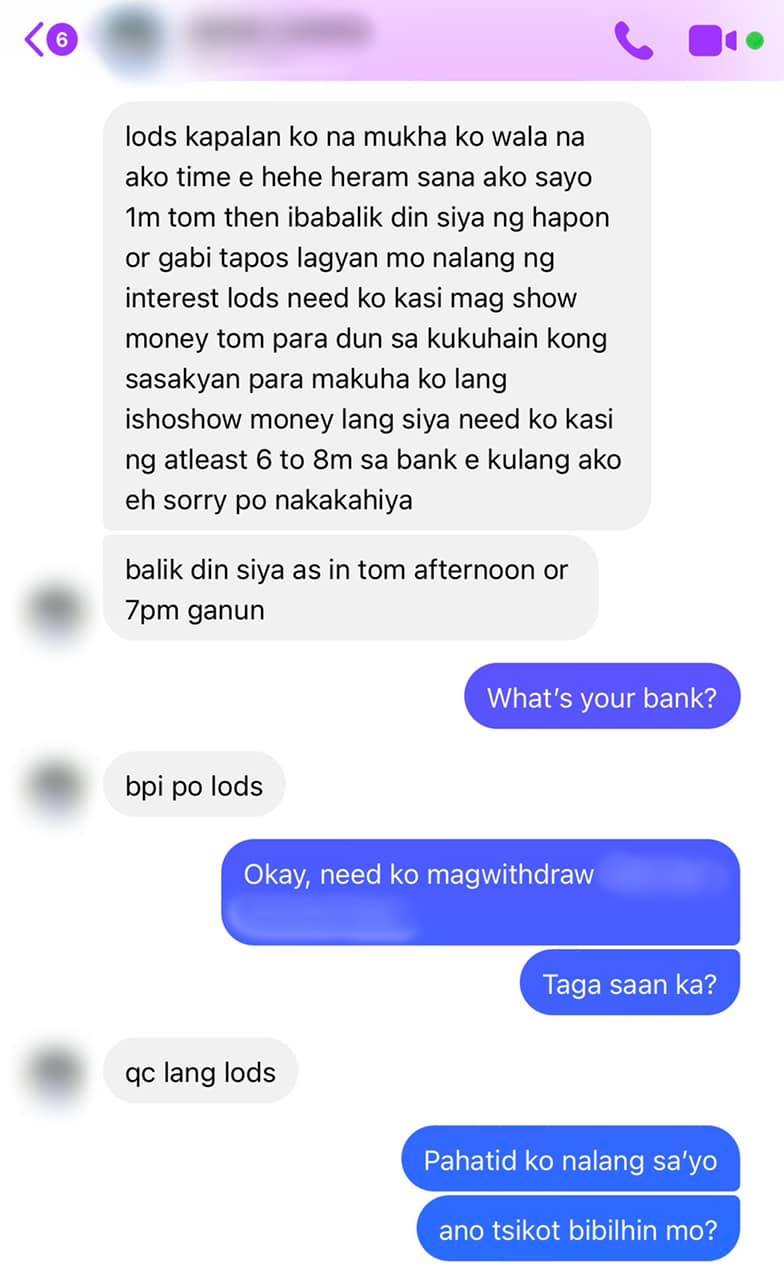 Donnalyn asked the borrower to sign a loan agreement so she can arrange for the money to be transferred to a separate bank account. She even congratulated him and said she was excited about his new car.
The borrower was supposed to pay it back on July 1. On July 6, he sent a lengthy apology to Donnalyn, claiming he was scammed and that he lost P4 million in the process, including the P1 million he borrowed from her.
He even offered to give his monthly YouTube income and said he was already asking for help to pay her back as soon as possible. He also promised her he would send her an initial P400,000, but Donnalyn says she has not received anything.
"Sobrang nakakahiya natangay yung pera ko at naka-collateral yung sasakyan ko dahil dun sa pinasok ko," said the borrower. "Gusto ko mag-sorry dahil hindi ko naibalik agad yung pera mo."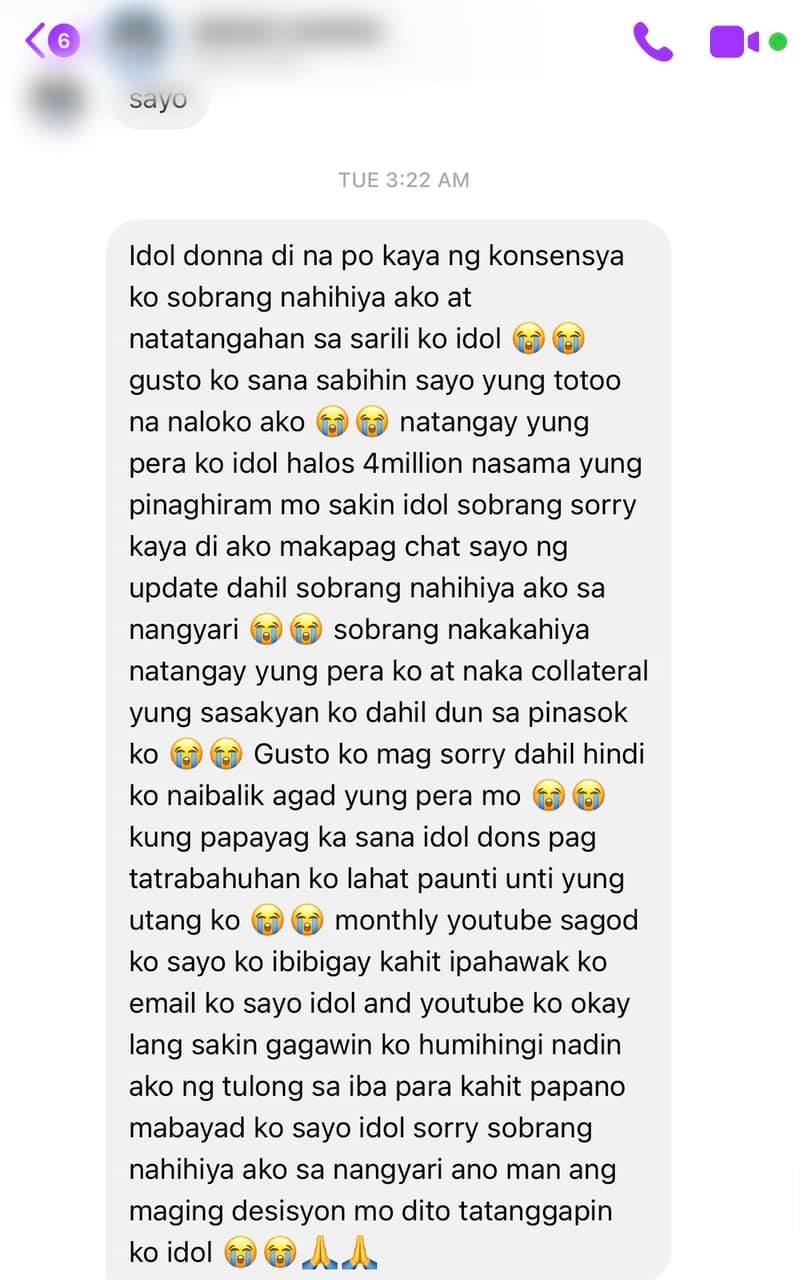 "I don't want any explanation," Donnalyn added in one of the screenshots' captions. "'Cause I call bull. You weren't supposed to touch the money I put in your bank account. SHOW MONEY lang, you said, para mabili mo gusto mo."
"I wasted so much of my time and I will not waste more. Until now, kahit 'yang 400k that you're saying IS STILL NOT IN MY BANK ACCOUNT. More than one week na. Road to two weeks na tayo, boy."
"To everyone I trusted, whether it's hundreds of thousands or millions pa 'yan—the amount you will lose is far worth more than all the money in the world and that is my trust. Pay up. Everyone who treats me with disrespect MINAMALAS. Don't lose your friend's trust."