When Team Kramer moved and settled into their new "forever" home in June this year, they shared a virtual tour of their four-story house and revealed it has a baby room in the works. The couple has not made it a secret that they are trying for another baby even if it meant exploring other means since Chesca has already been ligated. But on Monday, September 16, 2019, Doug Kramer disclosed his wife Chesca Kramer has already had two failed in vitro fertilization (IVF) attempts so far.
"Sad to announce, but [we've had] two failed IVFs already, the most recent one two weeks ago," the dad of three wrote on Instagram Stories. It was a response to a follower who asked him when they will welcome a new baby in their family.
Doug added that he and Chesca are already "so blessed" to have their three kids, Kendra, Scarlett, and Gavin. "But it hurts whenever it doesn't push [through]. Especially for Chesca," the professional basketball player said.
ADVERTISMENT - CONTINUE READING BELOW ↓
"But we'll still try maybe two more times," Doug added, not losing hope. "If it's the Lord's will, then so be it. If not, then we trust Him even more," he said.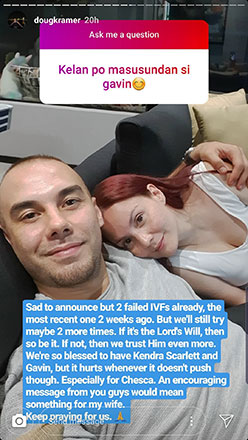 The couple have not lost hope, indeed, and continue furnishing their baby room, based on Chesca's post last month about bed shopping "for a special room in the house."
"We're praying that this room will come into good use soon. Won't hurt to prepare," the mom of three wrote about buying a tufted queen-sized bed that "perfectly fits" the "baby room," Chesca shared.
In March 2019, Team Kramer officially kicked off their road to baby number four, turning to IVF technology to help them conceive, since Chesca has already had a ligation, a form of permanent birth control, after her last two successive pregnancies took a toll on her body.
On the same month, the 38-year-old mom of three started receiving injections—administered by Doug himself in the comforts of their home—to stimulate egg production for harvest.
IVF is a procedure that involves harvesting a woman's eggs and a man's sperm. Fertilization or conception happens in a laboratory. After a few days, the fertilized egg or embryo is transferred to the woman's uterus for implantation. Its success rate in the Philippines is about 35 to 50 percent, mainly depending on the woman's age and health.
Doug promised to document their IVF journey on social media but has not posted about it until now. "An encouraging message from you guys would mean something for my wife," he said. "Keep praying for us."
For more than two decades now, IVF has been an option for Filipino married couples who are having difficulty getting pregnant. To know more about it and its cost, click here.
ADVERTISMENT - CONTINUE READING BELOW ↓
***