As you may have noticed if you have an internet connection and even a fledgling interest in pop culture, Taylor Swift and celebrity talent manager Scooter Braun are having a whole ~thing~, and literally every celeb ever has taken sides. Other than Taylor's close friend and collaborator Ed Sheeran, that is.
To rewind for a hot sec, Taylor accused Scooter (and Justin Bieber...and Kim Kardashian...and Kanye West) of being a bully after he acquired her music catalog during a $300 million (P15.34 billion) deal with Big Machine Records. And while tons of celebs have spoken out to support her, Ed—the man who almost ruined Game of Thrones—hasn't.
Swifties have been all up in Ed's Instagram harassing him about not coming forward with a statement, and he finally responded to one fan who came to his defense in the comments on this post:
The fan comment in question is below:
"Why don't you leave him in peace with that Taylor thing? Just because he didn't post anything doesn't mean he is not supporting her, maybe he's talking with her right now, who knows. You aren't allowed to doubt their friendship just because he didn't say anything on the social, 'cause they're not real life. Maybe he's the one who has supported her the most, because they're best friends and he didn't waste time writing on Instagram what he could have said directly to her." 
And in response, Ed wrote, "I have been speaking directly to her, like I always do."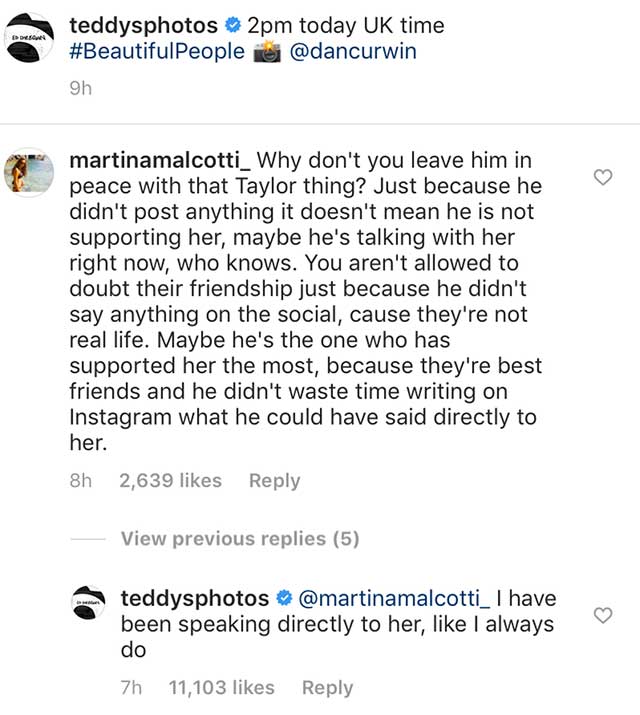 Kay, guess that clears things up and we can all stop being upset with Ed Sheeran. AS YOU WERE.*
*JK, will never stop being upset over his GoT cameo.
***
This article originally appeared on Cosmopolitan.com. Minor edits have been made by the Cosmo.ph editors.
Recommended Videos