After the meme below appeared on our social feeds, we figured it wouldn't hurt to get more information about the presidential candidates through their sons to make sure everyone's minds are fully made up come voting time.
And since they say a child's behavior is a reflection of his or her parents' values, let's take a closer look, shall we?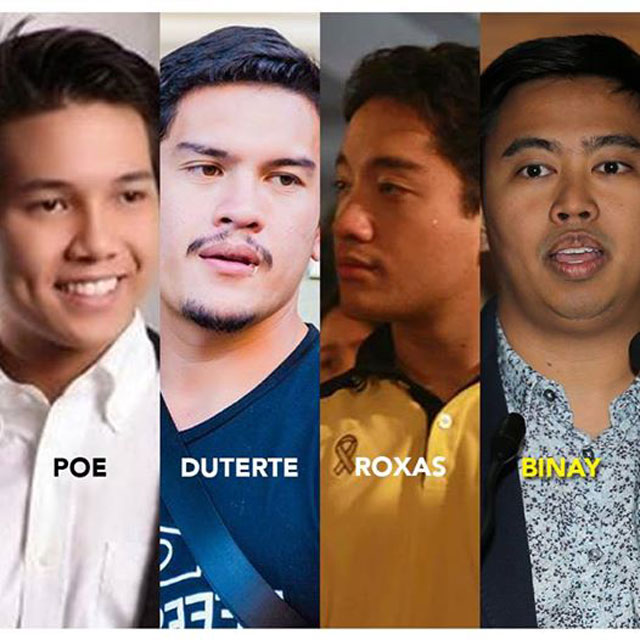 ***
Jejomar "Junjun" Binay Jr.
Son of Vice President Jejomar Binay
Age: 38
School: UP Diliman, BA Creative Writing and BA Public Administration
Occupation: Politician
Continue reading below ↓
Recommended Videos
Junjun, who shares his father's name, was groomed for politics by the elder Binay at an early age.

He was Sangguniang Kabataan president for almost a decade from the period of 1992 to 2001 until he decided to run for city councilor.

Junjun then held three consecutive terms as councilor before succeeding his father as the mayor of Makati in 2010.

He is part of a family of politicians: VP Binay (father), Senator Nancy Binay (sibling), and Makati 2nd District Rep. Abigail Binay (sibling). In 2015, he was dismissed from his position with perpetual disqualification as ordered by the Ombudsman over graft charges he and his father were implicated in.

His sister Abigail is now running for Makati mayor in the hopes of taking back the city their family has led for over a decade.
***

Sebastian "Baste" Duterte
Son of Davao City Mayor Rodrigo Duterte

Age: 28
School: Ateneo de Davao, AB Political Science
Occupation: Businessman
Baste easily seems to be the coolest of the lot with his bad boy vibe (P.S. He wears a lip ring, too) channeling his dad's tough guy image.

He's a surfer, musician, and father of two who runs a simple recycling business.

But beyond his intimidating looks and influential surname, Baste was actually an aspiring lawyer who passed the San Beda College of Law entrance exams back in 2012.

But the elder Duterte, who is a lawyer, advised him not to pursue this path as he couldn't see his son as someone who would enjoy the lawyering industry based on his personality.

Baste followed his father's wishes and realized months after that it was indeed the right choice.

He is currently his dad's representative in speaking engagements since his siblings—also Davao politicians–already have their plates full.

Baste has since delivered speeches on behalf of his father including one in Bohol and a more recent one in Hong Kong with actor and action movie star Robin Padilla.
***

Brian Poe Llamanzares
Son of Senator Grace Poe
Age: 23
School: Ateneo de Manila University, AB Political Science
Occupation: Former reporter
Brian is a CNN Philippines reporter who received the Volunteers Against Crime and Corruption's "outstanding reporter" award for 2014-2015.

After learning of his mom's plans for a presidential bid, he went on leave from CNN to play a vital supporting role for her campaign.

Brian is now often seen delivering speeches on behalf of his mom during campaign sorties. 
Despite not being into politics, he seems to be doing a great job at it. It turns out that he also actively supported his mom's senatorial campaign in 2010 which explains his confidence in facing large crowds.
Brian can also easily be mistaken as a shy type yet his surprise move to "introduce" himself to actress Jasmine Curtis-Smith in a press conference last year complete with a bouquet of flowers proved otherwise.

In February, he was involved in a controversial issue where he posted a picture—that has since been deleted—showing him wearing what appears to be an extremely limited and expensive pair of Nike shoes.

Netizens pointed out that the pair–a Nike Mag 10–easily costs hundreds of thousands of pesos which went against his mother's pro-poor platform.

Brian has since apologized and clarified that he got the shoes for only P10,000, prompting the public to speculate whether he bought a fake pair.

It was later made clear his pair was not a knock-off, but an officially licensed replica released by Universal Studios which was way cheaper than the limited edition version.
***

Paolo Gerardo Roxas
Son of former interior secretary Mar Roxas II

Age: 22
School: Yale University
Occupation: Student
Not much is known about Paolo aside from being the elder Roxas' child with beauty queen Maricar Zaldarriaga.

Before deciding to help his dad's campaign efforts, he was last seen as the best man in the wedding of his father to news anchor Korina Sanchez in 2009.

Paolo gained the media's attention late last year after he attended President Benigno Aquino III's official endorsement of his father for the presidency.

He has since reappeared in Laguna last month where he confidently delivered a speech for his dad during a campaign trail there where he faced a crowd of 2,000.
***
Alexander Robert Santiago (deceased)

Son of Senator Miriam Defensor-Santiago

Age: 22 (1981-2003)
School: Ateneo de Manila University
Occupation: Student

The late Alexander Robert Santiago or "AR" as his mother fondly called him was a law freshman student at the Ateneo de Manila University.

On the night of November 20, 2003, he locked himself up his room at the Santiago residence and reportedly committed suicide using his father's .45 pistol while the family was having dinner.

AR was rushed to the hospital but was unfortunately declared dead on arrival due to a bullet wound in his neck.

The apparent suicide reportedly stemmed from his depression after taking an entrance interview for the bar exams at the University of the Philippines College of Law.

He had passed the written test, but during the oral exam, he was questioned regarding his family, particularly his mother's "insanity" and his father's knack for gambling.

The Santiago family was devastated by the incident with Miriam blaming herself for passively pressuring her son with her monumental academic and professional achievements.
She has stated in one of the many interviews after the incident that there was never a day in her life that she didn't think of her son after his untimely passing.