On Friday, May 4, 2018, couple John Lloyd Cruz and Ellen Adarna posted on their Instagram accounts videos of people taking stolen photos of them. 
John Lloyd captioned his post, "Reciprocity." 
On the other hand, while eating in the ramen restaurant Mendokoro Ramenba in Makati City, Ellen posted on her Instagram stories a photo of a girl who seemed to be taking a photo or a video of the actress with her phone. Ellen embedded the text, "When you pap us, we pap you. It's a tie. #PAParazziMoves."
Ellen's photo was followed by another post: This time it was a video of the same girl, who, in Ellen's interpretation, didn't seem to know what to do: to keep using her phone or pick up her chopsticks. The text on Ellen's post reads, "Oo yan ha...you know the feeling...uncomfy, no? When you pap us, we pap you too! #nasa resto, eh. It's a tie."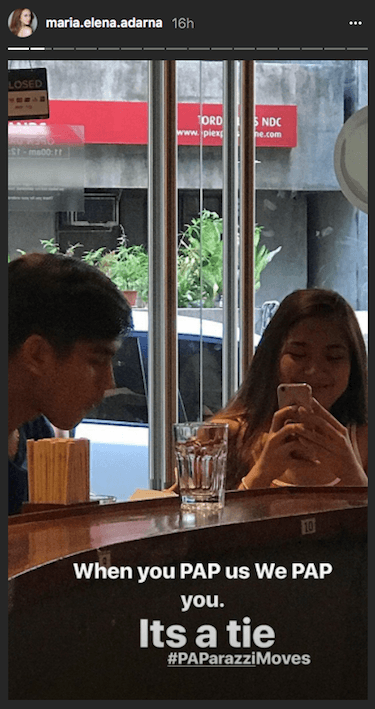 Continue reading below ↓
Recommended Videos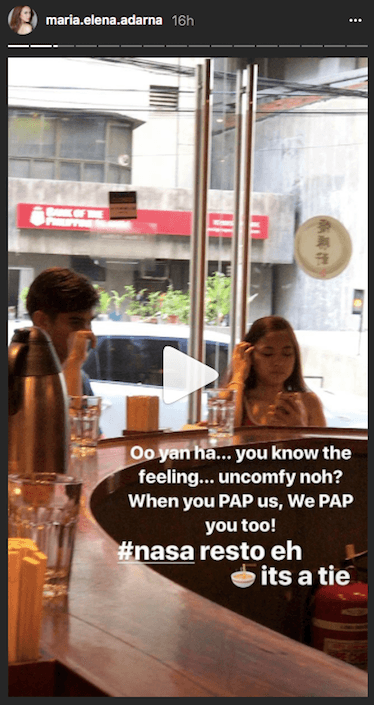 The "Pap" Reacts
On the same day, the girl on Ellen's Instagram stories, named Eleila, told her side of the story on Twitter. "So we were casually eating ramen and this happens. We didn't notice her or even know it was her. I just wanted to [take an Instagram] story [of] our food." She added, "Sarap pa rin [ng] ramen! Although it's just wrong to assume things."
Eleila then posted a video she took of her companion and her food.
Ellen Defends Herself
At 2 a.m. on May 5, Ellen posted on her Instagram stories a series of videos as a reaction to Eleila's tweets.
First, the actress posted a screen-captured photo of the conversation she had with the user "stevencoralde." She wrote on the post, "Ayan na....patol day ko today!"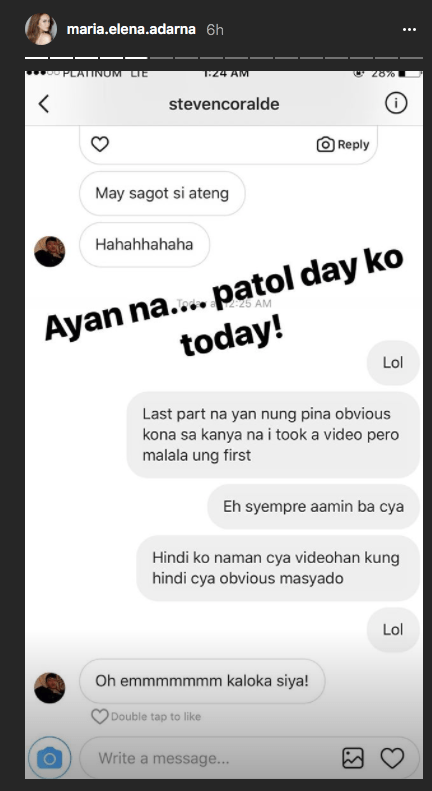 A series of videos of herself follows, where she talks about the incident.  
"Girl, the reaction in the video I took explains it all," Ellen starts. "Like, you looked so guilty. You didn't even know what to do—if you should pick up your chopsticks. You looked so conscious. Because you panicked. Because you knew I was doing what you're doing."
"Girl, you can deny all you want," Ellen continues. "But before your food arrived, you knew what you guys were doing, so yeah. Whatever. Feeling na kung feeling. But hindi kami tanga."
"How rude is this girl. And that was before their food arrived. And in my head, parang I wanted to go to her and ask her to delete the video."
"So instead of getting bad trip and all, I just decided to reciprocate, and do what she did. So fair lang."
"And I saw her post. I saw a video that she took that she was casually eating ramen. But like, she took a video. Girl, if you take a video of your food, you focus on the food. You don't focus—or you don't show the people in the background."
"And when she realized that I was doing what she did, she kind of panicked. Which you can see in my video; she didn't even know what to do. She wanted to get her chopsticks, but she also wanted to do something with her phone."
"So you can justify what you want to justify, and I can do what I want also because I am patol like that."
"I just wanna say, 'Hi, Elbert.' Elbert is my neighbor and he owns Mendokoro [Elbert Cuenca and Ryan Cruz own Mendokoro]. And baka he can give me a video footage of what happened? Just kidding. Why does your ramen have to be so good? Daming nangyayari."
"Girl, you can stop acting like a victim and know that there's always two sides to the story, and people will always choose a side. So deal with your bashers. Because me, I can handle them pretty well. And you know, good luck to you."
"So anyway, guys, I'm going to say good night. And I'm going to let this go. And I hope you enjoyed the show. I'm just here for your entertainment. Good night!"
Eleila's Response
Around an hour or so after Ellen posted her videos, Eleila again took to Twitter to react to Ellen's stories. She explained what was happening on Ellen's video of her. She said that she was not panicking: "I only fixed the SPOON that was placed in my bowl because it was going to fall off and then I posted my story :)" She also states that she does not know who Ellen is and "whatever running issue is going on with her life."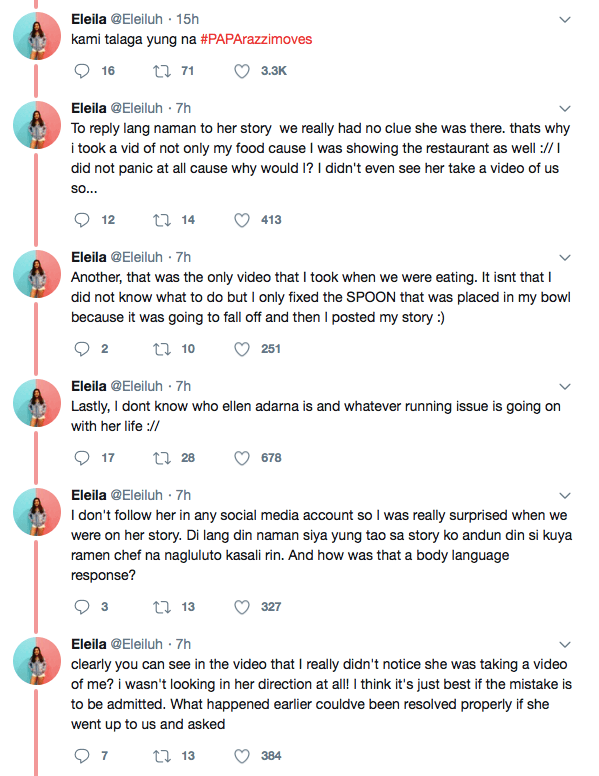 Eleila also wrote that Ellen should have just confronted her at the restaurant if Ellen thought what she did was inappropriate.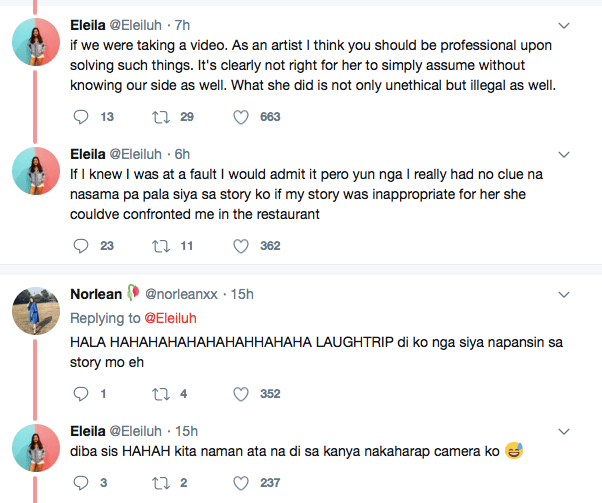 Ellen has not reacted as of press time. 
What is your take on this issue, CGs?