Netizens couldn't help but notice that Erich Gonzales was not present at the recently concluded ABS-CBN ball.
One of her followers, for instance, couldn't help but express his/her disappointment, in a comment on Erich's latest upload on her YouTube channel. The video was published on September 9.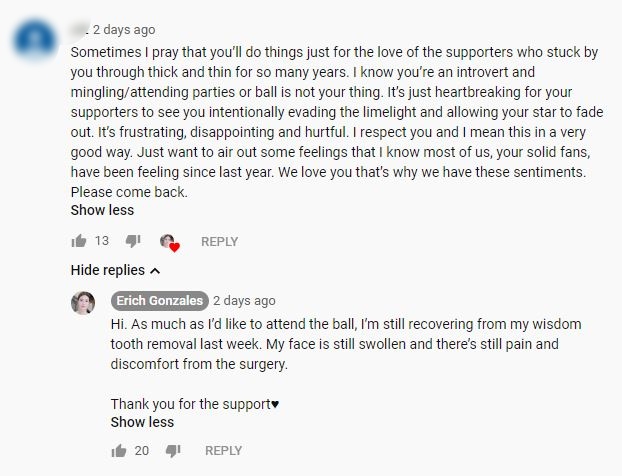 "Sometimes I pray that you'll do things just for the love of the supporters who stuck by you through thick and thin for so many years," said the user in his comment. "I know you're an introvert and mingling/attending parties or ball is not your thing. It's just heartbreaking for your supporters to see you intentionally evading the limelight and allowing your star to fade out. It's frustrating, disappointing and hurtful. I respect you and I mean this in a very good way. Just want to air out some feelings that I know most of us, your solid fans, have been feeling since last year. We love you, that's why we have these sentiments. Please come back."
Erich liked the comment and responded to give the reason behind her absence at the ABS-CBN event. "Hi. As much as I'd like to attend the ball, I'm still recovering from my wisdom tooth removal last week," she said. "My face is still swollen and there's still pain and discomfort from the surgery. Thank you for [your] support."
Continue reading below ↓
Recommended Videos
In August, Dreamscape Entertainment reported that Erich had resigned from her role of Dana Wong in the teleserye Love Thy Woman, which stars Kim Chiu and Xian Lim, due to "creative differences." Yam Concepcion will be taking her place.
Erich has been busy for the past six months working on material for her YouTube channel. Her last project was the teleserye The Blood Sisters in 2018.
Here's a pic of Erich from last year's ABS-CBN Ball: