Phase Three of the Marvel Cinematic Universe will see the studio finally break new ground, with two movies led by somebody other than a white man. The first is 2018's Black Panther, starring Chadwick Boseman as the super-powered African king, and the second is 2019's Captain Marvel, the MCU's first female-led superhero movie. It only took them eight years–and twenty one movies—to get there. 
Speculation has been brewing for months about the casting of Captain Marvel, with Emily Blunt and Charlize Theron among the rumored contenders. And at last weekend's San Diego Comic-Con, aka Nerd Mecca, Marvel confirmed the casting of Brie Larson, who won this year's Best Actress Oscar for her nuanced performance in Room.
Here's everything you need to know about the game-changer that is Captain Marvel. 
There will be a lot of women behind the camera
The screenplay will be penned by Meg LeFauve, who was Oscar-nominated last year for Pixar's Inside Out, and Nicole Perlman, who co-wrote Marvel's Guardians of the Galaxy. 
No director has been named yet, but it's looking likely that Marvel will buck convention and hire their first ever female director for the gig. The contenders are mostly relative newcomers: Niki Caro, who directed Jessica Chastain in upcoming biopic The Zookeeper's Wife, Jennifer Kent, whose first film was 2014 horror standout The Babadook, and Rachel Talalay, whose credits include episodes of Doctor Who, The Flash, and the upcoming fourth series of Sherlock. 
Continue reading below ↓
Recommended Videos
Carol Danvers is a badass
And she pre-dates her superhero alter ego Captain Marvel by several years. Carol was introduced to the Marvel Comics way back in 1968 as an exceptional fighter pilot, who had succeeded despite the sexism that surrounded her in the US Air Force. It wasn't until 1977 that Carol developed superpowers, after being exposed to the explosion of an alien device, and became known as Ms Marvel—eventually to be Captain Marvel. 
Her abilities include flying, super-strength, and some level of pre-cognition, so to say she's a force to be reckoned with is an understatement.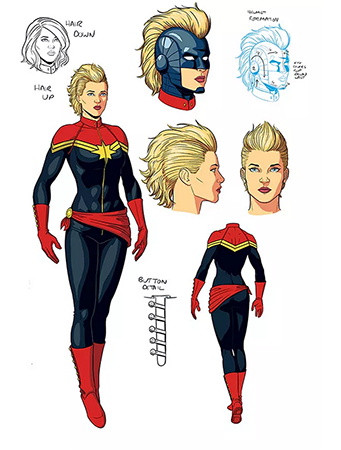 Captain Marvel's costume was groundbreaking for women in comics
Thigh-high boots. Bathing suit. Sizable rack. Despite being introduced as a socially progressive character, Captain Marvel's look during her early years in the comics wasn't especially empowering. That all changed in 2012, when Marvel radically transformed the character and created what has now become her iconic costume, taking inspiration from her military background in much the same way Captain America's does.
"There were a lot of reasons to change the costume," Marvel animator and editor Stephen Wacker explained last year. "One big one was that I wanted my daughter to be able to dress up as Captain Marvel." Amen to that. 
She'll probably be in the next Avengers movie
Captain Marvel itself is slated for release on March 8, 2019, but we won't have to wait that long to see Larson in action. Just like Black Panther was introduced in this year's Captain America: Civil War, Captain Marvel will make her first appearance in an ensemble movie before spinning off into a solo vehicle. That'll probably be The Avengers: Infinity War—Part 1, which debuts in May of 2018.