They may be newcomers to the K-pop world, but ENHYPEN is already proving themselves a force to be reckoned with. This piping-hot boy band has seven members: Jungwon, Heeseung, Sunghoon, Jay, Sunoo, Jake, and Ni-ki. They debuted on November 30, 2020, and have already been breaking records since!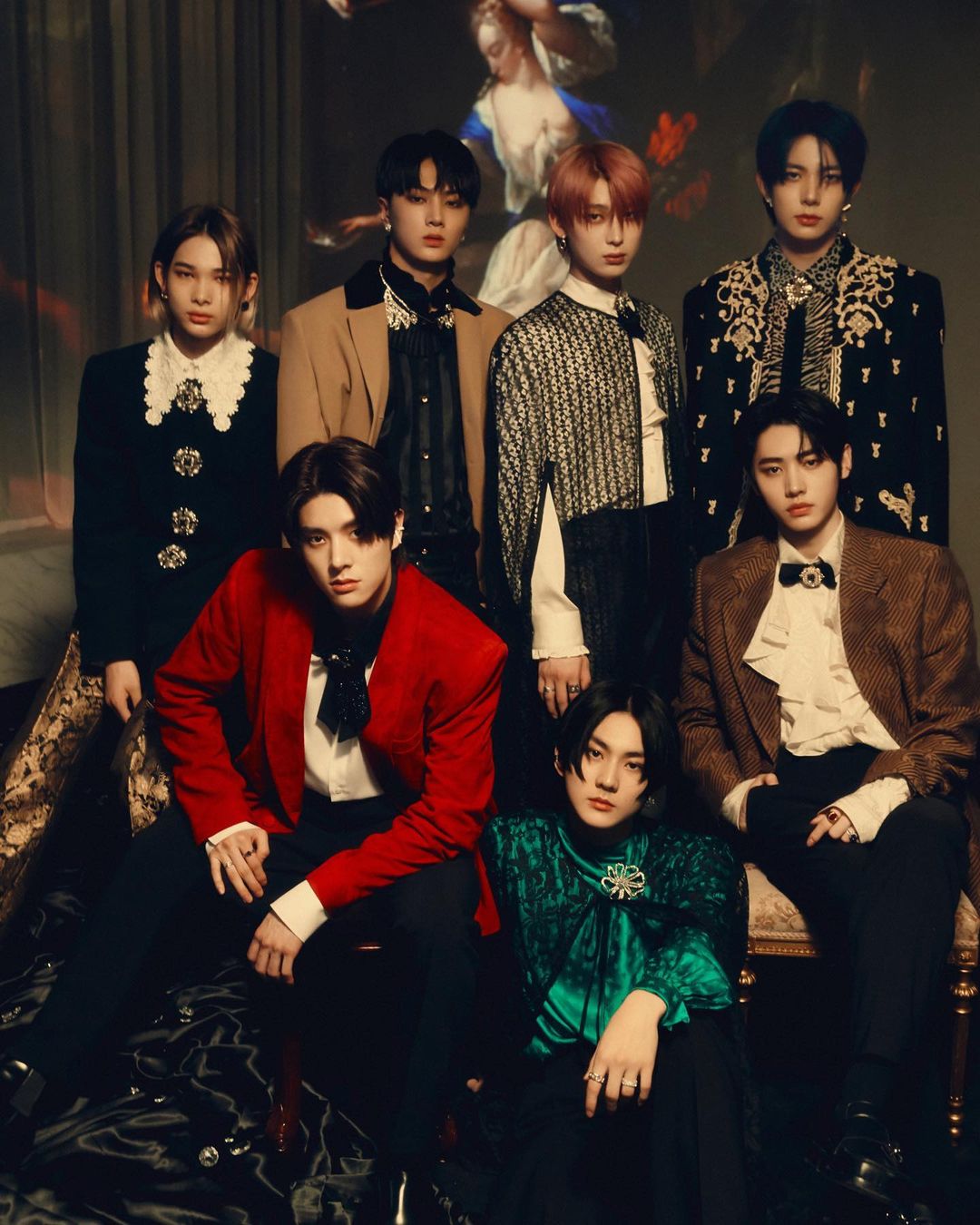 Getting to know ENHYPEN can be both intimidating and exciting. There is a wealth of information available out there about the new kids on the block—but fret not! Here's a quick guide about the boys to help get you started:
ADVERTISMENT - CONTINUE READING BELOW ↓
1. They're under the BE:LIFT LAB label.
BE:LIFT LAB is relatively a newcomer too in the South Korean entertainment industry. The label is co-founded by CJ E&M and HYBE Corporation. CJ E&M is one of South Korea's leading companies focusing on the promotion of cultural content and the globalization of Korean culture. They are behind the hit film, Parasite, and the hit series, Crash Landing On You. On the other hand, HYBE Corporation needs no introduction as fans would already know them as the company behind global superstars, BTS (so that makes them labelmates—sort of). With both CJ E&M and HYBE Corporation at their backs, we know ENHYPEN is in great hands and can only look forward to amazing releases from them.
2. The boys competed and were formed through the reality survival show, I-LAND. 
"I-LAND is designed and built to develop and produce the perfect idol group," says its official website. 23 boys entered the competition, where they underwent a series of challenges that proved their mettle in singing, dancing, and rapping. Under the mentorship of HYBE's CEO Bang Si Hyuk, international star Rain, and chart-topping singer/producer Zico, these boys from different backgrounds battled it out for the Top 7 spots. In the end, Heeseung, Ni-ki, Jake, Jay, Jungwon, and Sunghoon claimed the Top 6 spots. Sunoo, the producer's choice, was the last missing piece of the ENHYPEN puzzle.
ADVERTISMENT - CONTINUE READING BELOW ↓
Recommended Videos
3. They've got a diverse group of members...
The boys of ENHYPEN come from diverse backgrounds. We have international members: Jay is from the USA, Jake is from Australia, and Ni-ki is from Japan. We also have athletes on the team: Sunghoon is an award-winning national youth figure skater, and Jungwon was a competitive taekwondo player. Heeseung used to be a Big Hit trainee (as was Jay and Sunghoon). Meanwhile, Sunoo was cast through the BE:LIFT auditions in Seoul.
See Also: Get To Know The MBTI Personality Types Of ENHYPEN Members
4. ...But this diversity is what makes them unique!
When you have a group that is so diverse, it's not surprising to know that when they first came together, they could barely speak to each other. This is what Sunghoon, Jake, and Jungwon revealed when they appeared as guests in Eric Nam's K-Pop Daebak Show podcast. Eventually though, Jake said that it's because of this diversity that they can show multiple colors of music. "I think that is one of our group's strong points," he said—and we couldn't agree more!
ADVERTISMENT - CONTINUE READING BELOW ↓
5. They are called ENHYPEN for a reason.
It was revealed during the I-LAND finale that the group would be called ENHYPEN. Like the familiar punctuation "hyphen" that links words together, ENHYPEN aims to connect, discover each other, and grow together. It is a symbolic name that hopes to unite the members through the kind of music that helps connect people from across the globe.
Weeks following the finale, the newly minted ENHYPEN also announced that their official fan club name is going to be called "ENGENE." In a video uploaded on their official YouTube channel, the boys explained that their fan club name has two meanings. First, it means that ENHYPEN fans are the "engines" that help the members grow and keep going. Second, it means that both the fans and the boys share the same "genes" to connect, discover, and grow together.
6. They are one of the few K-pop groups that debuted during the pandemic.
Since they debuted during a pandemic, the boys were used to only meeting their fans online. This is why receiving a lot of attention and support felt unreal at first, revealed Jungwon in the same podcast with Eric Nam. But both ENHYPEN and ENGENES had the chance to meet face-to-face through a fan meeting event in February 2021. When asked about how meeting their fans in person felt like, Sunghoon was quick to tell Eric that it was unlike anything they've experienced before. "We got used to performing in front of cameras with no crowds, so we got nervous when we saw all of our fans watching us perform," confessed Sunghoon. "But it was still so much fun, truly unforgettable," added Jake.
ADVERTISMENT - CONTINUE READING BELOW ↓
7. They don't have designated roles.
In the K-pop world, we're used to knowing that someone is the visual, the lead vocal, or the main dancer of the group. So, it's quite refreshing to know that aside from having Jungwon as the leader, no one else in ENHYPEN has a designated role. It's because the members have this mindset that they want to keep on improving. "We want to prove that we can fulfill all positions at a high quality," Jungwon told Eric Nam in their K-Pop Daebak Show episode.
8. They've released two EPs and one studio album so far.
Their debut album is the hotly-anticipated Border: Day One, which generated over 300,000 pre-orders just 21 days after it was first announced. Its lead single, "Given-Taken," is a hip-hop song about the boys' ambitions, as well as the agonizing thought they had to deal with, wondering if their debut was something they earned or was given to them. The result is a dark yet powerful song that is complemented well with the unique voices of our dear seven boys. The debut album was a commercial success after it ranked second in Gaon's best-selling albums of November 2020, next to BTS' BE.
ADVERTISMENT - CONTINUE READING BELOW ↓
ENHYPEN then continued the success of their first album with the release of their sophomore EP. Border: Carnival was released in April 2021 and is the album that reflects their feelings of wonder and amazement from all the things they have experienced since their debut. The six-track EP also portrays the confusion they face as they continue to navigate their path into the world. All these feelings are best encapsulated in the album's lead single, "Drunk-Dazed," a pop-rock track that relives the fun, exciting, and mesmerizing nature of being in a carnival. The group reached another milestone with their second EP when it debuted at number 18 on the Billboard 200 charts in May 2021.
Showing no signs of slowing down, ENHYPEN released their third album just this October 12, 2021. Dimension: Dilemma is the band's first studio album, complete with eight tracks, including the lead single, "Tamed-Dashed." This time around, the carrier single features a new wave, '80s kind of vibe to it, highlighted by guitar and synthesizer sounds. In contrast to the dark and mysterious tones of the first two releases, "Tamed-Dashed," paints the boys in a bright, upbeat, and youthful concept. Like its predecessors, the third album has proven itself to be another hit. It sold 501,000 copies the day it was released on the Hanteo Chart and ranked number one in Japan's Oricon Daily Album Charts. It also found its way to iTunes' Top Album Charts in at least 26 countries, including the USA!
ADVERTISMENT - CONTINUE READING BELOW ↓
9. They're called "Monster Rookies"—and rightfully so! 
Less than a month into their debut, ENHYPEN has already won the Next Leader Award from The 2020 Fact Music Awards. The same award-giving body also recognized the boys as Artist Of The Year just this October 2021. Aside from these two awards, the septet has also won Best Global Artist for the first half of 2021 from the 6th Ten Asia Global Top Ten Awards, Rookie Of The Year from the 30th Seoul Music Awards, and even the Rookie Artist Of The Year award from the prestigious Golden Disc Awards.
All these awards and nominations and they haven't even reached their first anniversary yet! It's amazing to see how these boys have grown in such a short amount of time. From reality show contestants to now one of K-pop's brightly shining stars, ENHYPEN is surely on its way to superstardom! I'm pretty sure every ENGENE all around the world is excited to see what these boys will come out with next.
ADVERTISMENT - CONTINUE READING BELOW ↓
***
We're officially on Viber! Be part of our growing community and subscribe to Cosmopolitan Philippines now!
K-UPDATES