Fantastic Beasts, A.K.A. Albus Dumbledore and Gellert Grindelwald's epic breakup arc, returns to give shippers more feels and fuel more fanfiction. Once again, the Wizarding World's most wanted criminal failed a vibe check and has chosen violence instead by unleashing unfettered anarchy during one of the most important political events in the magical community.
With the help of Newt Scamander, Dumbledore forms his very first army to put a stop to his ex's clownery. Will they make it in time? And more importantly, what is Dumbledore's secret? (Because we're Marites like that!)
No spoilers here but we can spill the tea about other behind-the-scenes details based on The Secrets of Dumbledore press con where the main cast and crew were asked questions from around the world. In attendance were Eddie Redmayne (Newt), Jude Law (Dumbledore), Mads Mikkelsen (Grindelwald), Dan Fogler (Jacob), Alison Sudol (Queenie), Jessica Williams (Professor Hicks), Victoria Yeates (Bunty), William Nadylam (Yusuf), director David Yates, and producers Tim Lewis and David Heyman.  
They chatted about side characters getting solo missions, the Grindeldore relationship, spells to make diapers disappear, magical creatures doing business, going back to Hogwarts, the Manticore dance, and more. Read on!
1. Pickett the Bowtruckle and Teddy the Niffler team up for their own grand quest. And it's about time because it does say Fantastic Beasts in the title, after all!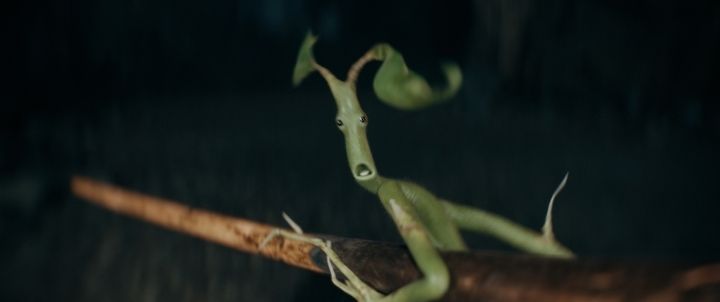 Continue reading below ↓
Recommended Videos
Eddie: In this movie, Pickett and the sweet and incredibly complicated Niffler Teddy, join forces. You realize they're kinda like the siblings that have a consistent rivalry either in my coat or down in the suitcase. And here, they are forced to step up.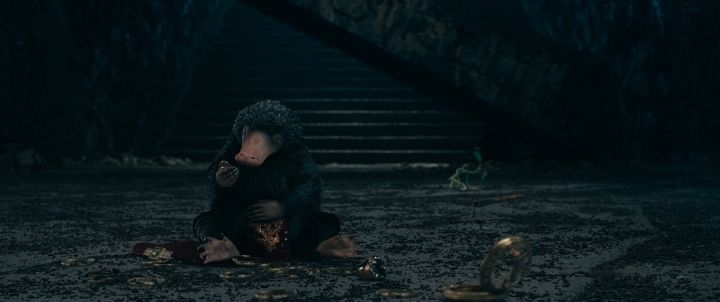 Jude: The way in which those characters have evolved is nothing short of fascinating, really, 'cause even in the script, they're detailed descriptions, but they're completely imagined characters. Like Eddie said, in this film, suddenly, they're kinda saving the day.   
Eddie:  The HBO Max series, Teddy and Pickett, coming soon! I'm watching! 
Note: Sadly, Teddy and Pickett is not an actual series…yet.
2. Some of the cast members geeked out about going back to Hogwarts and Hogsmeade!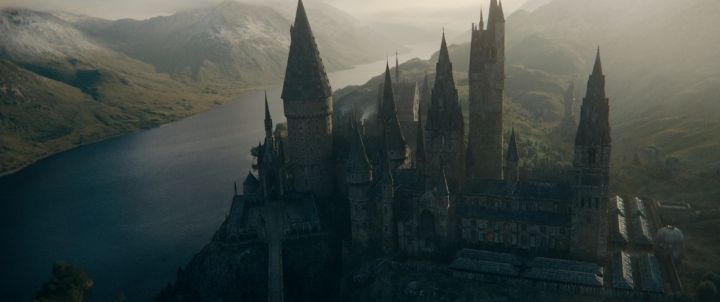 Jessica: Oh yeah, I got chills! The kids in their robes, their wizarding uniforms—I could cry. You know the sensation of wanting to squeeze something cute? I wanted to squeeze a lot of the kids and just shake them! But then I realized I was an actor [and] there's a liability so I didn't squeeze the kids. *laughs* I had to go back and forth  between just totally nerding out and [thinking], "Oh right, I've got to know my lines and make sure because I'm accountable to this big production." Could I tell myself in the third grade that one day I would get to play this witch? I wouldn't even have believed it back then.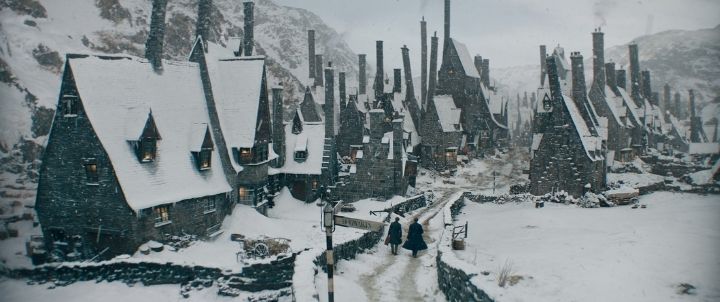 Eddie: It was pretty amazing! One of our first scenes wasn't actually Hogwarts, it was the Hog's Head and it was a group of us. Ali [Alison] wasn't there, sadly. We got to sit there and drink Butterbeer next to a roaring fire with this group of actors, whom I adore, and it felt like I had to pinch myself going, "This is our job!" It was really remarkable.
3. Dumbledore's real secret was Jude making things up as he goes along with improvised spells during filming. (Like magic!)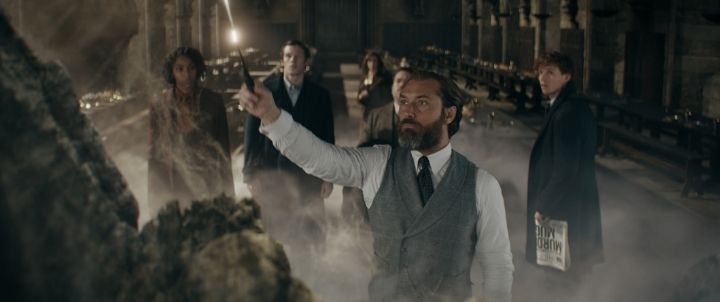 Jude: I remember Eddie telling me that in the second film—the first film for me—if there's a situation or a problem with a scene, remember that you've got magic at your disposal. And the scene in Berlin, when I basically had to pass on information to the team, went from basically passing out a map to a scene with a magic hat and all sorts of things flying out. Again, that's the excuse of, uh, well, that's magic! You can do that!
4. On the subject of magical creatures, Dan and Mads joke about their income-earning potential.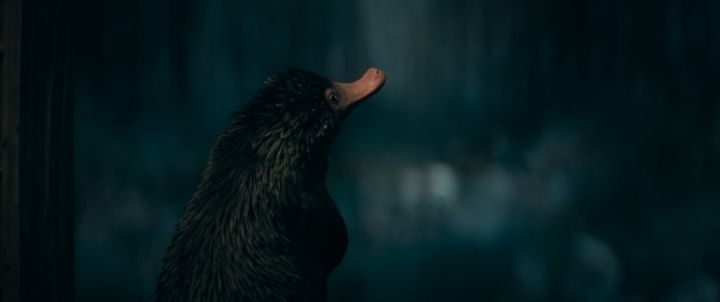 Dan:  [The Demiguise] could tell the future [so] you could take him to the track or [get] lottery numbers. You know what I'm saying? Take him to Vegas! You could make a lot of money. *laughs* 
Mads: You can get the Niffler doing that stuff. You can make a fortune with him. 
Dan: But he'll steal everything! 
Mads: No, you'll train him and make sure. I can train the Niffler.
5. Instead of attack spells, Victoria, Jessica, and Alison would rather perform household magic that's mundane yet very practical. (Make our mess magically disappear? Yes, please!)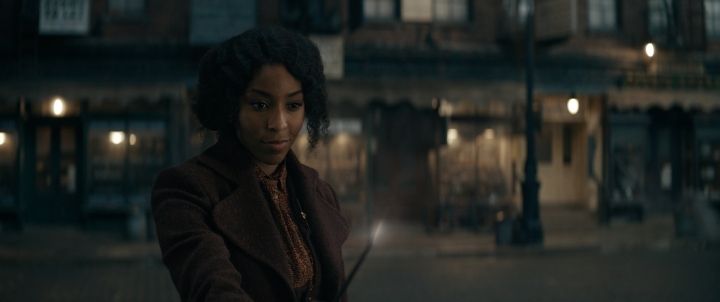 Jessica: I like the Burrow in general and I feel like Molly Weasley has a lot of good [spells for the household.] 
Victoria: A nappy spell—a nap spell! 
Alison: Vicky and I have small children so that's all we can think about! Nothing big and beautiful. It's like, can you just get rid of the nappies and make my child sleep?
6. Dan Fogler has been manifesting for resident no-maj/muggle Jacob Kowalski to wield a wand since five-ever. And it finally happens!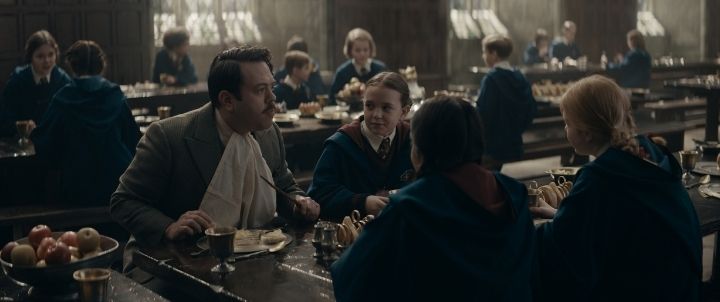 Dan: I watched everyone [use] a wand for two movies and go to their training sessions. So I was just wondering if one day, maybe someone will drop one and I'll be able to pick it up.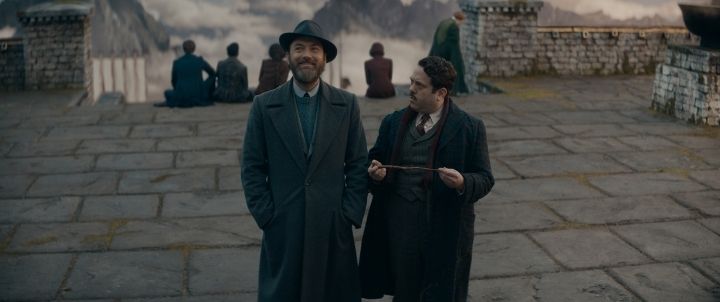 I felt like it was just an enormous honor to be handed this wand from Dumbledore [through Newt]. There's a lot of potential for some great comedy and action with this muggle just trying to *makes wand-waving gestures* figure it out.  If you see Jacob, he was not given any training so he holds it like how a soldier would hold a gun or something.
7. Mads may be the film's baddie—and a total daddy *coughs*—but he's the complete opposite off-cam.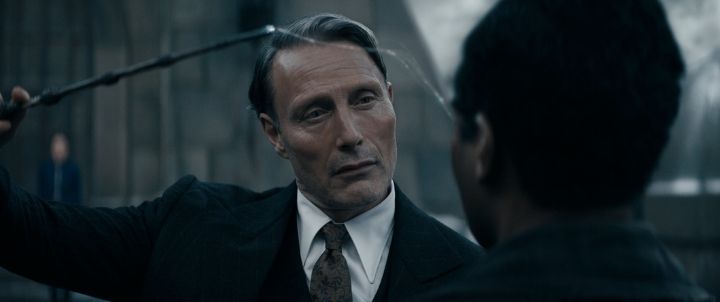 William:  I used to be a dancer and I've done theater and immediately, I could feel he [Mads] was a brother to me.
Victoria: He dances in between takes—that's the best bit.
Mads: Did I?
Victoria: Yeah! Wonderful dancing!
Mads: I can't remember, maybe it was a magical time! 
David [Yates]: They're all pretty funny but I have to say that, obviously. I think Mads is quite funny.
Mads: I wasn't trying to be! I was trying to be terrifying!
David: Very dry, insightful, perceptive, he's funny.
Mads: I'll take it. Thank you!
8. The Queenie and Jacob angst continues!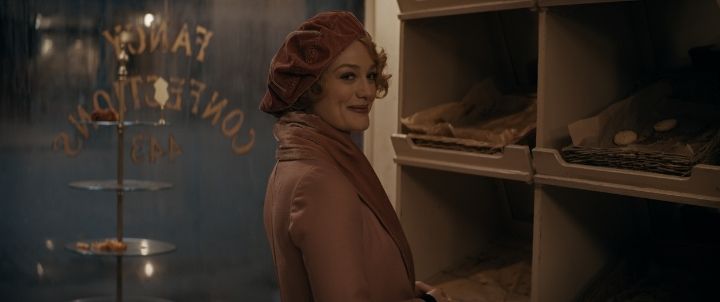 Alison: It was sad to not be together because we started this journey out as a little group. It was so wonderful! And then in the second film, we barely had any scenes together! And in this film, we didn't get a lot of [scenes together], so the time that we had was precious. I think everybody wants these characters to find their way back to each other. It's always better when we're together!
Dan: I agree wholeheartedly.
9. Jude and Mads really did their homework in order to portray the friends-to-lovers-to-enemies dynamic of Dumbledore and Grindelwald onscreen. *Makes sad noises*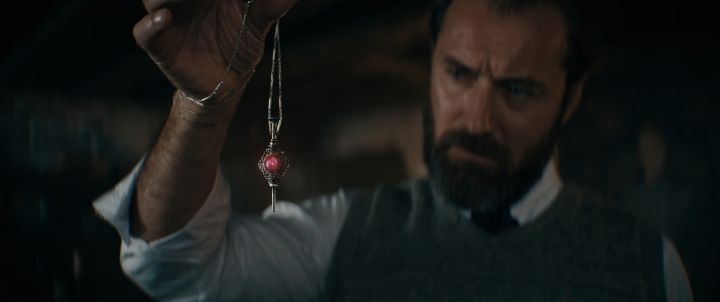 Jude: A lot of it was sharing our imagined take on how they met and what that meant to them. [Dumbledore] was brilliant and outstanding at a very young age to the point where he probably felt slightly isolated.
He [then] meets someone who matches him and inspires him and that kinda connection is very powerful. [Their time together was] incredibly dynamic, cherished, and special. And then this awful moment [happens] when you realize [that] you're on a different path [and] moving away from each other. It doesn't necessarily take away from the firework that went off initially, in fact, it makes it harder.
To prepare, [Mads and I] talked an awful lot about it and of course his opinion [eventually differed] from mine because our characters *gestures going their separate ways*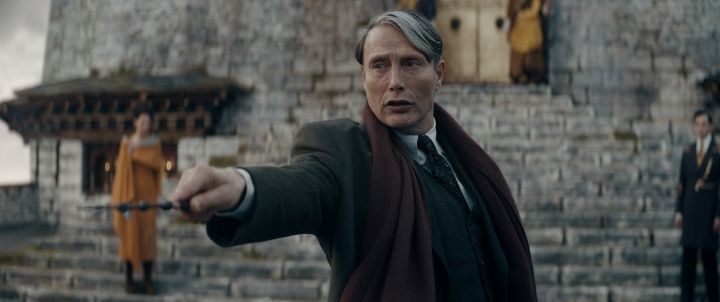 Mads: Yours is different from mine.
Jude: That's how I remember it!
Mads: For this character, he's very linked to Dumbledore. We had quite a few conversations about what that relationship looked like. So my character's shaped out of that world.  Nobody actually starts saying, "I'm gonna be the bad guy," so we have to figure out what his mission is. What is his goal? Why is he trying to make the world a better place in that manner, you know? We wanted that relationship to be real. Real people, real situations, real disappointment with each other.
10. Eddie Redmayne went out on a limb (and a hip swivel) just to film the memetic Manticore dance.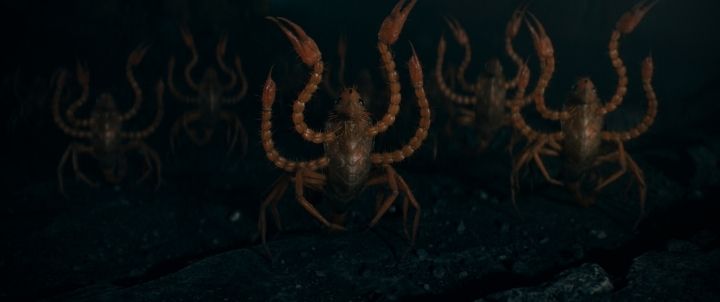 Eddie: It was bloody exhausting! David [Yates] would have me coming down the whole prison and by the time I got to the lines—*Reenacts the labored breathing and gasping noises that he made while saying his line*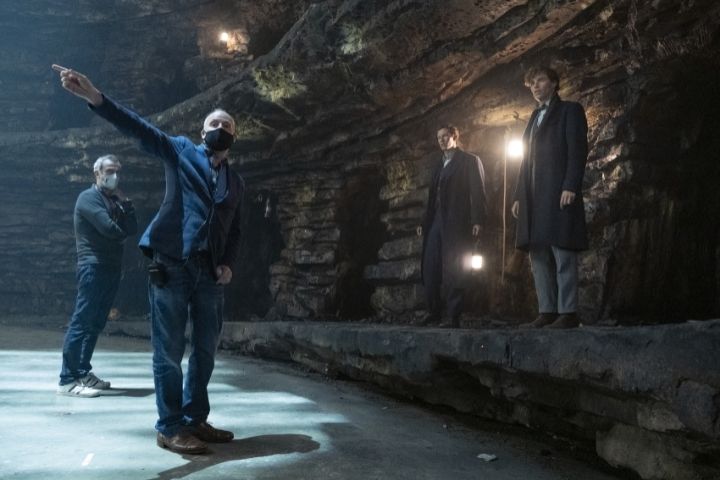 Also, I had to hold this lantern which was weirdly heavy 'coz it was [lighting the] entire way [inside] the huge cave. When I got to the bottom [of the set], there was a physio who would have to massage my shoulders [in] between takes [so] that I'd be able to do it the next day, ANYWAY, that's enough about that. It made it all worth it when Callum [Turner, who plays Theseus Scamander] had to have a go!
Bonus: We're also unlocking new places in the Wizarding World!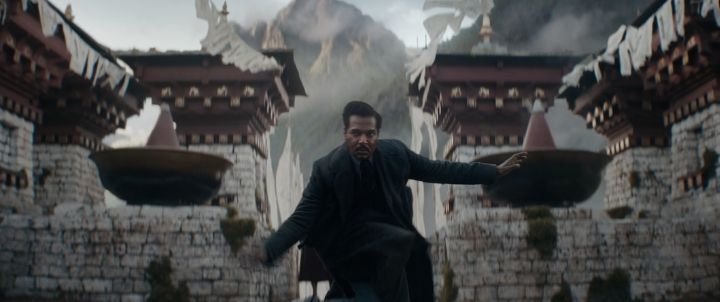 Tim: [We] start off in China in the forest, [and] then spend quite a lot of time in Germany [where] we see the German ministry of Magic, and then we end up in Bhutan.
Fantastic Beasts: The Secrets of Dumbledore is now showing in theaters everywhere!
READ MORE ABOUT HARRY POTTER HERE
Here's What 20 Hogwarts Students From 'Harry Potter' Are Up To Now
Emma Watson Shares The Exact Moment She 'Fell In Love' With Tom Felton While Filming 'Harry Potter'
Newt Scamander Was Actually In One Of The 'Harry Potter' Movies