As Fifty Shades madness swirls around us once more following the release of the second movie in the trilogy, Fifty Shades Darker, the question must be asked: Who keeps bringing all these vegetables to the theaters where Christian Grey and Anastasia are getting it on?
On Wednesday, Mashable reported that an employee of the Hayden Orpheum movie theater in Sydney, Australia, discovered an abandoned cucumber in an aisle after a screening of Fifty Shades Darker. The theater posted a photo of it to Facebook:
Marketing stunt? Maybe, especially since in the photo, someone is holding the vegetable with their bare hands—which I wouldn't do with any food item I found on the ground, much less one that a stranger possibly/probably/definitely had used in an intimate manner. And yet, "Hand on my heart, it was actually found after our Student Night session of Fifty Shades on Monday night (actually by me!)," the theater's Deputy General Manager Alex Temesvari insisted to Mashable by email. 
Continue reading below ↓
Recommended Videos
This post-Fifty Shades vegetable sighting is not an isolated incident. Twitter user Steve Gaughan posted this photo of two forlorn-looking cucumbers lying on the floor of a theater after a showing of the movie:
One year ago, after the release of the first Fifty Shades movie, Snapchats of cucumbers sitting in movie theater seats were posted to Tumblr: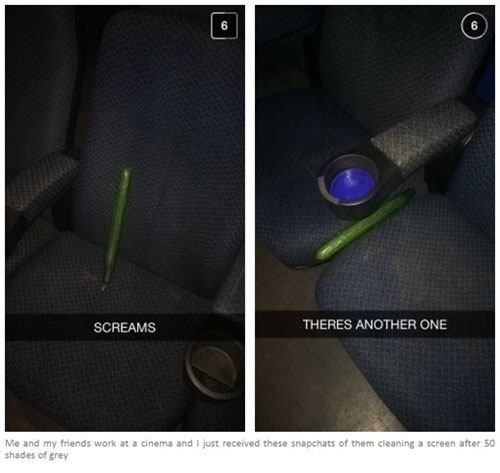 Ladies—and whoever else is inspired to bring produce to experience E. L. James's work brought to life—there are so many better ways to enjoy yourself than through use of vegetables. Like vibrating underwear! Or teeny-tiny bullets! Whether these shots have been staged or are genuine evidence of dubious masturbatory practices, they're reminding me irrepressibly of Amy Schumer's own accessorized expedition to the first Fifty Shades movie, which I'll leave here to inspire you all to think beyond the cucumber. 
***
This article originally appeared on Cosmopolitan.com. Minor edits have been made by the Cosmo.ph editors.