Time and again, Filipinos have proven our talents are not to be overlooked in the global arena. From making history at the Olympics, to drumming up noise in the music scene, to bagging Tony Awards, we can always find something to be proud of. Our local celebrities aren't falling behind either, seeing as a number of our famed actors have already taken their talents internationally. In case you missed the memo though, today, we're rounding up 10 Filipino personalities who've appeared—or are set to appear—in foreign-produced movies.
10 Filipino Actors Who've Appeared in International Movies
1. Iza Calzado
After starring in the 2004 horror film Sigaw, Iza Calzado reprised her role in the American remake of the movie four years later, retitled The Echo. Here, her original character, Anna, is now known as Gina, a woman suffering from domestic violence at the hands of her husband. When their new neighbor Bobby, a former convict, gets involved in their marital problems, he makes a disturbing discovery that haunts the rest of his stay at the apartment building.
ADVERTISMENT - CONTINUE READING BELOW ↓
This isn't the first time Iza's acted in a foreign film. In 2016, the actress appeared in the Russian-American action movie Showdown in Manila. 
Watch the full trailer below!
2. Anne Curtis
Anne Curtis' first foray into the international movie scene had her top-bill the independent American vampire thriller Blood Ransom. Starring alongside American actors Alexander Dreymon and Caleb Hunt, Anne steps into the shoes of Crystal, a gullible woman who gets turned into a vampire by the mysterious man she falls in love with. Desperate to escape, she runs away with the man's driver, Jeremiah, and the two end up falling into a dangerous and fragile love affair.
3. Kris Aquino
Of course, who could forget about Kris Aquino's highly-publicized cameo in Crazy Rich Asians. She played Princess Intan in the 2018 blockbuster rom-com, a wealthy, Malay royal who's easily taken by Rachel Chu's charms during Araminta and Colin Khoo's wedding. 
When asked if she'll be appearing in the sequel, Kris answered that it's definitely a possibility. "[Kevin's] been one of my really consistent WhatsApp friends, and I asked him because the opening of China Rich Girlfriend is the wedding. So I asked him, 'Am I going to be in the wedding? Is Princess Intan invited in the wedding?" she revealed during a media conference last year. "He said, 'Of course! Because you're the one who gave [Rachel] her validation in Crazy Rich Asians. I said, 'Oh my Gosh, hope it happens!'" 
4. Jericho Rosales
Jericho Rosales starred in the 2011 American romance drama Subject: I Love You. In the movie, the actor plays Victor, a lovestruck young man determined to reconnect with his one and only love, Butterfly (Briana Evigan), even if it means incriminating himself in an international crime investigation. Jericho was joined by a number of Filipino personalities in the project, including Dante Basco, Gary Valenciano, Apl.de.Ap, Tirso Cruz III, and Joel Torre.
5. John Arcilla
Heneral Luna star John Arcilla made his Hollywood movie debut with a cameo role in Jeremy Renner's The Bourne Legacy. Part of the action film was shot in the Philippines, as seen in the clips below.
Two years later, John starred in the British-produced crime drama Metro Manila. Although written by British director Sean Ellis, the project had a predominantly Filipino cast and crew. It premiered internationally at the 2013 Sundance Film Festival, and even won an Audience Award after its showing.
6. Mon Confiado
Veteran actor Mon Confiado, who has over a hundred credits under his belt, played a police lieutenant in the South Korean action-comedy flick The Golden Holiday. 80% of the film was shot in the Philippines as it centers on a South Korean detective who takes his family to the country for a vacation that inevitably goes wrong. K-drama fans might recognize Mon's co-stars, some of whom have appeared in various popular Korean shows like Hospital Playlist, The Sound Of Your Heart, Sweet Home, and Kingdom.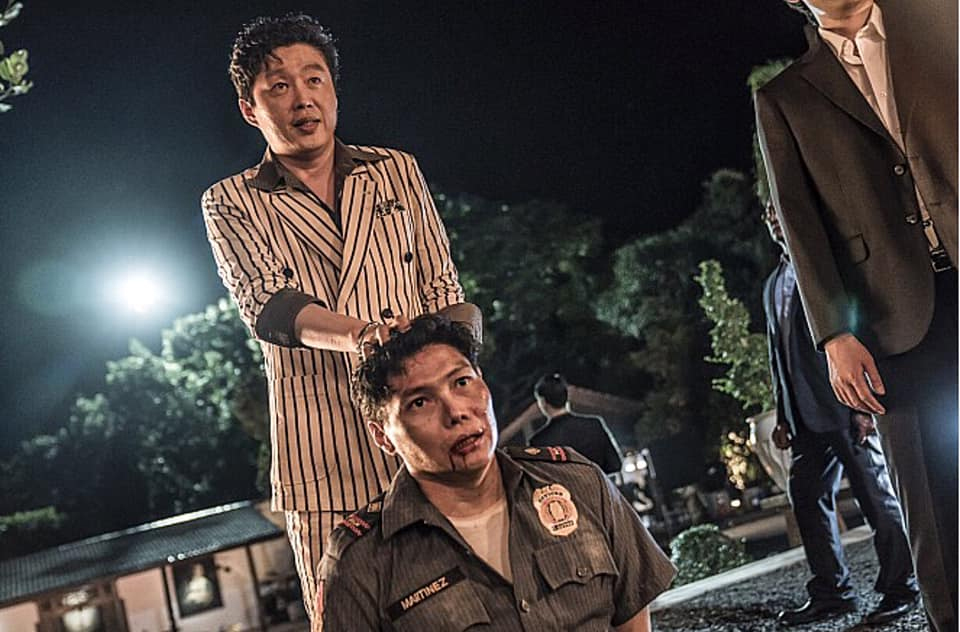 ADVERTISMENT - CONTINUE READING BELOW ↓
7. Rhian Ramos
British-Filipina filmmaker Andrea Walter enlisted the help of Rhian Ramos to bring her dream project to life. Her independent movie, Empty By Design, finds Rhian as Samantha, a Filipina who returns home from London only to be faced with a crisis about her real identity. She crosses paths with a Filipino Hollywood stuntman named Eric, who also just recently flew back to the Philippines. Together, the two grapple with the true meaning of "home," while trying to find their place in a country they no longer have a connection to. 
The film also stars Dante Basco, Canadian actor Osric Chau, and Crazy Rich Asians alum Chris Pang. Empty by Design won over a sold-out audience during its showing at the closing night of the Los Angeles Asian Pacific Film Festival (LAPFF).
8. Lovi Poe
Lovi Poe's Hollywood debut finds the actress in a biopic about actor, gangster, and lothario John Bindon, titled The Chelsea Cowboy. For her part, the actress will portray Dana Gillespie, a British blues singer who played a pivotal role in John's rise and eventual downfall, which included introducing him to the high life. Lovi is set to share the screen with Alex Pettyfer (Magic Mike, I Am Number Four), Poppy Delevingne (Kingsman: The Golden Circle), and Charlie Creed-Miles (Peaky Blinders).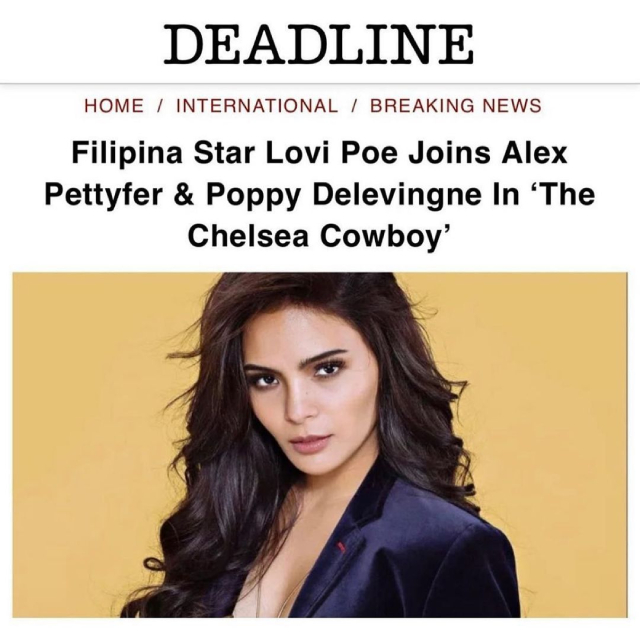 9. Chai Fonacier
Chai Fonacier will star alongside Eva Green (Miss Peregrine's Home for Peculiar Children) and Mark Strong (Zero Dark Thirty, Kingsman: The Golden Circle) in a yet-to-be-released film titled Nocebo. The project, which will be shot in both Ireland and the Philippines, will have Chai play a Filipina caregiver who uses folk healing on Eva Green's character. FYI, Chai is an independent actress best known for her role in the 2017 dark comedy movie Patay Na Si Hesus.
10. Heart Evangelista
In 2019, Heart Evangelista flew to China to shoot a still undisclosed action film. Heart revealed that the movie had been slated to premiere in Hollywood, China, and Hong Kong, but these plans unfortunately fell through due to the pandemic. "They're still weighing how they want to launch the film, because they have an exciting plan for it. What's important is that it's already done. And I'm very excited for that," she shared during a virtual press event.
READ MORE: 
6 International Acts That Appeared On Pinoy Variety Shows
6 Filipina Socialites & Celebs Who Made International Headlines
ADVERTISMENT - CONTINUE READING BELOW ↓
15 Celebrities Who Went To International Schools In The PH
***