It's an odd time to be watching a dark, gory musical in the midst of all this holiday cheer, but with the rave reviews Repertory Philippines'
Sweeney Todd
has been getting, who would mind? It helps, too that the cast is made up of Philippine theater's best, led by
Audie Gemora
(playing the demon barber Sweeney),
Menchu Lauchengco-Yulo
(playing Mrs. Lovett, Sweeney's twisted accomplice), and
Franco Laurel
as Anthony, who figures in the pair that provides the love angle to the gruesome tale alongside Johanna (played by Lena Mckenzie).
You got that: even if this guy's married (to
Ayen Munji-Laurel
), he still manages to snag 'young lover' roles on theater. It must be the youthful good looks he has manage to preserve or his acting chops—or, probably, a little bit of both. This got us curious if he has ever used his theater skills on a woman before.
"No naman, no naman,
you know I mean? With my acting
kasi,
when I'm done with my work, I leave it there; I don't bring it at home. So once the curtain closes, or once the director yells 'cut,' I'm back to normal," he says. "So when I get home… I'm back to Franco, which my wife is very happy to have when she gets back and she doesn't get that character that I'm doing. I've never used any of my acting chops on my dates before, you know; not that I did that to my wife when I was courting her. She's also an actor, so you know, she can tell."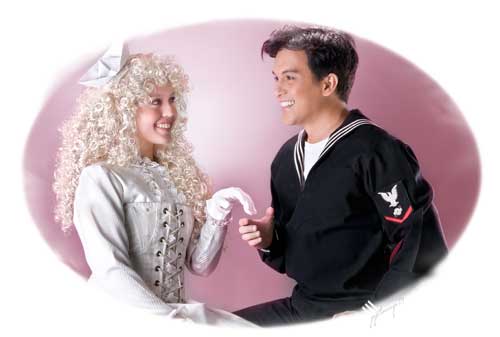 Franco Laurel and Lena McKenzie as Anthony and Johanna
Still, no amount of acting skills and internalizing could prevent Franco from having a few pet peeves about women. Given that he gets to be around women a lot in showbiz, theater, and living with his wife, we asked him if he could name top five female behaviors that can get on his nerve. He gamely mentions them below.
1. Mood swings.2. Being a mess.3. Jealousy.4. Being too emotional.
"Without even saying anything they start breaking up. I really don't know why. Well, I kinda know why already because men are like briefcases, you know, we compartmentalize things. While women [have] all the emotions thrown in there—joy, happiness, anger, frustration—so I guess that's why."
5. PMS.
"I really don't understand that. I understand it's a monthly cycle, but, even my wife would say 'I'm gonna get mine, so don't pester me or don't irritate me.' I was like, 'Huh? Why?' At least they warn me. It's part of getting married; I have my mom and my sister so I say 'I got it, I got it. Gotta stay away from you.'"
If you haven't caught Sweeney Todd at OnStage Greenbelt (2/F Greenbelt 1 in Ayala Center, Makati), you have up to this Sunday, December 13, 3:30PM and 8PM, to see it. Log on to www.ticketworld.com.ph for tickets inquiries.
ADVERTISMENT - CONTINUE READING BELOW ↓