It feels like all anybody has spoken about over the last couple of weeks is the Friends reunion (from Matthew Perry's slurred speech to Jennifer Aniston looking as on-point as ever)—but in China, up to six minutes of the special episode were censored. Some of the scenes known to have been removed include the celebrity cameo stars Lady Gaga, Justin Bieber, and BTS, and LGBTQ references. It's thought that the known faces were cut as they've been accused of insulting China in the past.
According to a report from the BBC, one person commented on microblogging platform Weibo making the excellent point that cutting said scenes will only leave viewers more intrigued. "Help! Are we never going to move on and change?" they wrote. "This will just make me want to find out more about the cut scenes."
As for the alleged offenses committed by Lady Gaga et al, the Rain On Me singer (who appears in the special to sing Smelly Cat with Lisa Kudrow's character, Phoebe Buffay) has been banned from touring China after meeting with the Dalai Lama in 2016. The Tibetan spiritual leader is seen as a figurehead for Tibetan separatism, something Chinese officials do not approve of.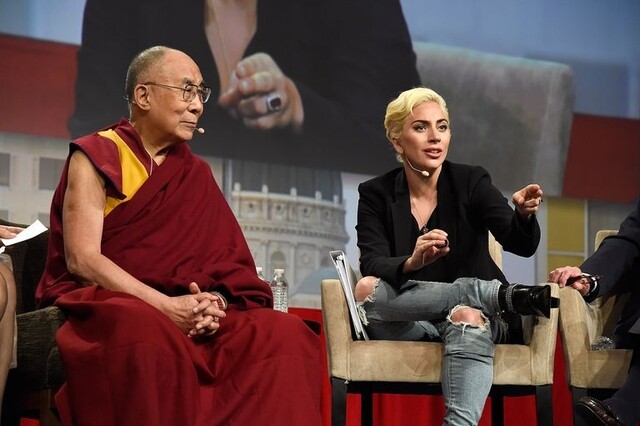 ADVERTISMENT - CONTINUE READING BELOW ↓
Justin Bieber, who appears in the reunion modeling a potato costume once worn by the character of Ross Geller, is also no longer welcome in China after sharing a photo of himself during a visit to the controversial Yasukuni Shrine in Tokyo back in 2014. The site, honoring fallen soldiers and giving tribute to convicted war criminals, is viewed by China and South Korea as representing a lack of remorse from Japan for its empire's past.
As for the LGBTQ references that were omitted from the show, one such piece of footage includes superfan Ricardo saying how the program helped him to feel less alone. "I was a gay man who wanted to be like Jennifer Aniston, so you can imagine how lonely I was," he says on camera.
Another streaming of the reunion in China cut a scene where a woman pulls her (female) partner into shot and says, "Like every Chandler, I found my Monica."
The removed clips are still readily available on social media, where Chinese Friends fans are discussing how the show helped them to learn English and offered them a welcome introduction to American culture.
***
This article originally appeared on Cosmopolitan.com. Minor edits have been made by the Cosmo.ph editors.