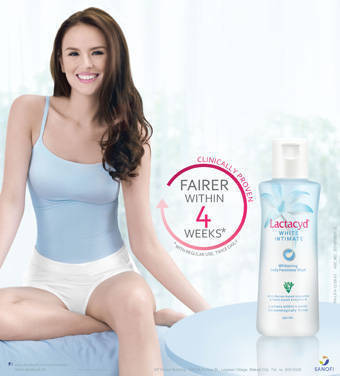 What's the secret to looking like a supermodel?
"I learned a lot from the most kikay of my aunts, Tita Gloria. My regimen includes using a facial wash, a good moisturizer, conditioner, and feminine wash. It's a lot of effort, but it pays off. How I really look on the outside starts with how good I think I look. Confidence is everything!"

What's the most common misconception people have of you?
"That I'm a spoiled little rich girl. It's a bit painful to hear that because I've been working non-stop as a model (and yes, it IS work!) since I was 18. I even juggled that and my studies when I was in college."

How should a girl dress on a first date?
"I would wear something I've worn before. There's a huge comfort in knowing how I look in a certain outfit, how it hides or reveals things. I mean, you don't wanna be fixing and fidgeting the whole night."

How can a girl pull of shorts like you do?
"I love wearing tight shorts! But friction from wearing them all the time can cause darkening in the bikini area. That's why I'm glad I found Lactacyd White Intimate. It's the first feminine wash that's clinically proven to effectively clean and safely lighten the bikini area within four weeks. With intimate fairness comes confidence, and with confidence I can wear whatever I want!"
Join the conversation about Lactacyd White Intimate. Like www.facebook.com/womantalks now!
Continue reading below ↓
Recommended Videos