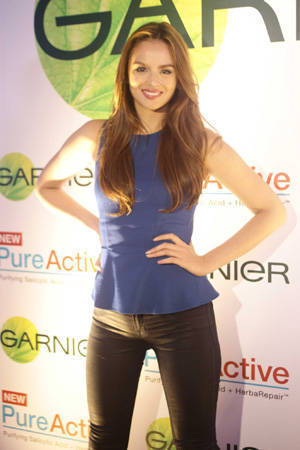 There's no doubt that Georgina Wilson totally owned 2012. Blessed with multiple modeling endorsements and projects, the Cosmo Cover Girl and Garnier beauty advocate decided to give back and pay it forward by supporting "The Garnier Brighten A Classroom Project."
Garnier teamed up with Mercury Drug for this initiative, wherein for every Garnier product bought until January 2013, part of the proceeds will go to World Vision to send 41 children to school for a whole year. "What's great with this advocacy is that even in the smallest of ways, you're giving [kids] a reason to brighten up and smile," says Georgina.
Cosmo caught up with the busy stunner during the skincare brand's press event and we chatted about holiday plans, bucket lists, and places to visit in 2013, both in the Philippines and abroad.
How do you normally celebrate the holidays?
"Everyone comes home for Christmas. My mom has 12 sisters so we all go to Alabang, at my aunt's house. It's a really late celebration because everyone has different masses, so we meet at 12 or 12:30. My aunts hire a jazz band or a pianist. And then there's so much food, like the worst for your diet ever. There's turkey, steak, other entrees, stuff from Spain. Gorgefest!
Continue reading below ↓
Recommended Videos
"It's really funny because everyone's screaming each other's names and I'm going around getting a lot of gifts. It's very hectic, but I don't know if I could do it any other way. When I lived in England, obviously I would celebrate Christmas there. But I'd come home a lot. But now that I've lived here since I was twelve, I've never celebrated it anywhere else. It's very much a tradition."
Moving forward, in 2013, what can your fans expect from you? What are your plans?
"I wish I knew. I really go with what feels right [for the moment]. I'm launching a few more endorsements that I've always wanted to do. I'm very thankful for that."
How about New Year's resolutions?
"Every year, I tell myself I'm going to learn a new language. [But] it doesn't come. I really want to learn French or Spanish. That would be awesome when you travel, and you know the language. Well, I know Filipino and English. But when you go to Europe, [and] you don't know any language in Europe, then you don't know what to say."
How about a new travel destination?
"South America. I really want to go there and I've never been there. Last year, I was really obsessed with Cuba. I don't know why. So for New Year's, we went to Havana. It was pretty surreal. I'd like [to go] somewhere new [for 2013]. And I always go to the States, so I want somewhere different.
Maybe more places around the Philippines. I've always wanted to go to Batanes, but it's just that you have to find the right time to go. And I've heard it looks like Scotland. Really beautiful. I'd want to go there."