Who is more fun and fearless than the iconic Carrie Bradshaw from Sex and the City? Sarah Jessica Parker, the actress behind the famously fashionable character, graced Manila to endorse the new SM Aura Premiere Mall yesterday, May 16, 2013. Clad in a floor-length black dress and her signature Manolo Blahniks, SJP talked fashion, Carrie, and her thoughts on Filipino style. 
How are you enjoying Manila so far?
I love it. I've never been here before. I hope very much that this is the first of many visits. I think it's an amazing city. There's so much else to see. I know there are so many beautiful islands to go to. Everyone is so kind and has showed so much lovely hospitality. I love the food, the people—everything. Even the traffic. [laughs]
How do you pick out your outfit for the day?
Like most women in this room, I like to wear things that are comfortable, and that I feel like myself in. I like things that fit me well, or convey whatever mood I'm feeling, or story I wanna tell.
How is your personal style different from Carrie's?
I always thought that Carrie was much more bold than I was. I learned from her because I played the part for so long. There's something kind of exciting about breaking rules. She sort of said, "I'm gonna throw all those ideas out." She always made bolder choices than I made. I learned a lot from her.
How do you look like on a Saturday morning?
ADVERTISMENT - CONTINUE READING BELOW ↓
Just like this! [laughs] On a Saturday morning, I'll be in a nightgown on the bed with my kids for a while. Then, if I don't have to be somewhere, I'll be wearing jeans or corduroys. It's getting warm in New York now, so I don't dress in anything really fancy.
[nextpage]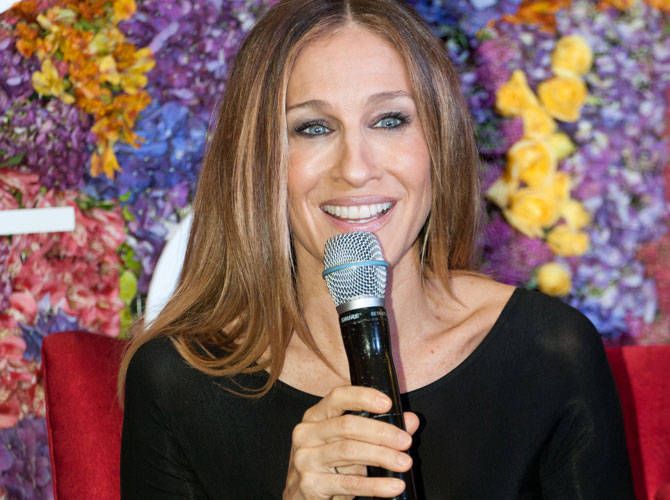 We loved your outfit at the MET Ball. How do you prepare for red carpet events? How do you manage to stand out?
Well, for the MET Gala, there's always a theme, and the theme is helpful. So this year, as you know, it was punk. I thought about how much I want to embrace it and how literal I want to be. I have a long history with punk. It's an invitation that you take seriously. You give it some thought. You also have fun with it. It allows for some fantasy, which is nice.
Do you dress for your fans or your critics? Or do you just wear whatever you feel like wearing?
I don't think I could ever dress to disprove a critic. I think the best you can do is be yourself. Make choices that you feel good in. It's highly likely that someone will disapprove. One cannot try to please every single person everyday. That's just not realistic.
What's your current fashion state of mind?
I knew that tonight was a very auspicious occasion. I'm very honored to be asked to be here. I wanted to dress in a way that conveyed gratitude. I knew that it was going to be a dressy occasion. I wanted to fit into the environment. My mood was very excited, but I wanted to be appropriate and respectful to my hosts.
How much of Carrie Bradshaw is in you?
The choices that we make are very, very different. I would recommend that you ask Michael Patrick King. He would tell you that there's part of me in Carrie. I don't recognize it, or I can't draw from it, but it would be foolish of me to pretend that it's not there. Having said that, she's a fictional character. Her single life was very colorful. Mine was not nearly so. She made very different choices. I had children. She never did. But I think the love for the city and enthusiasm for fashion are things that we have in common.
[nextpage]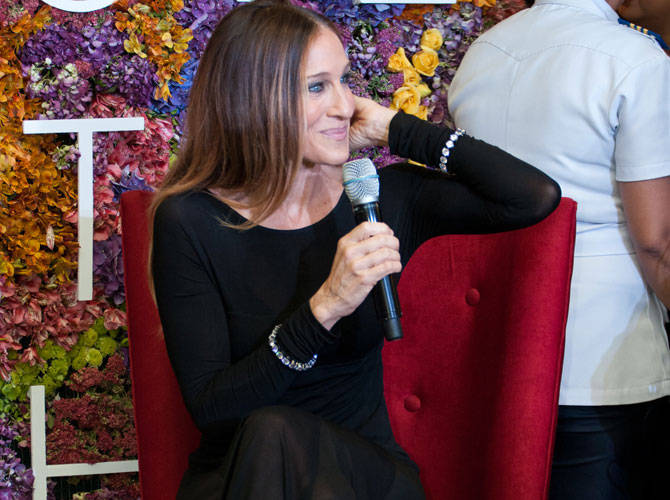 ADVERTISMENT - CONTINUE READING BELOW ↓
What makes Manila a fashion destination?
Well, this store! Let's just start with that. It's hard for me to answer that since I'm not familiar with Manila. For me, I've always been attracted to the city. It's not so much the shopping. Shopping with the eyes is equally as interesting. I feel that way about my own city, too.  In New York, I see people of different sizes and shapes and colors and backgrounds. Different foods. Different architecture. The way people sit on the stoop. In the city here, there's just so much to see. There's such vibrancy in this city.
What would be your favorite item in your closet? 
Probably a pair of black suede Manolo Blahnik pumps.
Do you have advice for anyone who hasn't found his or her personal style?
I think the biggest challenge for women is to trust themselves. It takes a while to learn how to simply be yourself.
Why did you agree to come to the Philippines and be the face of SM Aura?
First of all, who wouldn't? I've been really impressed with everything I've seen. My reaction when I was asked was delight. I was flattered. I felt privileged to be asked. The fact that I would get to visit a place I've never been to incredibly psyched me out. I love seeing women from different places. All the women in this room are dressed so nicely. It's amazing. All women are different, and they all look gorgeous.