Gretchen Barretto is back in Manila from her U.S. trip, and she recently shared photos of businessman Atong Ang from a birthday party that they were both guests at.
On IG Stories, Gretchen shared several snaps from the event, including group photos with Atong, whom she referred to as her "newly hired personal spokesperson."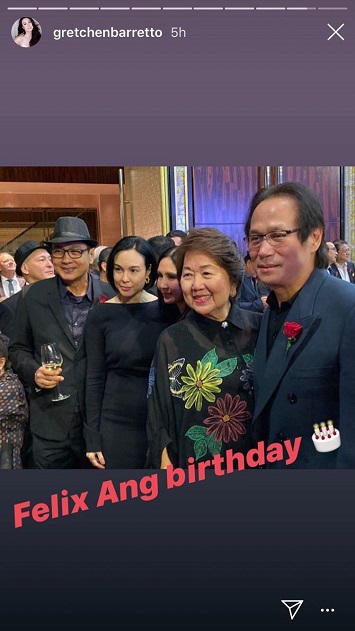 Continue reading below ↓
Recommended Videos
Accompanying Gretchen at the party was her partner, Tonyboy Cojuangco.
After the scuffle at Miguel Barretto's wake involving her and sisters Marjorie Barretto, Claudine Barretto, and niece Nicole Barretto, Marjorie in an IG post referred to Gretchen's alleged "powerful boyfriend," whom she later on confirmed in an interview to be Atong. Marjorie also shared that Atong was Nicole's ex-boyfriend for five years and that Gretchen had reportedly "stolen" Atong from Nicole. 
A photo of Gretchen and Atong asleep and holding hands on a plane also made the rounds online. Gretchen reacted by saying there was "nothing wrong" with the photos. In an interview, Atong denied that he and Gretchen have a relationship, saying that he accompanies her on group travels because Gretchen and Tonyboy intentionally fly separately because of their daughter Dominique Cojuangco.  
It looks like Gretchen is referring to Atong as her personal spokesperson because of his recent interview on TV Patrol.