The Long Plot, Sans Spoilers
Here's what we know: the gang's still together, and they've gotten pretty famous for, oh, saving the galaxy. That means bigger, better-paying jobs, and bigger, badder enemies! Also thanks to this newfound fame, Star-Lord finds something he's always wanted: his father. As if that isn't complicated enough, there's also some romantic tension between Peter Quill and Gamora. But wait, is that Yondu hanging out with Rocket? And what's Nebula doing with our heroes? Never mind all that, because Baby Groot is the most! Adorable! Thing! Ever!
The Honest Plot
Lots of big guns. Crazy space flight. Witty, funny dialogue. Basically, absurdity set to a really fun, eclectic soundtrack.
The Actors And Where You Last Saw Them
Chris Pratt as Star-Lord
Continue reading below ↓
Recommended Videos
Since he shot to fame in Guardians of the Galaxy in 2014, Pratt has been all over Hollywood! From Jurassic World in 2015 and the Magnificent Seven in 2016, he was in the more recent Passengers, with Jennifer Lawrence.
Zoe Saldana as Gamora
In 2016 Saldana played another bad-ass woman in space: Lt. Uhura in Star Trek: Beyond. She was also in Live By Night with Batman himself, Ben Affleck, and she played jazz singer Nina Simone in Nina.
Dave Bautista as Drax
The Pinoy-Greek wrestler has always wanted to be an actor, and was thrilled when he got the role of Drax. He went on to play Bond villain Hinx in Spectre. His next big role is in Blade Runner 2049, due for release later this year.
Bradley Cooper as Rocket Raccoon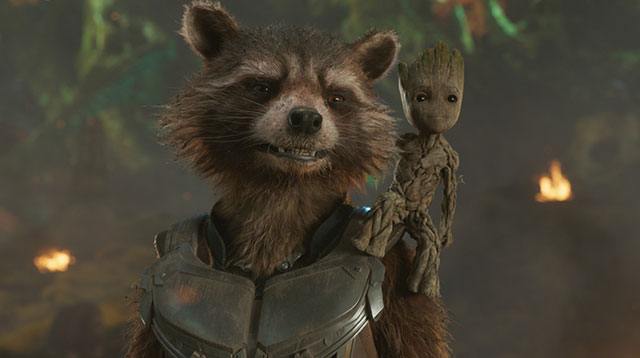 Okay, you don't really see the hotness that is Bradley Cooper, but Rocket talks so much that you can totally imagine Cooper onscreen! 2016 was busy, with the Limitless TV series on CBS, and War Dogs with Jonah Hill and Miles Teller. Coming up: A Star Is Born, Lady Gaga's first feature film, in 2018!
Vin Diesel as Groot
Yes, adorable Baby Groot is still voiced by the hunky actor! In 2017 alone, Vin Diesel already stormed theaters with two big blockbusters:  The Fate of the Furious, and xXx: Return of Xander Cage.
Michael Rooker as Yondu
He's best known to TV audiences as the despicable Merle Dixon from The Walking Dead. He's one of those actors who appears everywhere: TV shows, video games, documentaries and short films. In 2016 he appeared in another James Gunn film, The Belko Experiment. Next up: Bolden!, a mythical account of the life of New Orleans jazz musician Buddy Bolden.
Karen Gillan as Nebula
Fans of Doctor Who were sad to see this Companion go, but that's okay, because she's all over Hollywood now! The Scottish actress had a short-lived TV show called Selfie! in 2014, and was in The Big Short with Christian Bale and Ryan Gosling in 2015. Coming up next is The Circle, with Emma Watson, John Boyega, and Tom Hanks.
Pom Klementieff as Mantis
April 19, 2017
The Korean-French-Russian actress has a long list of acting credits in France, but international audiences probably first saw her in 2013. With Thanos himself, Josh Brolin, she starred in Old Boy, Spike Lee's adaptation of the Korean film by Park Chan-wook. She was also in Hacker's Game in 2015.
Elizabeth Debicki as Ayesha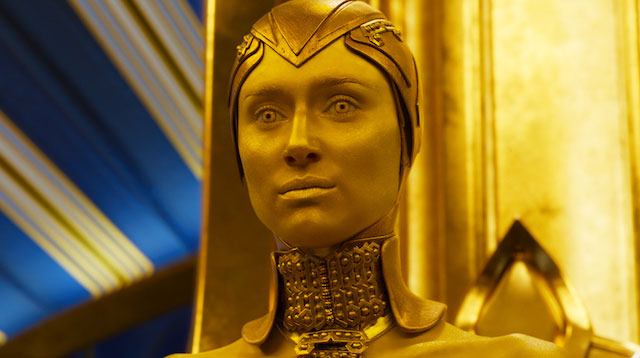 Debicki seems talented at playing forbidding, hoity-toity characters. In 2015, she was Victoria Vinciguerra in The Man from U.N.C.L.E. Before that, she played the haughty Jordan Baker in The Great Gatsby. More recently, she was in the mini-series The Night Manager, with fellow Marvel star Tom Hiddleston.
Kurt Russell as Ego
Kurt Russell has been appearing in Disney movies since he was a child, from The One and Only, Genuine, Original Family Band in 1968 and The Computer Wore Tennis Shoes in 1969. With over 50 years of acting, you've seen him everywhere! Most recently he was in Fate of the Furious with Groot himself, Vin Diesel.
Did You Know?
1. If you're wondering what the Marvel Cinematic Universe (MCU) is, it's all the superhero films based on Marvel Comics that got kicked off by Iron Man in 2008. To date, 15 films have been produced, featuring your favorite characters like Captain America, Thor, Ant-Man, and Doctor Strange. 
2. Pratt's wife, Anna Faris, live-tweeted the entire GOTG Vol. 2 press tour.
same tho pic.twitter.com/sXMf0zjndn

— ed (@forcequill) April 25, 2017
1248pm. Jack met a raccoon pic.twitter.com/yokNzu1xWg

— Anna Faris (@AnnaKFaris) April 21, 2017
Going through photos again. This is chris kissing my freezing nose in Tokyo please don't vomit. I just did. pic.twitter.com/HbEmFgKJxI

— Anna Faris (@AnnaKFaris) April 19, 2017
3. Vin Diesel may have provided the voice of the lovable Groot in both movies, but the dancing? That's director James Gunn! 
4. If you're familiar with your early Marvel comics (think '60s and '70s), you might recognize quite a lot of lesser known characters popping up in the movie. Here's a tip: Star-Lord, Gamora, and the rest aren't the original Guardians of the Galaxy!
5. James Gunn wanted David Bowie to make a cameo in GOTG Vol. 2! Gunn wasn't able to make this happen before the singer passed away in 2016, but there are many other cameos in the movie, so keep your eyes peeled! Tip: Three surprising cameos appear in the mid- and end-credits scenes.
6. This is a Marvel movie, guys and gals. Of course there are mid- and end-credits scenes! Four, to be exact!
7. IMDB says pretty much most of the gang will be in Avengers: Infinity War, scheduled for release in 2018. If you watch and listen carefully, you might figure out the plot for the next movie!
8. Yes, Stan Lee makes an appearance in the movie.
What I Think:
It's really amazing that Marvel was able to take this relatively unknown (to mainstream audiences) cast of characters to the big screen, to make a multi-million dollar franchise. I think the fact that it came out of left field kind of helped, because most people didn't have any expectations going in. All the absurdity, the dialogue, the action, and the eclectic music fit together to make a really fun two hours.
One of the things I love most is that these absurd characters deal with pretty real issues. Drax is still mourning the loss of his wife, while accepting his new family. Gamora, Nebula, and Star-Lord have serious, complicated daddy issues. And Rocket is struggling to belong. Through all these real world difficulties, they're still a family: bickering, yelling, and catching each other when they fall (often literally).
What My Geek Friend Thinks 
I was bracing myself for Baby Groot being annoying, but it turned out he was one of the most charming parts of the whole film! I have a weird mental image in my head of big, hulking Vin Diesel doing motion capture for Baby Groot. Sequels usually disappoint, but this is one of the rare exceptions. Marvel movies are always fun, but the GOTG movies are...funner than most. - Mary Anne
I'd Recommend It To:
The barkada that loves action and toilet humor! Whether your squad is full of comics or movie fans, GOTG Vol. 2  is super-full of hilarious moments, and the entire theater will guffaw right along with you. It's also great for people who love puns and '80s references, as well as comedies about seriously dysfunctional families. This movie is probably not for moviegoers looking for profound meaning in life or an epic saga. So turn off your brain, bring in the popcorn, and enjoy!
Follow Regina on Instagram.