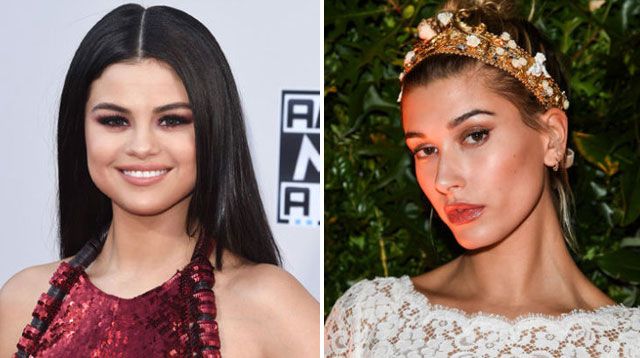 Seeing as The Weeknd and Selena Gomez's relationship is now Instagram official, it looks like things are getting pretty serious—which might be why Hailey Baldwin subtly just shaded their relationship on Twitter.
Last month, a curveball celebrity romance came from nowhere and shouted 'HELLO THIS IS HAPPENING WE'RE DATING NOW' at us all when pictures of Selena and The Weeknd, real name Abel Tesfaye, kissing in the street emerged.
Wait sorry, WHO could possibly be cuter than @bellahadid .... literally nobody. https://t.co/GqOieih2g6

— Hailey Baldwin (@haileybaldwin) January 31, 2017
And while it didn't take long for his ex-girlfriend Bella Hadid to show her stance on the whole thing (she quickly unfollowed Selena on Instagram and shared a v naked selfie), her friends have stayed relatively quiet on the matter.
Until now, that is, after Hailey threw some subtle shade at Selena on Twitter by sharing a video of Bella with her 957k followers playing in a bubble bath.
But it was more her caption that got everyone talking, after she wrote: "Wait sorry, WHO could possibly be cuter than @bellahadid .... literally nobody."
Do you think the 'WHO' in capital letters got her message across loud enough?
As you can imagine, Twitter users and fans alike were quick to pick up that it was potentially aimed at Selena Gomez and The Weeknd's new romance, with one tweeting: "Hailey has always been shady but there's any shade on that tweet y'all. she's one of Bella's closest friend [sic]."
@haileybaldwin @bellahadid @YouTube Selena Gomez baby ???????????? You and Bella are so jealous that your boys fall for her ???? Stop shading the queen???? pic.twitter.com/gnIeiVE5kr

— THE QUEEN IS BACK (@thatykel) February 1, 2017
Y'all leave hailey alone she was supporting her bestfriend Bella and so what is she was even throwing shade at sel lol bella is cuter

— ??? (@BlEBERFTARIANA) February 2, 2017
Apparently calling your friend the cutest and hyping her up for doing a great video is shade. don't hype up your friend - it's shady!! ????

— Hailey Badwin News (@hrbdaily) February 1, 2017
@paulrwaIker What's wrong is Hailey shade Selena just because she is dating Abel. It's not her business.

— THE QUEEN IS BACK (@thatykel) February 2, 2017
So, what do you think?
***
This article originally appeared on Cosmopolitan.co.uk. Minor edits have been made by the Cosmo.ph editors.
Recommended Videos