Harry Styles' announcement of his album Fine Line has got bisexual fans talking.
The album cover features the bisexual pride flag colors: pink, purple, and blue.
Harry has never defined his sexuality, but once told a fan, "We're all a little bit gay."
These are very exciting times for Harry Styles and One Direction fans. Last month, he released his clearly bisexual anthem "Lights Up" and a very bisexual video to match. Then this week, he announced his new album Fine Line will be released on December 13—and there are some wild fan theories about the significance of that date AKA Taylor Swift's birthday.
But LGBTQ+ fans have their own theories about Fine Line—mainly that it is a huge nod to bisexuality.
After Harry tweeted the album cover and wrote, "FINE LINE. THE ALBUM. DEC 13," fans have been commenting on his post praising him for his apparent use and celebration of the bisexual pride colors (pink, purple, and blue).
ADVERTISMENT - CONTINUE READING BELOW ↓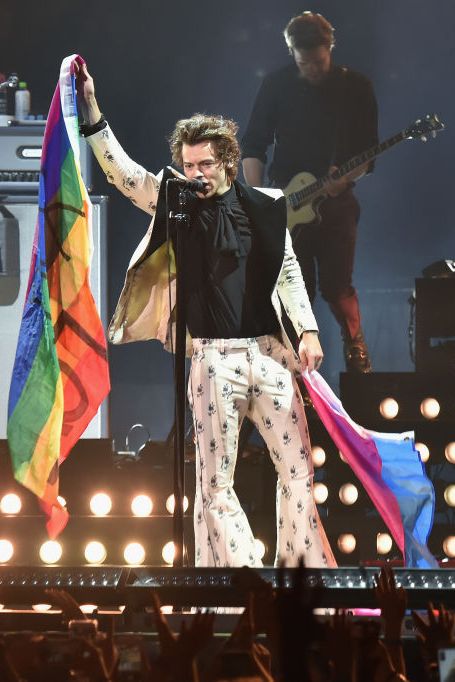 One fan wrote, "I love the name and the cover. It's such a beautiful blue. The color combination resembling the bisexual flag is cool. It suits you."
"Harry said bisexual rights," was another popular reply.
"Aren't the colors of bisexual pink, blue, and purple? @Harry_Styles background for #FineLine is pink and blue, and his shirt is magenta. No matter what he is, I will forever love and support him in everything he does," another replied.
ADVERTISMENT - CONTINUE READING BELOW ↓
Some fans have taken this one step further, theorizing that he is using this album to come out as bi. "I'm gonna call it right now: Harry Styles is gonna announce that he's bisexual," one wrote.
But others aren't happy. "Why is everyone putting "bi" on #Harrystyles? He's never said he was bisexual. Stop trying to label him. Let him do him & if he is #lgbtq let him come out when he wants & as what he identifies as," one person wrote.
ADVERTISMENT - CONTINUE READING BELOW ↓
Harry has been somewhat of a bicon (bisexual icon, duh), thanks to his incessant waving of pride flags on stage, and outright refusal to define his sexuality. Which is obviously, very much his prerogative.
But he's been such an active supporter of LGBTQ+ causes, raised so much money for various charities, including GLSEN. And for his 25th birthday, fans raised and donated $30,000 (roughly P1,519,650) to queer and trans charities.
ADVERTISMENT - CONTINUE READING BELOW ↓
His song "Medicine" also got bi fans' hearts-a-melting when he first performed it live during his European tour in 2018. The lyrics, "The boys and the girls are in, I'll mess around with them, and I'm OK with it," really set queer Twitter off (and can you blame us?!)
ADVERTISMENT - CONTINUE READING BELOW ↓
***
This article originally appeared on Cosmopolitan.com/uk. Minor edits have been made by the Cosmo.ph editors.