Sorry to break it to you hopefuls, but Harry Styles is now off the dating market. In case you somehow have not heard, Harry is currently dating Olivia Wilde—you know, who casually also just happens to the director of Harry's upcoming film project, Don't Worry, Darling. Though Harry and Olivia have been an item for, oh....five minutes, there are TONS of questions about their quickly-evolving romance, such as: Exactly when did Harry and Olivia start dating? and Was Harry the reason for Olivia and her ex-fiancé, Jason Sudeikis' break up??? The answers to your burning questions (and more!) await you below, my nosy friend.
September 11, 2020
Deadline reports that Harry is cast in Olivia's newest project, Don't Worry, Darling, opposite Midsommar's Florence Pugh. Olivia serves as the director of the project, and replaces Shia LeBouf with Harry after a falling out. Harry fans everywhere rejoice!
Continue reading below ↓
Recommended Videos
November 13, 2020
Looks like Olivia's juuuuust as excited as the fans are that Harry's in Don't Worry, Darling. In Harry's cover interview with Vogue, Olivia reveals that she and the film's costume designer, Arianne Phillips, are super happy that Harry's a part of the cast because of his love for fashion.
"She [Arianne] and I did a little victory dance when we heard that we officially had Harry in the film, because we knew that he has a real appreciation for fashion and style," Olivia explained. "This movie is incredibly stylistic. It's very heightened and opulent, and I'm really grateful that he is so enthusiastic about that element of the process—some actors just don't care."
But Olivia doesn't stop there with the Harry praise—she goes on and adds, "To me, he's very modern, and I hope that this brand of confidence as a male that Harry has—truly devoid of any traces of toxic masculinity—is indicative of his generation and therefore the future of the world. I think he is in many ways championing that, spearheading that. It's pretty powerful and kind of extraordinary to see someone in his position redefining what it can mean to be a man with confidence." Iiiiiiinteresting.
Also on November 13, 2020
Just a few short hours after Olivia praises Harry in print for being an amazing, talented and fashionable human being, breaking news hits: Olivia and fiancé Jason Sudeikis have ended their engagement after seven years.
A source tells People that "the split happened at the beginning of the year," with the good news being that their break up has "been amicable and they've transitioned into a great co-parenting routine. The children [son Otis Alexander, six, and daughter Daisy Josephine, four] are the priority and the heart of the family's relationship."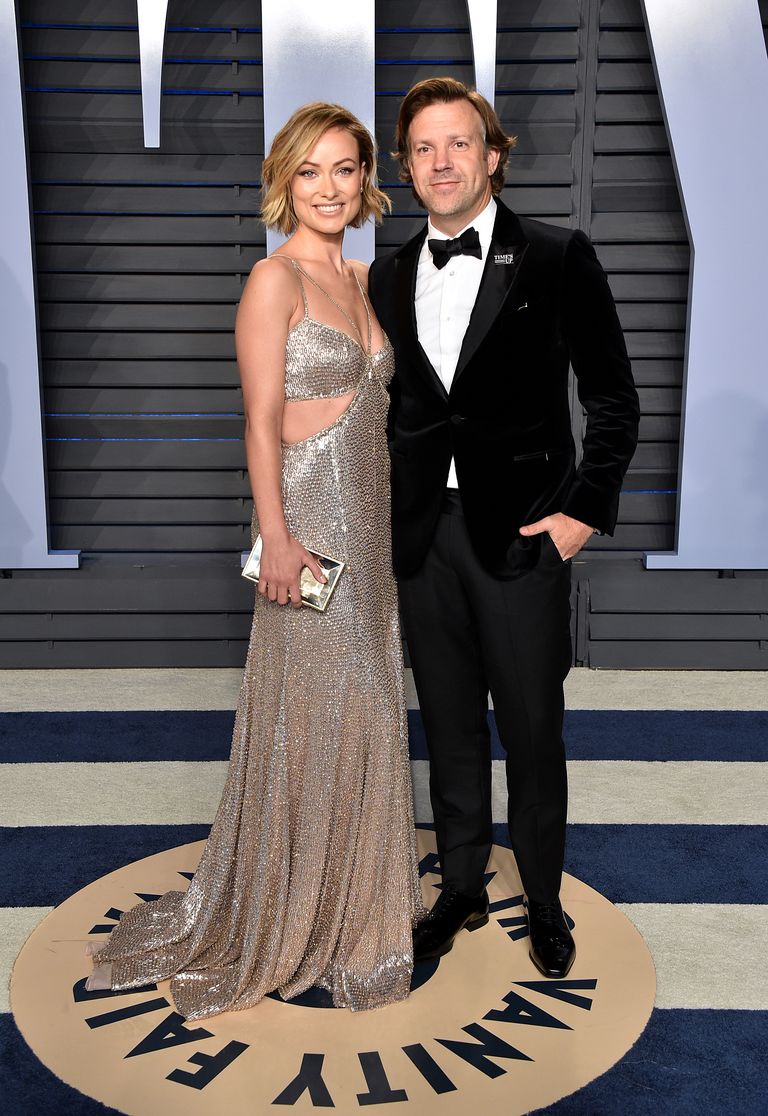 An Entertainment Tonight source backs up Olivia and Jason's "amicable" split and claims that "they just fell out of love in a romantic way, but still have love towards one another as people." Thankfully, Olivia and Jason "consider themselves friends and co-parents first and foremost."
A separate ET source made a point to add that "there was absolutely no drama or scandal, they just didn't work as a couple anymore. If you're looking for a juicy story, there just isn't one." File that for later.
January 4, 2021
Harry and Olivia are seen holding hands at a wedding—aka one of the most couple-y events you can possibly attend with a significant other—and all hell breaks loose on the internet. Naturally.
"They were in Montecito, California this weekend for a wedding," a source tells People. "They were affectionate around their friends, held hands and looked very happy. They have dated for a few weeks."
Entertainment Tonight also has a bunch of intel on Harry and Olivia's romance and a source basically says they developed a deeper connection while on set. "Olivia and Harry are together for long days on set and have gotten to know each other really well, so it's all very organic." Olivia's treading carefully with her and Harry's relationship because she "wouldn't let a romantic relationship get in the way of a professional one, so anything they're doing is being done thoughtfully."
And in case you're wondering about Jason's feelings about this, ET's source adds that he and Olivia actually split over a year ago, "so it's not like she's rushing into something...Olivia and Jason talk all the time and are still close because of the kids. It's highly unlikely he was blind-sided by this news." Again—file that for later!!!
January 8, 2021
Apparently there is more to Olivia and Harry's timeline that meets the eye—and it's stirring up some drama to the effect of "Harry Styles is basically the reason for Olivia and Jason's split." Well, according to a Page Six source, at least.
"People have tried to make out that Harry and Olivia have only been dating for the past few weeks, but that's not right," the source says. "Jason found out about Harry and pushed the conversation. Olivia then asked for a separation and news of the split was made public."
January 9, 2021
Despite those wedding pics leaking to internet, Olivia and Harry swear they "were able to keep their relationship under wraps for a bit before it became public knowledge," a source tells Us Weekly. "They were very careful about it and even sleuthy at times, although the small group of people who were on set with them every day eventually figured it out."
Oh! And to make things abundantly clear, the source adds that "Harry did not break up an engagement." Good to know.
Remember how that ET source said there was "no drama or scandal" in Jason and Olivia's split and that it was "highly unlikely" that Jason could feel blindsided by the news? Welp, People reports that Jason "is absolutely heartbroken about the split."
"There is still a lot of love there, and he would like to have hope that maybe there's a way for them to repair things," says the source. "But what happens next remains to be seen."
January 10, 2021
The people—i.e. Harry fans—want to know: Did Mr. Styles cause Olivia and Jason's split? A Us Weekly source seems to think so.
"Olivia called off the engagement in early November but only after she already had gotten close to Harry," the insider claims. "Whether Harry knows it or not, he was a reason for the split and it blindsided Jason— he totally adores Olivia and is devastated. Family is his biggest priority."
A second source jumps in with a counter story, saying that "the engagement was called off early last year, as was previously reported. Harry was in no way the reason for their split."
Aaaaaaand there ya have it, folks—stay tuned for any and all future developments about 2021's hottest new couple!
***
This article originally appeared on Cosmopolitan.com. Minor edits have been made by the Cosmo.ph editors.