I have long been an unabashed fan of actor Henry Cavill. I liked him in The Count of Monte Cristo and several more movies, loved him in The Tudors, and just about died when I learned he was cast as Clark Kent. When I first saw him as Superman in Man of Steel, he took my breath away, and I've been not-quite-casually obsessed ever since.
Of course, I was stoked when he was cast as monster hunter Geralt of Rivia in Netflix's The Witcher. My husband and I have been checking out the videos, articles, and pics of his workouts and interviews over the past few months. I've been drooling unabashedly, and he mightn't admit it, but I'm pretty sure my hubby was too!
Continue reading below ↓
Recommended Videos
When I heard he was coming to the Philippines to promote the show, I may have shrieked a little, then immediately got on Facebook to abandon dignity and find a way to get tickets to the event. I emailed my Cosmopolitan editor telling her, "I would give assorted nonessential organs (spleen, appendix, one kidney, part of my liver, uterus, etc.) in order to cover Henry Cavill coming to Manila to promote Netflix's The Witcher."
I was ecstatic to get two tickets to the press conference and fan meet. I live in Cebu, so my husband and I booked our plane tickets as soon as we confirmed attendance. I even dyed my hair red to match the blue outfit I planned to wear in homage to the Superman of my fangirl heart.
When I got early access to a few of the first episodes of The Witcher, I had to keep rewatching scenes—it turns out squealing makes you miss a lot of details! Because just listening to Henry Cavill as Geralt is cause for ~wet panties~. He pitches his voice similar to that of Geralt from The Witcher video games, a kind of rumbling growl that'll reverberate in your lady parts.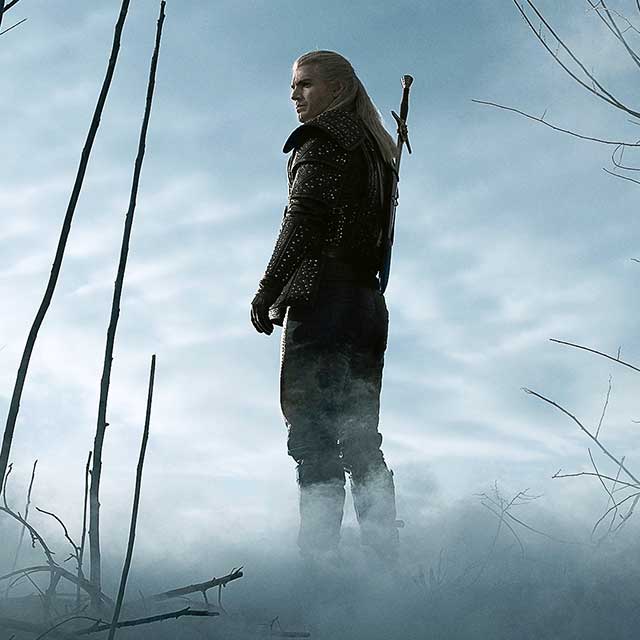 A True Geek And Fanboy
One of the things I love most about Henry Cavill is how big of a geek he is. He freely admitted he is a "big PC gamer" and "fantasy genre fan since I was a boy." His obvious excitement about The Witcher just made me want to shrink him and put him in my pocket to keep him safe forever. He was so, so precious!
Also, so, so hot! I gasped when he walked on stage at the press conference. How dare he be such a thirst trap in his tweed jacket, its button bravely straining to defy basic laws of physics to hold things together despite his beefcake physique? His outfit should have made him look like an Oxford professor. Instead, we were all mentally fanning ourselves from the radiating heat.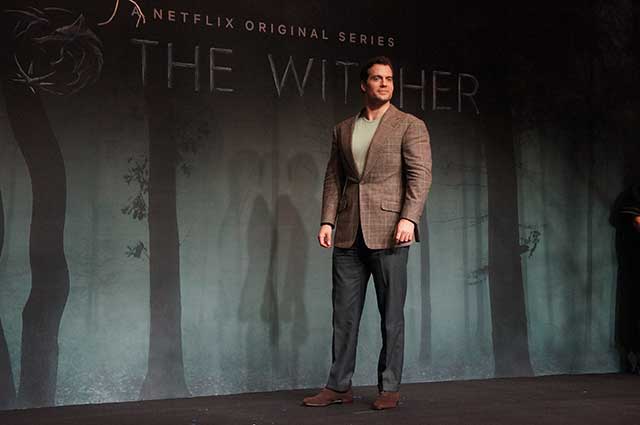 Then he shared how he got himself considered for the role. "I heard that Netflix were making [The Witcher] into a show, and I called my agents and told them, 'Right, guys, I want to at least get into the room here as early as possible and see how I can get this. This is really, really important to me.'"
When he didn't hear back from his agents after a week, he called them up. He then kept pushing them to keep calling Netflix until they got him some sort of access. "I called them back every three days…Eventually, when Lauren [Schmidt Hissrich, the showrunner,] was ready to take meetings, they must have said, 'Look, you've gotta meet this guy, otherwise he's gonna turn up at the door, and it'll be embarrassing!'"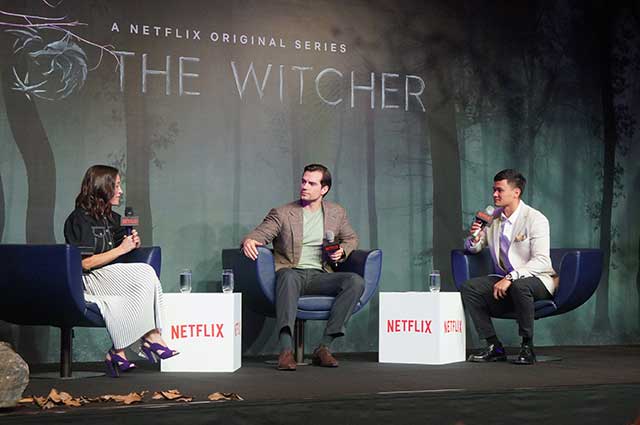 And that right there is part of what makes Henry Cavill such a cinnamon roll, if you ask any of his fans. He's such an unapologetically huge nerd (but, as my husband likes to joke, he's the size of five nerds, so he's totally leading man material). And what that translates to is someone who is very, very passionate about his work. It's easy to be a fan of Henry Cavill's because he is such a fanboy himself.
And he's willing to be a dork about it. For example, he named his dog Kal, after Kal-El aka Superman and supports the Kansas City Chiefs because that's the NFL team Clark Kent would root for. He congratulated his Justice League costar Jason Momoa on the success of Aquaman with an Instagram photo of himself immersed in water to the cheekbones, holding a fork.
I've decided any Henry Cavill fangirl is two-thirds exasperated "Why are you so hot, how are you human?" and one-third affectionate "OMG, why are you like this?" That is to say, he's adorkable, and also his smile should come with a medical warning sign for causing brain damage.
The Sweetest Celebrity Ever
I also got to interview Henry's The Witcher costars Anya Chalotra and Freya Allan. They described him as "so humble," "very approachable," and someone who "works so, so hard" and talked about how excited he was about being part of The Witcher. I found out at the fan event how true those words were of him. 
When I learned I would be going to The Witcher fan event, I expected to be blown away by Henry's charm and good looks (I'm surprised the mall cleaning crew didn't end up having to mop up a flood of drool from the thirsty crowd after the event). What I wasn't expecting was to be touched by the care and consideration he gave both the press and his fans.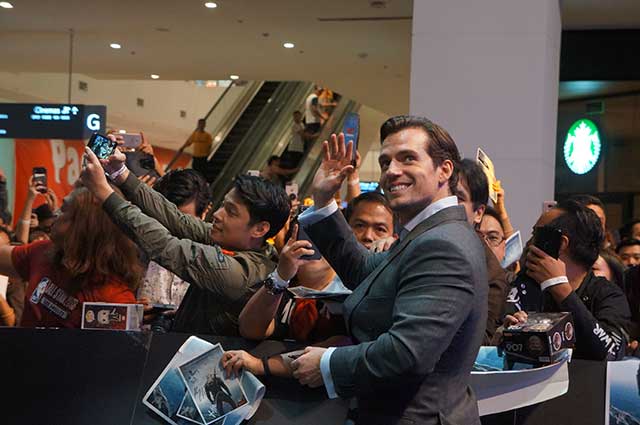 I didn't get an interview slot with him, although I knew people who did. Let me tell you, if there weren't security checks, I might have brought a knife to stab them with, I was so, so jealous! And all the stories these lucky people shared only fueled that jealousy. I heard how he courteously pulled out chairs for the women he met with and charmed the socks off just about everybody.
Since murder wasn't an option, my husband and I headed for the Ayala Malls Manila Bay activity center, the venue for Netflix's The Witcher fan event. My husband and I and a couple of friends managed to get spots in the front row on the right side of the stage. We lived in hope of getting within sniffing distance of the ~tall drink of water~ we were there to see. I freely admitted I had all intentions of ogling a man who was not my husband.
This was not my first time at a fan meet. I fangirled hard at the Aquaman premiere last year, but my heart was nowhere nearly as compromised by Jason Momoa as it was by my one true Superman forever. Still, once Henry arrived, the amount of time and attention he gave his fans shocked me (and caused me to let out several adoring sighs). I was not the only one; several friends commented on it as well.
He made an effort to autograph every poster, toy, comic book, and other items offered to him by the fans lining the barriers of the black carpet and beyond. In fact, even before he got to the carpeted area, he was already signing autographs, chatting with fans, and taking selfies.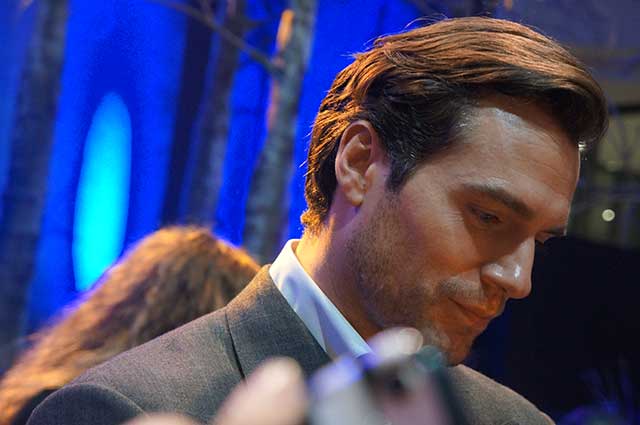 At one point, one fan even tried to hand over a life-sized Superman bust. His bodyguards tried to push it away, but Henry reached over and hoisted the heavy-looking bust over the barrier himself. He took a moment to contemplate his own likeness before autographing it (I fervently hope he signed his name on the pecs). He also took the time to chat with a lola who'd waited hours to see him, posters of Henry in his previous roles in other films in hand for autographing.
Idiocy-Inducing Hotness
Finally, he got to our area! I'd brought a Superman plush toy for him to sign and wrapped a The Witcher medallion I'd received as swag around its neck. He gave me a weird look—I believe that raised eyebrow was aimed in my direction and anyone who contradicts me can fight me. Maybe it was because I was probably the only one who'd brought a stuffed toy to the event. I was cradling my little Superman like a beloved infant with one arm while snapping photos with my camera with my other hand.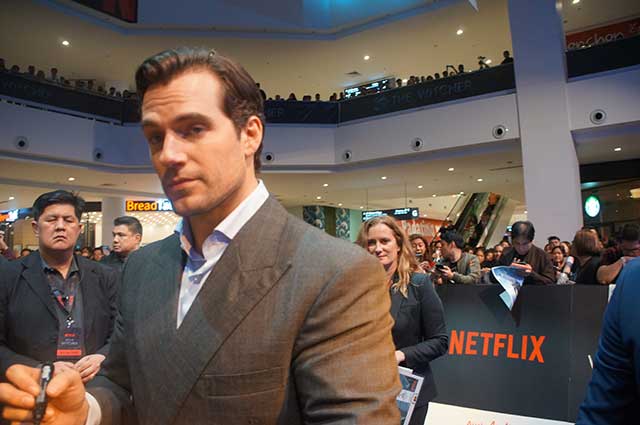 Undaunted by that arched eyebrow, I held the toy out to him for an autograph. He looked at it in bemusement. Like an idiot, I blurted out, "It's SuperWitcher!" and asked him to sign on the cape. He laughed! And I got so flustered that I presented the toy to him butt-first. Ever the gentleman, he restored my toy's dignity by smoothing down the cape and signing it.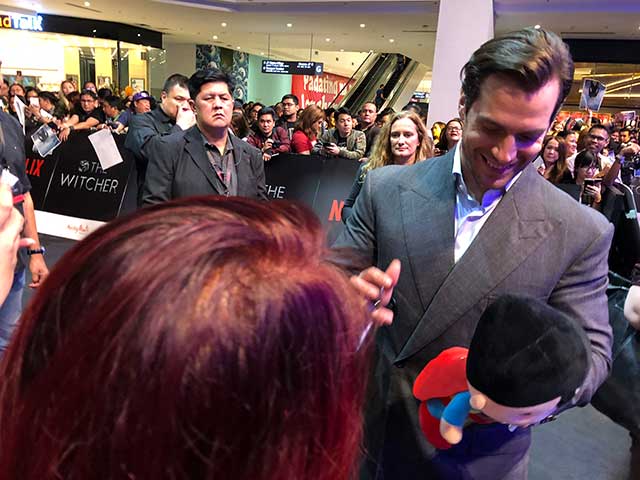 And then I panicked because my hands were full and I didn't manage to get a selfie with Henry using my own phone. But the friend standing beside me asked him for a selfie and told me to lean in, so we practiced a little economical photobombing!
My husband was standing a few feet from me, but right after signing my toy, Henry switched sides on the carpet. He went through the fans on the opposite side of the stage, and then he came and signed the Batman v Superman: Dawn of Justice Funko Pop my husband had brought. We'd bought the day before, after a desperate search for The Witcher toys resulted in failure. By then I'd been afflicted by fangirl incoherence. So my husband proved himself a hero (if not a superhero like Henry) and came to my rescue by striking up a quick conversation with The Witcher star!
Hubby: How are you holding up?
Henry: I'm good, how are you holding up? (Note: manly rumbling emphasis on "you")
Hubby: It was worth the wait [to meet you]! Can we take a selfie with my wife? She dyed her hair red just for you!
Henry (after glancing at me—I think my pupils were heart-shaped): Of course!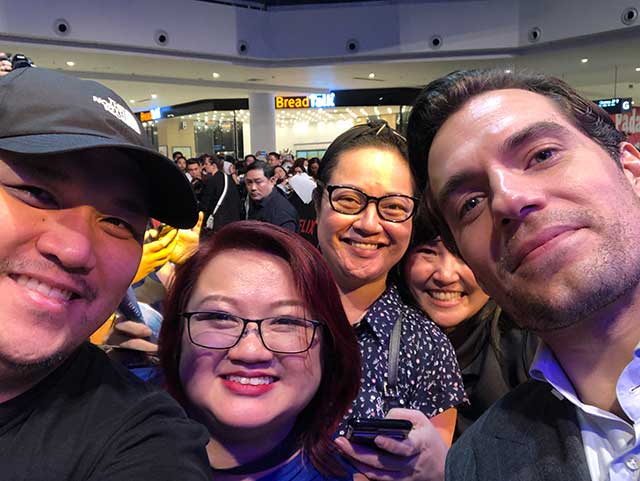 I was also able to get a mini poster of The Witcher autographed. But I met up with an old friend afterward whom I'd known since I was a kid and who even then had been a Superman fan. Due to work and traffic, he'd arrived a little late and had been too far away to get a good view or get anything signed. I'd had such an amazing fan experience and was so inspired by Henry's fans-first attitude that I gave him the poster. I learned later that someone else also gave him some fan other swag, so it seems I wasn't the only one inspired the event! Which just added to the feel-good vibes of the entire experience.
After interacting with his fans, Henry went up on stage to talk about the show. When asked for three words to sum up what the The Witcher was about, he said, "Fantasy, murder, and love."
On Geralt's horse Roach, he described him as "in truth, the only person who will listen to me. Roach… is [Geralt's] true companion and his connection to the world. Much in the same way my dog Kal is my companion." At which point, the crowd erupted into hoots and screams and what I imagine to be the sound of panties dropping. Because who doesn't love a man who loves his dog?
He also introduced the last trailer, which dropped just that day.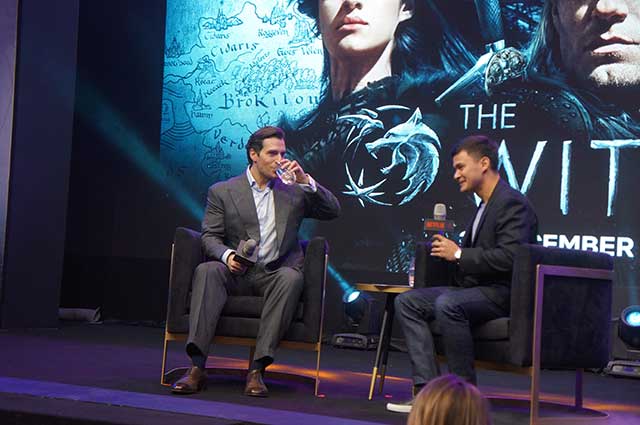 All too soon, the fan event was over. We all piled into the mall's movie theater to preview the first episode of The Witcher. But then he and showrunner Lauren Schmidt Hissrich came to the theaters to speak to the fans one last time. Again I was struck by how much of a team player he was!
Then we got to see the first episode, and even though I'd previewed it before, there was something magical about watching it on the big screen. Better yet was seeing it with other fans! All around me, people gasped through certain scenes, oohed through others, and seemed as enraptured by the characters as I had been.
I took away a lot from this event. First, I will never be able to adequately express how hot Henry Cavill is, because apart from being absolutely gorgeous, he is super (pun intended) charming, kind, and gracious. Second, fandom friends are awesome! And third, I definitely married the right man—since I couldn't marry Henry! I could barely remember to breathe when Henry was close to me, much less sniff him, but my husband did and told me, "He smells like hope."
The Witcher starts streaming on Netflix on December 20, 2019!