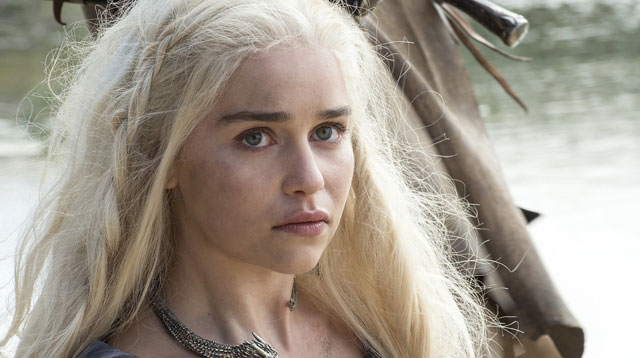 Game Of Thrones/HBO
Game of Thrones, HBO's hit television show lauded for its unadulterated use of violence and sex, premiered its sixth season last week. And fans of the show, well, it's safe to say they're still as excited as the day they learned that Jaime and Cersei Lannister were kissing siblings.
When everyone last saw Westeros, a lot of the characters were left in turmoil. Jon Snow, everyone's fave handsome orphan, became a human pincushion for the traitorous Night Watch, Jaime Lannister barely escaped Dorne unscathed, and Sansa was on the run from Ramsay Bolton.
Winter is still coming, CGs, so here's why you should stick to watching season six. 
1. The "Is Jon Snow dead or coming back?" game continues. Although the premiere episode of the latest season clearly showed a lifeless Jon Snow, this could be a technique employed by the creators of the series to distract from his eventual return. He is, after all, a fan favorite, especially with the ladies. Jon Snow resurrection = laglag panty party!
ADVERTISMENT - CONTINUE READING BELOW ↓
2. Arya is bound to suffer, but she'll grow from it. She's gone too far for her to give up and bite the dust. Although now that she's blind, penniless, and all alone after deflecting from the assassin's code of the Faceless Men, it feels as if the brave Stark girl might soon get what she deserves: redemption.
3. Sansa Stark gets some reprieve from her abusers. Or at least, we all hope she does. She's dealt with the likes of the douche-y King Joffrey and the rape-y Ramsay Bolton. Let's all wish her rainbows and unicorns this time around.
4. Daenerys finds herself in the clutches of another Khal. Damn it! Just when we all thought the great Khaleesi, Mother of Dragons was going to command and conquer, things come to a full circle and she's back to square one. Life just isn't fair…even for a Targaryen queen.
5. The show is finally deviating from the books, like, really hard! This might not be a good thing for purists who wish that HBO stick to the source material. But the exciting thing about taking liberties from the canon is that twists, turns, and shocking surprises will be aplenty, no matter if you're a fan of the books or not. And, when it boils down to it, isn't that the reason we watch TV shows in the first place? Especially one like Game of Thrones, where one episode, your favorite heroine is being a badass girlboss, and then in the next, she might just be killed off.