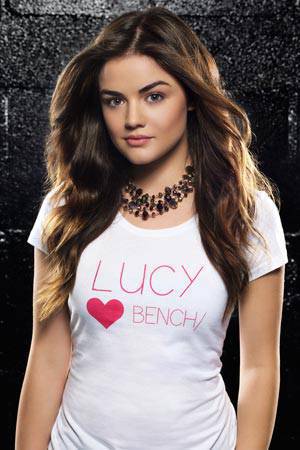 She first gained recognition in the singing reality show American Juniors, but it was her role as Aria in Pretty Little Liars that propelled Lucy Hale to stardom. Today, the 23-year-old is one of the hottest young stars in Hollywood, with two consecutive wins in the Teen Choice Awards as Choice Summer TV Star under her belt and a loyal fan base all over the world. And, as we recently found out, she's got loads of fans here in the Philippines!

Local retail brand Bench recently hosted a press conference and fashion show at the SMX Convention Center to formally introduce Lucy as their newest endorser. The room was filled with thrilled shrieks from hundreds of girls eager to see the TV star in person. What makes Lucy so endearing, you ask? Well, aside from her pretty face, she's such a ball of sunshine! Read her Q&A below to get to know her more and find out what makes her the perfect Bench girl.

Before you were known as Aria Montgomery in Pretty Little Liars, you were a singer. Any plans of releasing an album soon?

I can't say officially, but you will be hearing music from me very soon.

What genre?

I'm gonna do country, so that would be really exciting.

Can you name a few of your musical influences?

Growing up, I was definitely a Britney Spears fan. I like country music, Rihanna, Lady Gaga...I love everything! I'm going to Coachella and I'm so excited! I love music--if it sounds good, I'll listen to it.

What made you decide to join the Bench family?

They approached me, and I did my research, and it was a no-brainer for me. I love the clothes!

What do you think makes you the perfect Bench endorser?

I don't know, I guess they saw something in me. I don't know what it is, but I just think it's so cool that they chose an American girl to be the face of this [OJ Americana] line. It just perfectly describes my style.

What's your personal style? Is it similar to your character Aria's, or are you more adventurous and experimental?

Since I started the show, I've seen myself sort of transform into Aria. I just love clothes. If it looks good, I want it.

Do you think the pieces available in Bench stores are something Aria would wear?

Definitely. I actually just got asked if I would wear Bench on the show and I think it's gonna work out fine. Let's bring [the] Philippines and Bench to the US!

Did you take home any of the Bench pieces from your shoot, and have you worn them already?

Oh, yes, I did a lot of shopping at the Bench store!

You've designed bracelets for a jewelry line before. Will we be seeing a fashion collaboration between you and Bench soon?

I obviously love fashion and it's such an honor to be the face of Bench, and I would be game to do anything, absolutely.

With you being a big Hollywood celebrity and role model, fashion-wise, what makes you a cut above the rest?

I pay a stylist. It's not all my work, I definitely have help. I work on a show that's all about fashion, so that helps. Luckily, I'm a girl and every girl probably likes to shop!


Launch the gallery to see photos of Lucy's fierce style!
ADVERTISMENT - CONTINUE READING BELOW ↓
1845
ADVERTISMENT - CONTINUE READING BELOW ↓
Recommended Videos
EXPLORE COSMO