The Long Plot, Sans Spoilers
Fallen Olympian hero Matt Brody (Zac Efron) heads to Emerald Bay in Florida to serve his community service as part of Mitch Bucchannon's (Dwayne Johnson) lifeguard team aka Baywatch fam. Conflict ensues as soon as Matt and Mitch meet. While Matt wouldn't give a damn about being a lifeguard (He only cares about himself and his two Olympic gold medals), Mitch is utterly devoted to not only saving lives in the water but the whole community as well. Things in the idyllic beach paradise turn for the worst when unexpected and incredibly sketchy deaths occur by the bay.
The Honest Plot
Boobs, butts, abs, and, yes, DICKS, make more than one appearance in the span of two hours.
The Cast And Where You Last Saw Them
Dwayne "The Rock" Johnson as Mitch Buchannon
People magazine's Sexiest Man Alive for 2016 recently starred in the blockbuster movie The Fate of the Furious and Disney's Moana.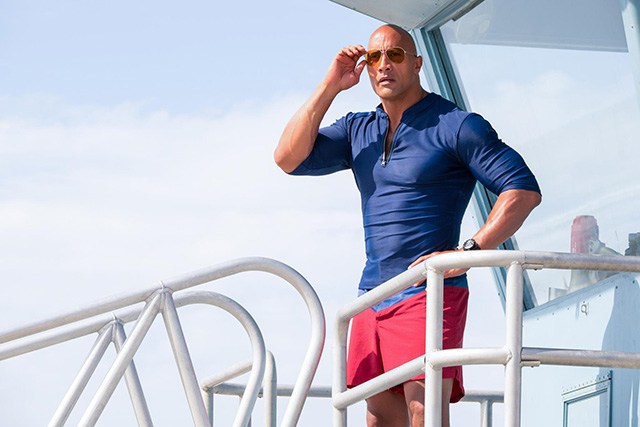 Continue reading below ↓
Recommended Videos
Zac Efron as Matt Brody
The High School Musical teen dream starred in a slew of comedies in the past year alone: Mike and Dave Need Wedding Dates, Neighbors 2: Sorority Rising, and Dirty Grandpa.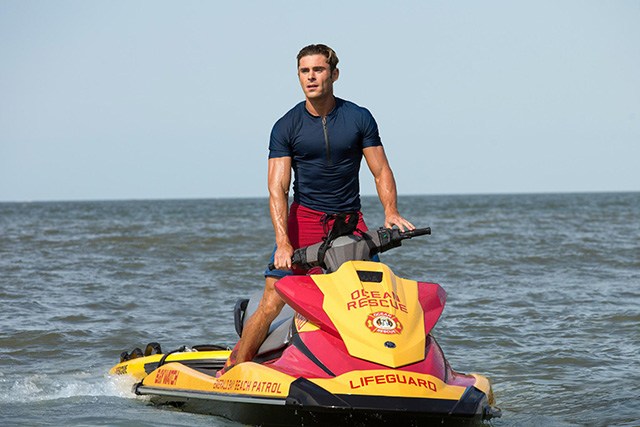 Priyanka Chopra as Victoria Leeds
The Bollywood actress crossed over to the American small screen with her thriller drama series Quantico.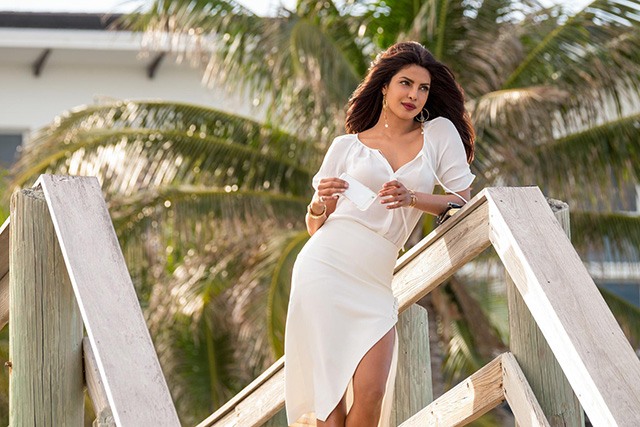 Alexandra Daddario as Summer Quinn
The blue-eyed beauty is best known for her roles in the disaster movie San Andreas and the fantasy movie franchise Percy Jackson.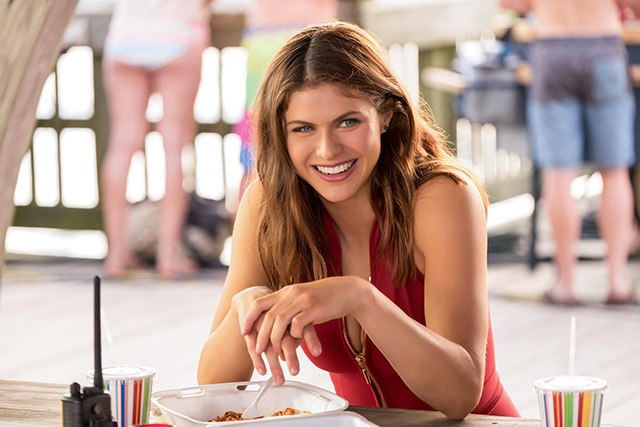 Kelly Rohrbach as CJ Parker
She's a recent theater alum of Georgetown University and has worked in Woody Allen's Café Society and the TV comedy Broad City.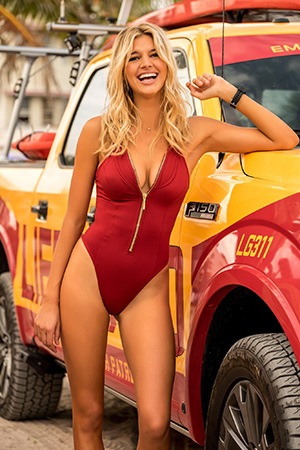 Ilfenesh Hadera as Stephanie Holden
The 5'11 beauty has appeared on the TV series The Blacklist, Master of None, Billions, and Difficult People.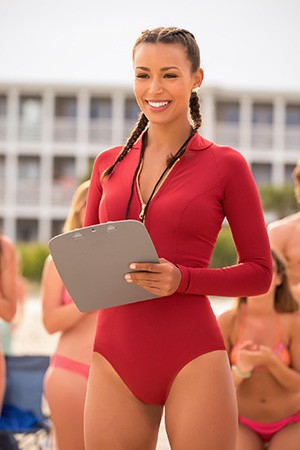 Jon Bass as Ronnie Greenbaum
The funnyman has appeared on American Horror Story, Big Time in Hollywood, FL, The Newsroom, and Girls.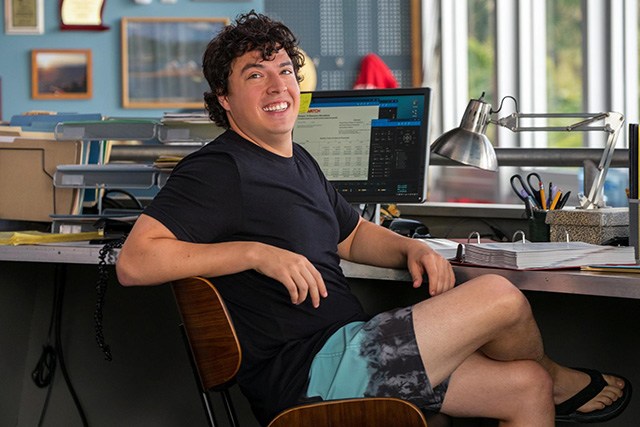 Did You Know?
1. The original TV series ran for 10 years, from 1989 to 1999.
2. The show was canceled in its first season because of poor ratings. Baywatch's leading man David Hasselhoff and the show's creators didn't let go of the production and revived the series, which we all know became an international success.
3. Baywatch Hawaii was launched in 1999 on the 10th season of the series. The overhauled production ran until 2001.
4. Baywatch (2017) marks Priyanka Chopra's Hollywood movie debut!
5. Baywatch alums David Hasselhoff and Pamela Anderson both make cameo appearances in the 2017 film.
6. Zac Efron's beach bod transformation was achieved in 12 weeks with rigorous training and a strict all-organic whole-food diet.
7. The iconic red color of the swimsuit was changed for the 2017 reboot into a ruby tone and updated to look more athletic.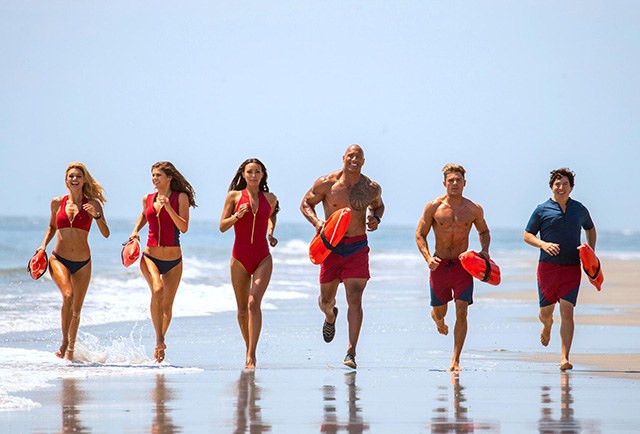 What I Think:
I came into the theater with little to no expectations. You see, I never watched Baywatch growing up—I know, I know! How is it possible for a true '90 kid to have missed this ~*iconic*~ show?! Honestly, IDK. What I do know about the original Baywatch series? Gorgeous people running in slo-mo at the beach. Aaaand that's about it.
So when the opening scene rolled in with The Rock coming out of the water in *surprise surprise* slo-mo, I told myself, "Is this for real?!" I never expected it to be a suuuper cheesy and campy comedy that was too ironic for my life. In other words: I loved it!
Baywatch 2.0 is not for those looking for mental stimulation—'cause the only thing deep in this movie is the water. It was dumb, yes, but the movie played it up and made its shallowness deliberate. One perfect example is the film's intentional use of epically bad visual effects that looked straight out of the '90s. The real charmer of this movie, though, was The Rock and his smooth delivery of blow-by-blow punch lines. His jokes, which stretched out 'til the end of the film, got a bit tiring for a while until the much-awaited High School Musical reference to Zac Efron. And as for the Zefron? Let's just say he's looked way better in his previous films than this one. But he's got that fuccboi image down pat!
So, would I watch this movie again? Definitely. But would I pay for it? Uhm, no?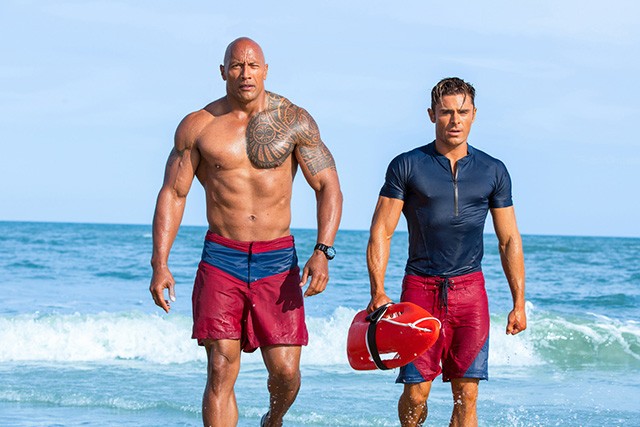 What My Friends Think:
Boobs, buns, brawn, and brainless fun! It's something you watch when you don't want to think, and escapism doesn't get better than the ab-god that is Zac Efron (You too, Dwayne!). I love how the film didn't take itself so seriously—and that is the mindset to have when you go see it! - Jillian
As a kid who watched Baywatch in the '90s, I actually enjoyed the film. (Especially the cameos!) It's brainless comedy, meaning it's one of those films where you should walk in with zero expectations. If you want a good laugh (Spoiler: There's an ABUNDANCE of dicks/dick jokes in the film, so maybe don't bring your mom or dad with you LOL.), watch this film! - Retty
I'd Recommend It To:
Anyone who needs a break from ~*life*~ and wants a brainless movie to take their minds off things. Oh, and if you need some motivation to get fit, almost everyone in this film will drive you to get moving!
Follow Jacinda on Instagram.