The Long Plot, Sans Spoilers
Ah, 1880. People are just getting the hang of using electricity, and women (and some men) are suffering from emotional outbursts, lethargy, sensitivity—in short, hysteria. Dr. Givings (Joseph Spafford), an overly analytical scientist and inventor, has created a device to cure this so-called hysteria: a vibrator. He uses the vibrator to produce a "paroxysm" to expel the emotions that build up in the womb. He cures these patients while his wife Catherine (Giannina Ocampo) curiously listens from the next room. With people like a depressed wet nurse, an eccentric artist, and a closeted housewife making their way in and out of the house, Dr. Givings and Catherine are confronted with everything that's missing in their lives, and are forced to evaluate their marriage—and sex life—without the help of Dr. Givings' amazing new machine.   
The Honest Plot
Men can harness the power of electricity to create a vibrator, and yet they can't seem to figure out that women have sex drives too. Both Dr. Givings and Catherine know something is wrong with their marriage, but they just can't seem to understand each other. The play hilariously explores each of the characters' struggles in coming to terms with their sexuality and relationships with each other. Also, everyone pretty much just needs to get laid.
Continue reading below ↓
Recommended Videos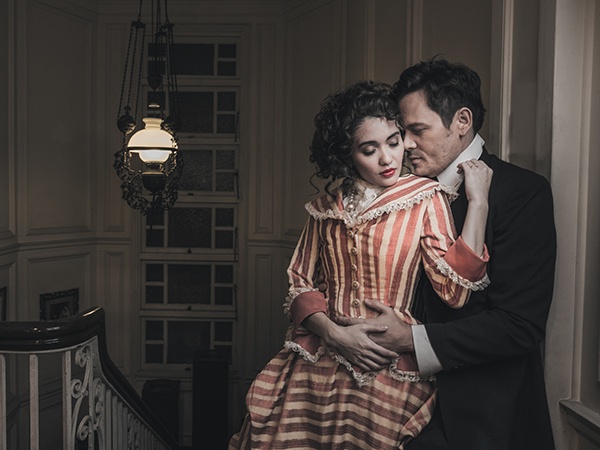 The Actors And Where You Last Saw Them:
Giannina Ocampo
Not a stranger to Repertory Philippines, she's been cast in the company's other comedies such us Leading Ladies and Boeing Boeing.
Joshua Spafford
The New York-based actor and director worked on classic roles Richard III and Othello before making his comeback in the Philippines through The Vibrator Play.
Caisa Borromeo
She's grown up with Rep starred in a number of their productions such as Snow White and the Seven Dwarves, Little Women and The Secret Garden.
Tami Monsod
She played the quiet, mousy librarian with a scandalous secret Ivy Weston in Rep's AUGUST: OSAGE COUNTY.
Jef Flores
The Fil-Am actor played the outspoken drug dealer Dennis Ziegler in Red Turnip's production of This Is Our Youth.
Cara Barredo
She played a neurosurgeon in the musical Sa Wakas. A far cry from her role as a wet nurse in The Vibrator Play.
Hans Eckstein
Hans has been in several Rep productions, including AUGUST: OSAGE COUNTY and Snow White and the Seven Dwarves.
Did You Know?
1. Joshua Spafford made his acting debut with Repertory Philippines at the age of 17.
2. Caisa Borromeo and Cara Barredo were alternates for the role of Lexi in the jukebox musical Sa Wakas.
3. The Vibrator Play is the third of five plays for Philippine Repertory's 50th season, or Golden season.
4. Female hysteria was an actual medical diagnosis in the 19th century, and much like in the play, it was "treated" through masturbating the female patient.
5. Sarah Ruhl's In The Next Room (or The Vibrator Play) was nominated for three Tony Awards.
6. The vibrator was really invented in the late 19th century.
7. In the 19th century, doctors called female orgasms "hysterical paroxysms" because they probably didn't understand that women were supposed to feel good when they have sex.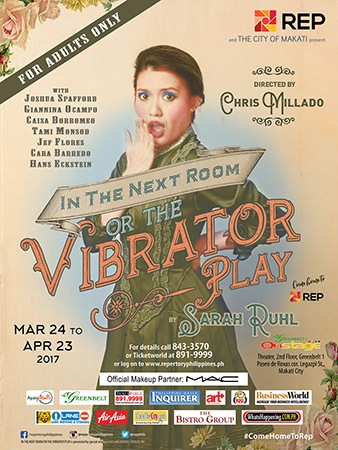 What My 21st Century Male Friend Thinks:
"I could actually relate to Dr. Givings," my friend said to me as we exited the theater. This surprised me considering the vast difference between the 1880s and the 2000s. When I asked him how, he said that it's easy to become wrapped up in your work—to be more practical than emotional. Obviously, a high sex drive isn't diagnosed as hysteria anymore, but the play also shows the importance of balance and harmony in and out of the home. Perhaps guys aren't as clueless as to think that women suffer from hysteria, but I guess people can still be pretty clueless about understanding how others feel.
What I Think:
You can already tell from the title that The Vibrator Play promises raunchy humor, double entendres, and, well, masturbation. There's a fine line between clever and inappropriate, and The Vibrator Play walks on this line. It's hard to relate to problems like unfulfilled sexual desire in the 21st century (or is it?), but I think one thing that transcends the test of time and electricity is the lack of communication and understanding between people who are considered to be close to each other. Giannina Ocampo as Catherine and Joseph Spafford as Dr. Givings skillfully portrayed an awkward married couple—audiences can tell that the Givings barely have sex, and I found myself cringing whenever Catherine tried to show affection to her pragmatic husband.
The play also comments on gender roles. Catherine's role as wife and mother—and in turn, her womanhood—are compromised when her milk can't sustain the growth of their newborn baby Lotty. Catherine can't help but compare herself to Elizabeth (Cara Barredo), her wet nurse who feeds Catherine's baby with the milk of her dead son. What does it mean to be a woman if you can't do the things women are supposed to be able to naturally do? 
I love how the play doesn't just dwell on this one kind of "hysteria." Mr. Daldry (Hans Eckstein) takes his wife Mrs. Daldry (Caisa Borromeo) to Dr. Givings so that he can cure her of her hysteria. Turns out, Mrs. Daldry is lezbehonest has the hots for the doctor's assistant Annie (Tami Monsod). Effeminate men like the artist Leo Irving (Jef Flores) need to be cured of their symptoms, even though feeling heartbroken over a fling is a perfectly legitimate reason to act crazy and depressed.
Overall, the play was an amazing experience, and there was never a moment when the audience wasn't dying of laughter. Though the subject matter may seem ridiculous now, In The Next Room (or The Vibrator Play) finds its success in creating humor where one doesn't think to look. The effect is pretty uncanny: we are immersed in the 1880s, where their culture is significantly different from ours. We find ourselves laughing at how strange the characters are, and yet towards the end, we see that we're not so different from Dr. Givings, Catherine, Mrs. Daldry, and the rest of them after all.
Here are some thoughts I had while watching:
"Were men really this clueless?"
"Catherine literally just wants sex, like why is that so hard?"
"I bet Mrs. Daldry likes Annie." 
"Thank God vibrators don't look like that anymore." 
"Okay, that is an actual naked man on stage right now."
I'd Recommend It To:
This is definitely an ADULTS ONLY show, and it might do some good to those who are uptight, tense, and quiet. The play shows the importance of letting loose and giving in to your inhibitions. This play is for anyone who finds it difficult to articulate what they want; trust me, when you watch this play, you'll realize how frustrating it can be to not be able to say what you'd like to say, and how relieving it is to actually let go and be yourself.
***
Catch Rep's In The Next Room or The Vibrator Play from March 24 to April 23 at the Onstage Theater in Greenbelt 1, Makati City.
For inquiries, you may call REP at 843-3570, and at Ticketworld at 891-9999 or log on to www.ticketworld.com.ph.
Follow Chab on Instagram.