The Long Plot, Sans Spoilers
Captain Jack Sparrow is in trouble. No luck, no treasure, barely any crew, and no rum! To make things worse, an old enemy wants him dead. His only hope is the legendary Trident of Poseidon. Luckily, some of his old crew are still around, and a plucky scientist shows up to steer him in the right direction. And of course, he needs some rum.
The Honest Plot
Jack Sparrow in trouble, again. Curses. Witches. Science! And lots of water.
The Actors And Where You Last Saw Them
Johnny Depp as Captain Jack Sparrow 
His career spans decades, and he seems to reinvent himself in every movie! 2016 saw him as Grindelwald in Fantastic Beasts and Where to Find Them, and as the Mad Hatter in Alice Through the Looking Glass.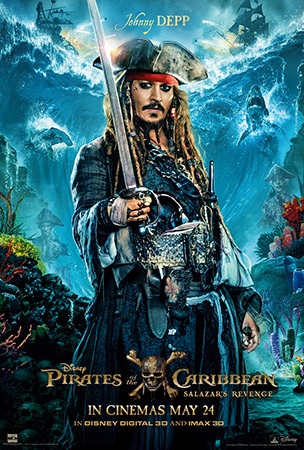 Javier Bardem as Captain Salazar
The Spanish actor first made waves in No Country For Old Men in 2007. Since then, he was in Eat Pray Love in 2010 as the sexy Felipe, and in the 2012 Bond film Skyfall as villain Silva.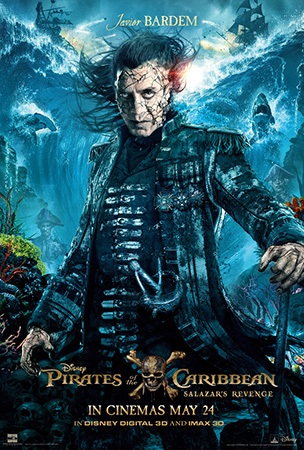 Continue reading below ↓
Recommended Videos
This Australian cutie is a Disney prince! Sort of. In 2014, he played Prince Philip in Maleficent with Angelina Jolie and Elle Fanning. And who can forget him as Jonas in The Giver?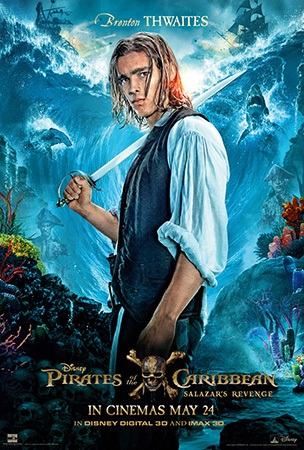 Kaya Scodelario as Carina Smyth
You might remember her from The Maze Runner (2014) and Maze Runner: Scorch Trials (2015) as Teresa, and as Effy Stonem in the U.K. teen drama series Skins (2007-2013).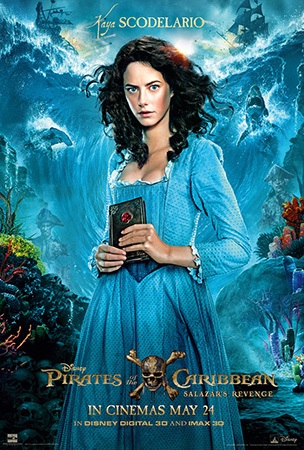 He's been in every single Pirates of the Caribbean movie, right next to Johnny Depp! But if you're watching the ABC TV show, he's also in Designated Survivor with Kiefer Sutherland.
The Iranian actress who starred alongside Christian Bale and Joel Edgerton in Exodus: Gods and Kings as Nefertari (2014).
If you're watching Marvel's Iron Fist on Netflix, then you'll recognize Harold Meachum! But you probably first saw him in 2003, as Faramir in The Lord of the Rings: The Return of the King.
Geoffrey Rush as Captain Hector Barbossa
This veteran has been acting since 1981! Like McNally, he's been in every single POTC movie. In 2016 he played the god Ra in Gods of Egypt, and in 2017 he plays the legendary Albert Einstein in the National Geographic drama Genius.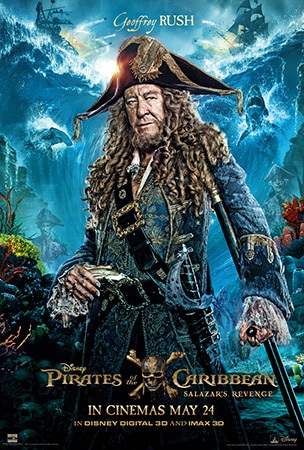 Most people first discovered this hottie in The Lord of the Rings movies where he played handsome elf Legolas. He played Will Turner in the first three POTC movies.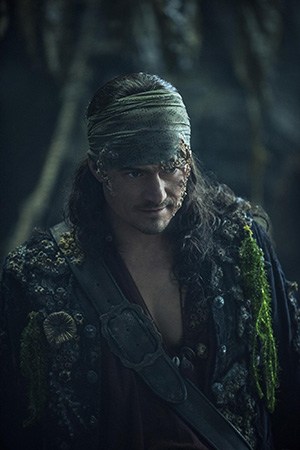 Did You Know?
1. The film is alternatively titled in the US as Pirates of the Caribbean: Dead Men Tell No Tales.
2. Watch for the Paul McCartney cameo!
3. Javier Bardem's wife Penélope Cruz starred in the previous installment, Pirates of the Caribbean: On Stranger Tides (2011).
4. The whole movie franchise is based on a theme park ride! The Pirates of the Caribbean attraction opened at Disneyland Park on March 18, 1967. 
5. In the movie, Captain Salazar and his men are trapped in the Devil's Triangle. You might know this place by another name: the Bermuda Triangle. It's an area of the Atlantic Ocean roughly bounded by Miami, Bermuda, and Puerto Rico, and it's said that many ships and planes have disappeared there.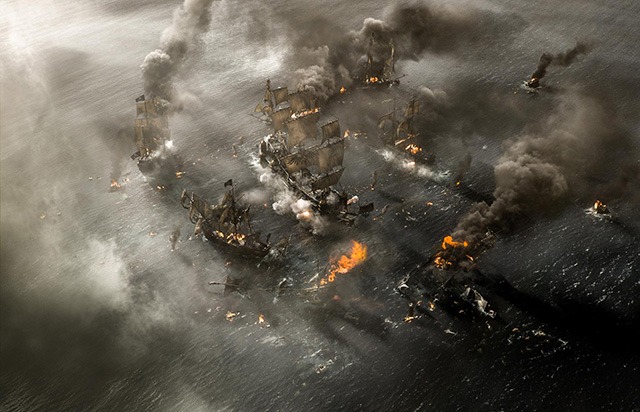 What I Think:
"Whether it's a treasure hunt, an escape from less-than-pleasant circumstances, or a quest to end a great evil, adventure movies are often filled with memorable characters, exciting action and soul-stirring music. Add some magic and a historical time period, and you've got the makings of a blockbuster hit.
Adventure movies with a female protagonist? Even more fun!
One reason I loved the POTC movies was Kiera Knightley's Elizabeth Swann. She was tough, fearless, and she could hold her own in a swordfight! She was always a big part of each movie, with her decisions having real consequences in the story.
In Salazar's Revenge, we've got Kaya Scodelario as Carina Smyth. She's no swashbuckler, but she's smart, confident, and just as fearless as Elizabeth Swann! We don't want to give anything away, but we'll say this: Nerds are cool."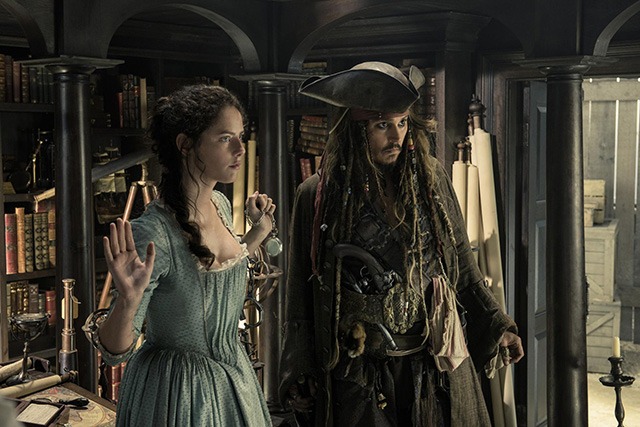 What My Friend Thinks:
"I initially worried that this latest installment of the franchise would feel like more of a cash grab and less like a story of its own, but fortunately that wasn't the case. The movie does tread down familiar and well-worn paths for its characters and its setting, but it feels more like respect for what came before rather than lazy storytelling. It carries forward more than a few themes from the previous films, wrapping them up nicely. And, of course, the swashbuckling action didn't disappoint." —Dante
I'd Recommend It To:
The barkada that loves blockbuster hits! There's a lot to enjoy here: awesome action, Jack Sparrow's tito jokes, pretty boys Brenton Thwaites and Orlando Bloom, magic and mystery. If you're not prone to seasickness, see it in 3D, or even 4DX, so you can really experience the adventure.
Pirates of the Caribbean: Salazar's Revenge opens in the Philippines on May 24, 2017.
Follow Regina on Instagram.