How often do you think about sex? Or talk about sex? Do you joke about it with friends, officemates, even complete strangers?
I'm going to be honest with you. I think about sex. A lot. I think about sexual tension when I watch TV. I imagine homoerotic tension between Captain America and Iron Man. I hear lines of dialogue in TV shows and movies, and I snicker as I think, "Haha that's what she said," or "That was totally not sexual, hee hee hee."
And you know what? I talk about sex. A lot! With friends, officemates, and yes, even complete strangers. Let me tell you about this little thing called Deus Sex Machina.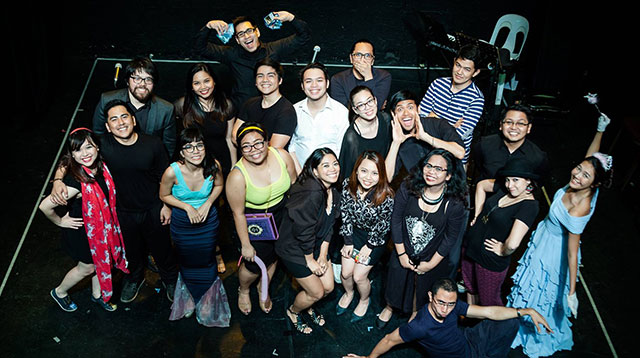 Meet the cast of Deus Sex Machina.
It all started in October 2014. Thanks to a Facebook status update (that may or may not have involved sexy fan fiction), some writer friends put together badly written erotica, and joked about performing it for laughs in front of a live audience. Fifteen minutes later, they had a venue and a date, and an actual event in the works.
UNO Morato was the birthplace of the show. There were eight pieces, with topics ranging from Kris Aquino, Super Sentai, the vegetables in the "Bahay Kubo" song, even prayers about sex. The place was filled way beyond capacity, and the showrunners realized that DSM was actually something people were willing to pay to see.
Fast forward to February 2016. For the second year in a row, DSM became a part of Fringe Festival, which "provides a platform dedicated to showcasing experimental and original works by local Filipino artists." Definitely, DSM is experimental and original, its most succinct description being, "Metro Manila's first-ever comedic erotica live reading show, where guests enjoy a good laugh about dangerous, dirty things in a safe, clean environment." As part of the 2016 Fringe Festival, DSM got its biggest, most prestigious venue yet: the Cultural Center of the Philippines. The show was called Deus Sex Machina: Fringe With Benefits 2 / Rebooty. And I got to be a part of it! Eek!
The CCP show took place on February 25 at Tanghalang Huseng Batute. It was DSM's seventh show, and it featured eight pieces. My best friend and I co-wrote Karate Kid Diaries, where we imagined sexual tension between Mr. Miyagi, Daniel LaRusso, and Johnny Lawrence. (Think of the eighties classic, with awful racial stereotypes, and even worse karate moves.)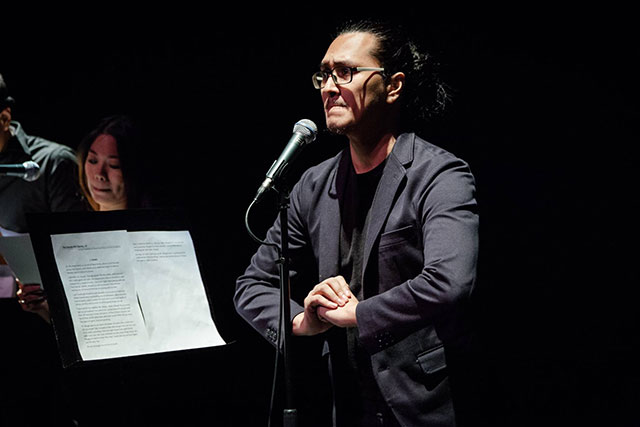 Marco Sumayao as Daniel in Karate Kid Diaries
The other pieces referenced various pop culture phenomena: your favorite Disney movies (we ruined Ariel and Prince Eric, sorry), 2001: A Space Odyssey, Magic: The Gathering, and Fifty Shades of Grey (it was so bad, it was good). Two pieces dealt with Philippine current events: Boy Abunda discussing Kris Aquino's failed relationship with Herbert Bautista, and the ridiculous word war between Rodrigo Duterte and Mar Roxas. Oh, and there was homoerotic alternate Philippine history, featuring Jose Rizal and a recently popular general with a mustache.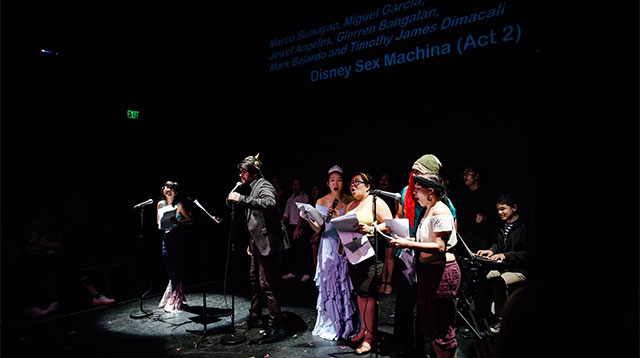 Yep, Disney Sex Machina was a thing, too!
It was quite nice to be in the company of other writers who thought and talked about sex as much as I did, and saw in it as much hilarity. Of course, writing the sex jokes and imagining the tension between the most unlikely characters was not enough. We had to bring all these awkward erotic stories to life, on stage, in front of complete strangers! We had serious discussions (there was a lot of giggling, obvs) about the best way to induce laughter and discomfort in our consenting, paying audience. We pumped our creative juices as we thought up the most outlandish, exaggerated ways each word could be pronounced, each piece given justice.
How exactly does one talk about sex in order to induce laughter? Abandon all shame and modesty, I say. Throw hesitation out the window. Tear your walls down. Forget the audience is even there. Get all your moans out, and overcome the giggles before you go on stage. 
Did I mention I have horrific stage fright?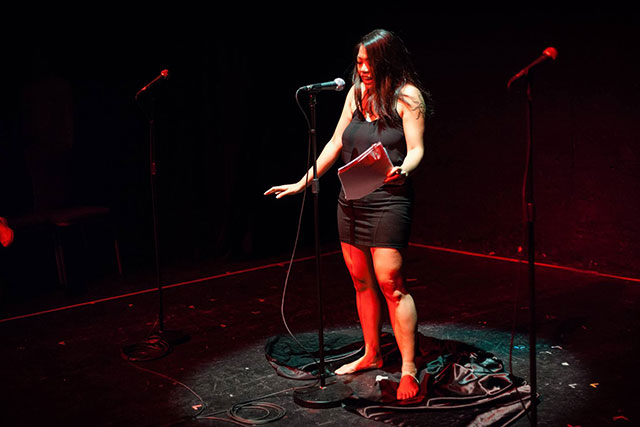 The author performing in Of Sex and Spoken Word at DSM7.
Somehow though, I managed to walk onstage, barefoot even, to perform in not one, but two pieces at DSM7. In front of about a hundred people—including my husband, my brother-in-law and his wife!—I clutched my breast, thrusted my hips, moaned and groaned, screamed and climaxed. And my friends sang and rapped, danced and laughed, teased and mocked, poked and prodded. And we all cracked crude sex jokes and gave everyone disturbing mental pictures about popular characters having sex—in some of the most uncomfortably entertaining ways.
You could say DSM popped my performance cherry. And it was glorious.
For more information about Deus Sex Machina and their shows, visit their Facebook page.