Gabbi Garcia and Khalil Ramos are among the real-life couples fans adore. They share genuine and relatable conversations together and even joke with one another like they're best friends, and it's probably because they really started their relationship that way! ICYDK, Gabbi and Khalil were good friends before officially becoming each other's SOs. 
In the first episode of Gabbi and Khalil's podcast Figure It Out, the two share in detail how they met and how their relationship blossomed into what it is now, including how their industry chums Julia Barretto and Kathryn Bernardo played some parts in the story of how they met.
How Julia and Kathryn played a part in Gabbi and Khalil's relationship
Khalil and Gabbi share many common friends in the industry, including Kathryn and Julia. ICYDK, Kathryn and Gabbi go way back. They used to model as kids together for different clothing brands and would meet at mall shows (even their moms know each other!). Julia and Gabbi, on the other hand, were classmates in high school.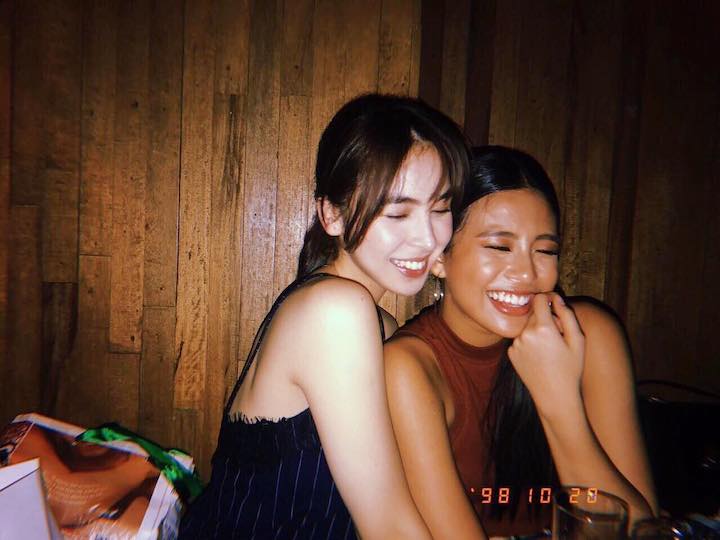 ADVERTISMENT - CONTINUE READING BELOW ↓
But it wasn't until Julia's 18th birthday party that Khalil and Gabbi met. As a relatively fresh face in the industry at that time, Gabbi said she showed up to the party as a "non-showbiz friend" of Julia and mostly hung out with their HS classmates. She also shared how she felt slightly OP because she was the only one from GMA at the party (At that time, Khalil was still with ABS-CBN).
Khalil, on the other hand, was seated with his showbiz squad, which includes Kathryn, Daniel Padilla, and Pat Sugui. As the only single guy at the table, Khalil's friends were even teasing him for eighth-wheeling.
And because they were in the same venue, Khalil eventually caught sight of Gabbi and got really curious as to who ~that girl~ is. "She illuminated the place for me," Khalil recounts upon seeing Gabbi. After seeing her and Kathryn talk together, Khalil then asked Kathryn, "Kath, sino 'yon?" 
Without any proper response to Khalil, Kathryn ended up grabbing Gabbi over to them to introduce her to everyone at the table. "Kath, thank you for winging me that night."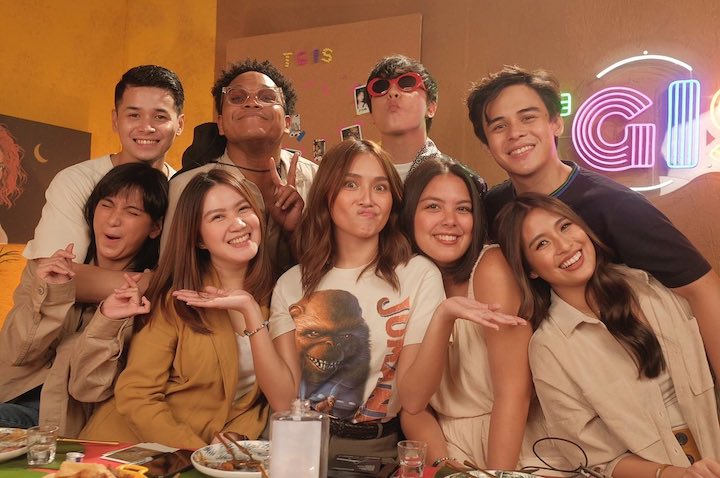 After some small talk, Khalil ended up accompanying Gabbi to find her friends again. At the end of the night, however, Gabbi shared that Khalil never really asked for her number. "Na-torpe ako," Khalil explains. But no worries, he did end up messaging Gabbi on Twitter to ask for her number!
They only remained friends at that time, however, because Gabbi shared that she still wanted to fix things between her and an ex. Career-wise, Khalil was working on different films at the time and Gabbi was still part of a different love team. But they did share that they had deep conversations together about life, career, and even relationships. "Hindi kami, 'have you eaten?' or 'what's your ulam?' We're not like that," Gabbi shares. "She was so interested in listening to what I believe in, what mentality am I using to approach life," Khalil adds.
Ultimately, they stopped talking because they got busy with their respective schedules. Gabbi was doing Encantadia and Khalil had 2 Cool 2 Be 4gotten. You might wonder how they ended up getting in touch again. Well, it's partly thanks to Khalil's film.
How Gabbi and Khalil got in touch with each other again
Gabbi and her friends wanted to watch 2 Cool 2 Be 4gotten after seeing its trailer, but to their disappointment, they couldn't find tickets because it was sold out everywhere. And because she had the number of one of the film's main stars, Gabbi decided to hit up Khalil to ask if he knows where to get tickets. Gabbi recounts their conversation, "He replied right away! He was like, 'Oh yeah, I have tickets, I can get you in.' And then space, space, space...'How are you na? It's been so long.'" And the rest is, well, history!
ADVERTISMENT - CONTINUE READING BELOW ↓
Check out the full story on their podcast here:
MORE ABOUT *GABBI + KHALIL* BELOW:
Gabbi And Khalil Just Went On The *Most Relaxing* Nature Date
Gabbi On Her Relationship With Khalil: 'Ang saya talaga kapag nasa tamang tao ka'
Aww! Khalil Ramos' *First* V-Day Gift For Gabbi Garcia Is Printed On Paper That'll Last 100 Years