You'd probably think a visit to the Grand Canyon would be a trip of a lifetime, but for 24-year-old Texas student Amber VanHecke, it turned out to be a trip which nearly took her life, after she got stranded in the vast desert for five days. Terrifying.
Amber had gone on a hiking trip on March 10, with a plan to trek near to the Canyon's South Rim in Arizona. She was traveling by car and getting out for walks along the way, but two days into her trip, her GPS ran out of battery after directing her to a place that didn't actually exist.
After driving around desolate dirt roads, Amber realized her petrol was running low and it was getting dark. "I came up to a fence with no roads in sight," she explained in a Facebook post describing her ordeal. "Panicked since GPS stopped working, too. So I panicked and tried to find the road again. Finally found it but was at 0 to empty. Parked by the first man made structure I found and decided to wait til daylight. Turns out my reserve was exhausted, too," she wrote.
ADVERTISMENT - CONTINUE READING BELOW ↓
From there, Amber became stranded for five days, and she had to ration the food and water she'd brought with her on the trip. Trying any option she could think of to alert someone, anyone to her existence, the university student described how she gathered rocks to spell out the words "SOS" and "help."
"I also tried a signal fire but since everything was so dry, it burned too clean," she said.
On one occasion, Amber recalls how a truck driver actually drove past her without noticing she was there, which led her to make a road barricade in order to stop anyone else who came through the empty roads.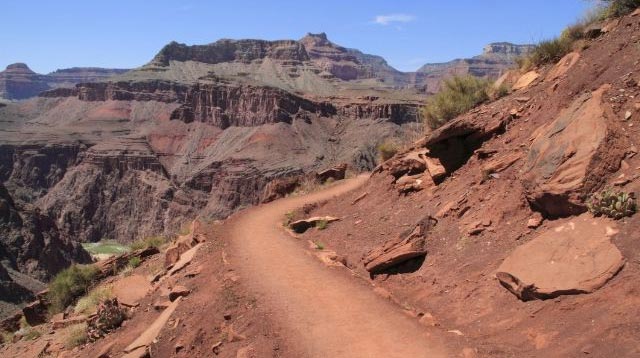 Eventually, Amber decided she was "tired of waiting to be rescued," so hiked to her own safety, despite being weak from minimal food and water. "[I] hiked a total of 21-22 miles. I had to hike 11 miles east from my car just to get signal to call 911. Even then, the call dropped after 49 seconds and I had to pray they got enough info to find me. The helicopter found me about two hills away from my car on my hike back," she said.
As soon as Amber was in the helicopter, medical professionals hooked her up to fluids and oxygen, but she's also suffered some inevitable lasting trauma from being completely stranded for almost a week. When you compare that to what might have happened if Amber hadn't managed to make contact with anyone and her food ran out, though, she managed to escape pretty lightly.
Amber has since started a GoFundMe page to raise money to help with her medical expenses.
ADVERTISMENT - CONTINUE READING BELOW ↓
***
This article originally appeared on Cosmopolitan.com/uk. Minor edits have been made by the Cosmo.ph editors.